Matt Damon, Adrien Brody And Gary Sinise Cast In Star Trek XI?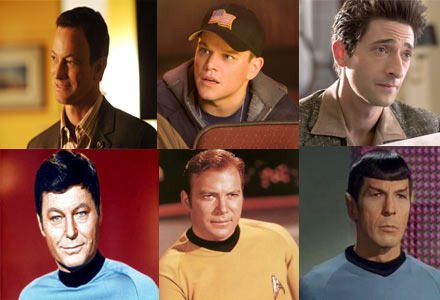 It's being reported that Matt Damon, Adrien Brody and Gary Sinise are being courted to star in JJ Abrams' Star Trek XI.
According to the studio source, Damon (Good Will Hunting, The Departed) would play Captain James T Kirk, the role William Shatner held in the original series. Brody (King Kong, The Pianist) would play Mr. Spock, a role immortalized by Leonard Nimoy. And Sinise (Forrest Gump, Apollo 13) would play Dr. McCoy (originally portrayed by DeForest Kelley), the ornery and politically incorrect ship's physician aboard the U.S.S. Enterprise.
I have a strongly doubt Brody would agree to glue on the Vulcan ears, but Damon and Sinise have always seemed game for such a project. Plus both Sinise and Damon seem like perfect choices.
What do you guys think?