2007 Academy Awards Spoilers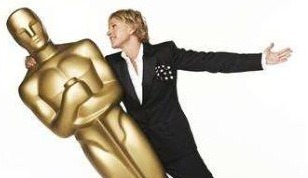 Here is a rundown of what we know about tonight's award ceremony. If you don't want to know... Don't read!
It will open with a preshow segment which uses CGI trickery to allow host Ellen Degeneres to dance in and out of movies from the past. The climax involves her dancing with CG penguins from Happy Feet.
Steven Spielberg, Francis Ford Coppola and George Lucas will present the Best Director Award.
Spider-Man 3 cast members Kirsten Dunst and Tobey Maguire will present an award together.
The full presenter list includes:
Jack Nicholson, Meryl Streep, Philip Seymour Hoffman, Leonardo DiCaprio, Robert Downey, Jr., Greg Kinnear, Helen Mirren, Clive Owen, Ken Watanab, Naomi Watts, Gael Garcia Bernal, Emily Blunt, Catherine Deneuve, former Vice President Al Gore, James McAvoy, Jerry Seinfeld, Ben Affleck, Jessica Biel, Jack Black, Cate Blanchett, Abigail Breslin, Steve Carell, George Clooney, Daniel Craig, Tom Cruise, Penélope Cruz, Cameron Diaz, Kirsten Dunst, Will Ferrell, Jodie Foster, Eva Green, Maggie Gyllenhaal, Tom Hanks, Anne Hathaway, Hugh Jackman, Diane Keaton, Nicole Kidman, Queen Latifah, Jennifer Lopez, Tobey Maguire, Gwyneth Paltrow, Jaden Christopher Syre Smith, John Travolta, Rachel Weisz, Kate Winslet and Reese Witherspoon.
Some people are still speculating that Al Gore will announce a second run for US President if he wins for An Inconvenient Truth. We've been told this won't happen however. But that won't stop us from wishing it will.
Tom Cruise is giving the Jean Hersholt Humanitarian award to ex-Paramount mogul Sherry Lansing. This is a HUGE inside joke within the Hollywood community as both of them were fired by Viacom head Sumner Redstone.
All three Dreamgirls (Beyoncé, Jennifer Hudson, and Anika Noni Rose) will sing each other's songs from the movie. Diana Ross turned down an offer to sing.
The broadcast will feature clip packages by famous directors such as:
Michael Mann (Miami Vice): America as seen in films.
Nancy Meyers (Something's Gotta Give): About writers).
Errol Morris interviewed all 130 Oscar nominees for a 4 and a half minute short film.
Morris directed this classic short film for the 2002 Academy Awards which you can watch at this link. How many of the people can you name? Check out the full list at Errolmorris.com.