Contest: Shut Up & Sing On DVD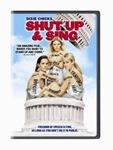 Shut up & Sing hit DVD store shelves on February 20th, and we have a copy for one lucky /Film reader. All you need to enter is to e-mail us with the reason why you should win. On March 2nd we will e-mail the winner with the best answer. More information on the release can be found after the jump.
A revealing case study of the relationship between politics, celebrity and the media in today's polarized social climate...New York Times
SHUT UP & SING illustrates that freedom of speech is fine... as long as it's not exercised in public. This critically-acclaimed documentary follows the aftermath of The Dixie Chicks' controversial Anti-Bush Statement. An inspiring comeback story featuring a rousing soundtrack – including music from the Chicks' Grammy nominated "Not Ready To Make Nice," and "The Long Way Around".
Director: Barbara Kopple
MPAA Rating: R
Runtime: 93 min
Language: English and French
Official Synopsis: Follows the top selling female band of all-time, the Dixie Chicks, in the wake of singer Natalie Maines' anti-Bush statement at a 2003 concert – from the ensuing backlash to the band's triumphant return to the top of the charts.