Justice League Of America Movie Announced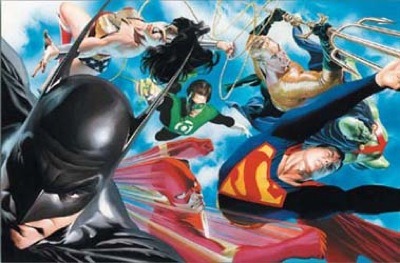 Warner Bros. is aiming to make comic-book geeks around the world pee their pants. They have hired a team of writers to script a live-action feature film which will include most of DC Comics superhero line-up: Batman, Superman, Wonder Woman, Aquaman, the Flash, and more.
Kiernan and Michele Mulroney have been hired to write a big screen Justice League of America movie. You might recognize their names, because they're the hot Hollywood scribes of the month (they wrote a draft of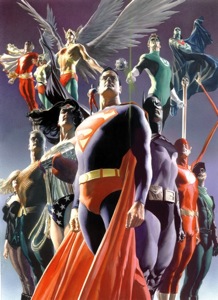 the Kiefer Sutherland's Mirrors which starts shooting in May).
The JLA first appeared in February 1960. The original line-up consists of  Superman, Batman, Wonder Woman, Flash, Green Lantern, Aquaman and the Martian Manhunter. But the team has gown to also include Green Arrow, Atom, Hawkman, Black Canary, Captain Marvel, Plastic Man, Zatanna and others. The Jusice League spawned several cartoon television series, including the cult 1960-70's Super Friends. Justice League Unlimited is currently aired on the Cartoon Network.
The comic books usually have the heroes band together to fight alien forces or groups of supervillains.
It has been previously reported that both Christian Bale (Batman Begins) and Brandon Routh (Superman Returns) have contract options to star in a Superman vs. Batman movie. I wonder if Warner's legal team could spin that stipulation into the JLA idea. The studio is also trying to greenlight a Wonder Woman film. I assume that the lead star's contract will include a JLA option.
Warner announced this news on the heels of the New York Comic Con (which ramps up this weekend).
And to get you excited, check out the classic Fan Film titled World's Finest. Made by Sandy Collora, the same guy who did Batman: Dead End.
[youtube]LBn4NdNRGrg[/youtube]