IMDb Gets Redesigned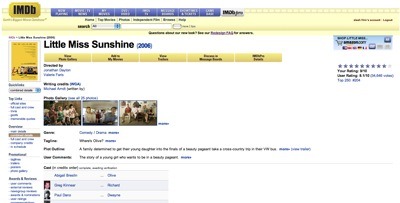 If you haven't noticed, the Internet Movie Database has been redesigned.
This is what the IMDB designers have to say about the redesign:

We've just launched our newly designed name and title pages, bringing a fresh look to your favorite movies and stars, with a new layout that makes everything easier to find. If you take a look at our page for Little Miss Sunshine you'll see links to trailers, message boards, and more at the top, a "Quicklinks" dropdown on the left side so you can navigate directly to the info you want, and easy-to-read cast lists and movie details as you scroll down. On the page for Jennifer Hudson you'll find a photo gallery for the lovely Oscar nominee, as well as another "Quicklinks" navigation box to the left. Got questions, comments, or suggestions? Check out our Redesign FAQ for all the answers.
The name and title page redesigns are the first phase in an overall site redesign that will take place in "measured, incremental steps."
The new design's purpose is to make some of the lesser seen data and links more available. They have also made the left-hand side bar unconnected to the header design, which in theory will "increase the connectedness of the left-hand side with the content was two-fold." The poster/headshot has been moved from the right side to the left to add awareness to the sidebar. The yellow buttons on the top of the page serve as a listing of the most popular actions a user can take in the particular title or name page. Recommendations have been added to the bottom of each page to help users filter the overall database (ala The Long Tail).
One of the areas I feel they really destroyed was the user rating, which they moved all the way to the right side of the page. It's so out of the way that it's almost unnoticeable. And when you enter a rating for a movie, it replaes the average imdb user rating. I hope they change this.
And I must admit, I use imdb everyday for story research. I probably look at the site more in one week than the average user does in a year span. But I also use IMDb's Pro add-on membership, which is paid but offers easier functionality and some data content not available on the free version. I'm very happy with the layout of the Pro version, and hope they don't change the site to reflect the new design changes on the main site. Call me an old fart (I wouldn't, I'm usually open to new ideas), but I like it the way it is.