Contest: Babel On DVD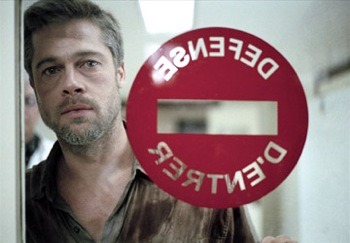 Babel hits DVD store shelves on February 20th, and we have a copy for one lucky /Film reader. All you need to enter is to e-mail us with the reason why you should win. On February 28th we will e-mail the winner with the best answer. More information on the release can be found after the jump.
In BABEL, a tragic incident involving an American couple in Morocco sparks a chain of events for four families in different countries throughout the world.  In the struggle to overcome isolation, fear, and displacement, each character discovers that it is family that ultimately provides solace.  In this mesmerizing, emotional film that was shot in three continents and four languages – and traverses both the deeply personal and the explosively political – acclaimed director Alejandro González Iñárritu (21 Grams, Amores Perros) explores with shattering realism the nature of the barriers that seem to separate humankind. In doing so, he evokes the ancient concept of Babel and questions its modern day implications: the mistaken identities, misunderstandings and missed chances for communication that, though often unseen, drive our contemporary lives.
Below please find a link to box art from the film. Feel free to post any information about BABEL to your site, and please be sure to let me know when any coverage is live.
Nominated for seven Academy Awards® including Best Motion Picture of the Year, the mesmerizing and emotional film was directed by acclaimed filmmaker and Oscar® nominee for Best Achievement in Directing Alejandro Gonzalez Inarritu (21 Grams, Amores Perros) and stars Brad Pitt (Mr. & Mrs. Smith, Oceans 12) and Academy Award winner Cate Blanchett (The Aviator, The Lord Of The Rings trilogy).  BABEL also features an outstanding, international ensemble cast including Gael García Bernal (The Motorcycle Diaries), Kôji Yakusho (Memoirs Of A Geisha), Adriana Barraza (Amores Perros) and Rinko Kikuchi (Portrait Of The Wind).  Both Barraza and Kikuchi received Academy Award nominations for Best Performance by an Actress in a Supporting Role and the film also has garnered nominations for Best Achievement in Film Editing, Best Original Score and Best Original Screenplay.
Starring: Brad Pitt, Cate Blanchett, Gael García Bernal, Kôji Yakusho, Adriana Barraza, Rinko Kikuchi