Contest: F**K On DVD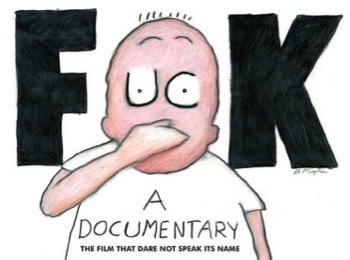 F**K hit DVD store shelves on February 13th, and we have a copy for one lucky /Film reader. All you need to enter is to e-mail us with the reason why you should win. On February 24th we will e-mail the winner with the best answer. More information on the release can be found after the jump.
"With the recent tightening of FCC rules and regulations, this film has exactly the type of subject-matter that THINKFilm wants to bring to the public's attention," said Jeff Sackman, President of THINKFilm.  "It is a daring commentary on the freedom of speech that is both thought-provoking and entertaining."
F**K explores how this one syllable word has completely permeated the English language, yet is still widely held to be obscene. Through film and television clips, original animation, and the insight of scholars, linguists, comedians, actors, and writers including Pat Boone, Drew Carey, Billy Connolly, Janeane Garofolo, Ron Jeremy, Miss Manners, Bill Maher, Alanis Morrisette, Kevin Smith, the late Hunter S. Thompson and many more, F**K examines the colorful history of its namesake. Even people who do "it" for a living are interviewed, as we discover what it is about this word that both unites and divides English speaking people.
DVD Special Features:
-          Theatrical Trailer
-          Filmmaker Commentary – Featuring Steve Anderson
-          Extended, Never-Before-Seen Interviews
-          Trailer Gallery