Darren Lynn Bousman Returns For SAW 4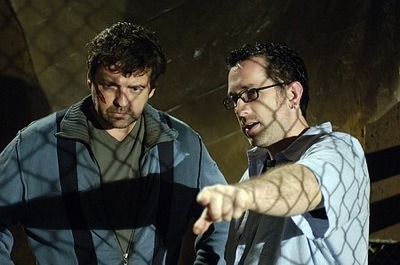 Darren Lynn Bousman has signed on to return for SAW 4. Bousman directed the two previous popular SAW sequels. Late last year Lionsgate announced that a fourth film would be released on October 26th 2007. Bousman's return seems like a last ditch move. Especially considering the fact that Bousman publicly announced his departure from the SAW series late last year.
Bousman is a very competent director if he's given a good script. But everyone must agree that a fourth SAW film has been rushed into production, which is never a good sign. Production will begin on April 16 for six weeks. Yeah, doesn't sound rushed at all. The good news is that Feast screenwriters Marcus Dunstan and Patrick Melton wrote the story. Check out the full press release below.
SANTA MONICA, Calif., Feb. 19 /PRNewswire-FirstCall/ — Lionsgate
(NYSE: LGF), the leading independent filmed entertainment studio, and
Twisted Pictures announced today that Darren Lynn Bousman (SAW II and SAW
III) is back to helm the next installment of the SAW franchise, the most
successful horror series in history. The announcement was made jointly by
Lionsgate's President of Acquisitions and Co-Productions Peter Block and
Senior Vice President of Acquisitions Jason Constantine, and Twisted
Pictures' Mark Burg and Oren Koules.
Production offices opened February 12th in Toronto to begin
pre-production on SAW IV. Twisted Pictures' Burg and Koules are again
producing, and Executive Producers Daniel Jason Heffner, James Wan, Leigh
Whannell, and Stacey Testro also return. Executive producing for Lionsgate
are Block and Constantine. Key contributors of the first three films
returning include Editor Kevin Greutert, Director of Photography David
Armstrong and Production Designer David Hackl. SAW IV is slated to begin
shooting April 16 for six weeks and will be released domestically and
internationally October 26, 2007.
Said Block, "Having Darren behind the camera gives SAW IV a real edge,
so to speak. He has led this franchise into box office history while
proving himself a modern master of psychological terror."
Burg and Koules of Twisted Pictures remarked, "It's great to have the
SAW creative team back together for SAW IV. We're looking forward to
working with Darren, Lionsgate and all the Twisted minds to bring horror
fans more of Jigsaw's gore and games."
Added Bousman, "It's not often that a filmmaker is given the
opportunity to follow a genuinely compelling character through two films,
much less three. So I'm very excited about picking up the reins on SAW IV,
and delving even deeper into the Jigsaw legend."
With a worldwide box office of over $400 million, the SAW series is the
most successful horror franchise of all time. SAW III opened at #1
domestically on October 27, 2006, and opened at #1 in eleven additional
countries, including the U.K. and Australia; it was the year's top-grossing
horror film, taking in over $80 million domestically and over $100
internationally. The DVD, released on January 23, 2007, repeated the
success of its two predecessors as it debuted as the week's #1 new home
entertainment release.
Following SAW IV, Lionsgate, Twisted Pictures and Bousman will reunite
for REPO! THE GENETIC OPERA, a horror opera which Bousman will direct from
an original story by co-composers and screenwriters Terrence Zdunich and
Darren Smith. The film is set in a not-too-distant future when a worldwide
epidemic of organ failures inspires a biotech company to launch an organ
financing program reminiscent of an automobile loan plan — complete with a
repossession clause. Bousman, who directed the original stage production of
REPO!, has been planning a big screen version for several years. Lionsgate
signed on to distribute after viewing a 12-minute promo reel that Bousman
created in 1 1/2 days, the exact same scenario that brought the company the
first SAW feature.
ABOUT TWISTED PICTURES
Twisted Pictures is helmed by Mark Burg and Oren Koules, and is the
horror/thriller division of their company Evolution Entertainment. SAW, one
of the most profitable films of 2004, was the first picture released under
the Twisted banner. The film was distributed by Lionsgate, which entered
into a nine-picture distribution deal with Twisted Pictures in November
2004. In 2005, Twisted Pictures produced SAW II, which opened at #1 on
Halloween weekend and became the year's highest-grossing horror film.
Halloween 2006 saw the release of SAW III, which opened at #1 in North
America, the U.K. and Australia and became the year's top-grossing horror
film. Twisted Pictures' slate includes the upcoming DEAD SILENCE by SAW
creators James Wan and Leigh Whannell; CATACOMBS, currently in post
production; SAW IV; and the just-announced REPO! THE GENETIC OPERA.
ABOUT LIONSGATE
Lionsgate is the leading independent filmed entertainment studio,
winning the 2006 Best Picture Academy Award(R) for CRASH, generating two
consecutive years of $300 million-plus domestic theatrical box office,
operating a $500 million-plus home entertainment business and producing a
broad slate of prime time television series for fiscal 2007. It is a
premier producer and distributor of motion pictures, television
programming, home entertainment, family entertainment, and video-on-demand
content. Its prestigious and prolific library of more than 10,000 titles is
a valuable source of stable, recurring revenue and a foundation for the
growth of the Company's core businesses. The Lionsgate brand is synonymous
with original, daring, quality entertainment in markets around the world.