The Simpsons Movie Full-Length Movie Trailer Revealed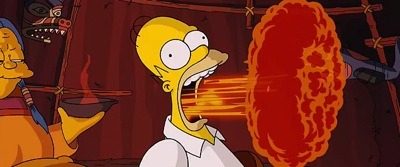 The first full-length movie trailer for The Simpsons Movie has hit the web.
[quicktime width="480" height="215"]http://www.slashfilm.com/wp/wp-content/trailers/thesimpsonsmovie3.mov[/quicktime]
"A cast of thousands in the movie event 18 years in the making."
I've been very critical in the past over this film. The teaser trailers offered very little funny. I feared that the movie was made probably 10 years past it's prime (an animated Basic Instinct 2 if you will). Well I'm now happy to report that the new trailer shows a little promise. While not a lot, it's enough to draw my interest.
I like the everlasting "where is Springfield" joke, and Mr. Burns delivers a classic moment. I'm still not sure if the high concept story will translate for this classic fox show. And is it just me or is Homer not as funny as he once was? But we'll see. You can also check out the trailer in High Definition at Apple.com.
The Simpsons Movie hits theaters on July 27th 2007.