Man About Town Movie Trailer: Ben Affleck Goes Direct To DVD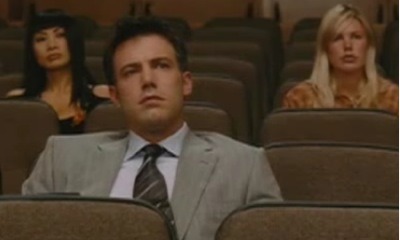 Didn't Ben Affleck learn his lesson? I thought he was going to stop the whole "one for me, one for them" thing. Well it looks like the man has done another generic romantic comedy, which was... released this week on DVD. That's right, Affleck is now making direct to DVD features! Why, God why? Love him or hate him, the Man has talent if he's given the right script. So why this? Check out the trailer after the jump.
[ifilm]2820492[/ifilm]
Man About Town follows a top Hollywood talent agent Jack Giamoro (Affleck) who seems to have it all. But he still feels like something is missing, and so he takes a journal writing class to "explore his feelings." But when Jack learns his wife Nina (Rebecca Romijn) is cheating on him with his most important client and his journal full of Hollywood secrets is stolen, his perfect life quickly starts to unravel.
You might know writer/director Mike Binder as Steve from Full House. Sometimes a talented filmmaker (Upside of Anger), other times questionable (Blankman, The Sex Monster), Binder has a big movie coming out soon starring Adam Sandler and Don Cheadle titled Reign Over Me.
The movie also stars: Gina Gershon, Kal Penn, John Cleese, Adam Goldberg, Ling Bai, Jerry O'Connell, Amber Valletta, and Damien Wayans.
Despite a theatrical release in many countries around the world, from Israel to Spain, it was released direct-to-DVD on February 13th 2007 in the US. With crappy romatic comedies like Because I Said So being released wide, why is this going direct to DVD? Don't get me wrong, I'm not saying this looks good. But anything must be better than Because I Said So.