Around The Web: Ghost Rider's PG-13, Evan Almighty Reviews, The Ruins, Marley & Me, Star Wars, Zooey Deschanel, Winged Creatures, One Missed Call And More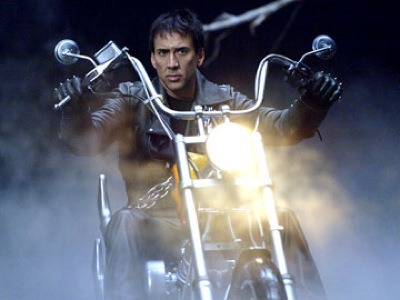 Mark Steven Johnson explains why Ghost Rider sucks so bad: "It was a hard R and bleak in my opinion, Johnson says of David Goyer's early script. "But then the studio says to you, 'I'm going to let you make your movie, your vision, but you've got to make sure it's a PG-13. We've got to make money.' Which is fair." So don't expect the unrated directors cut on DVD: "There's not an R-rated version, We didn't shoot that."
Possitive early reviews of Evan Almighty are streaming in. The Bruce Almighty sequel starring Steve Carell is "funny, heart warming and impactful film – it is a close encounters of the almighty kind," according to one audience member.
DreamWorks has hired Carter B. Smith (Love Rome) to direct the big screen adaption of Scott Smith's novel The Ruins. The horror thriller follows four American friends on vacation in Cancún who find themselves lost in the jungle. A Simple Plan author/screenwriter Scott Smith is writing the script.
Night at the Museum helmer Shawn Levy is getting handed everything now-a-days. Next up will be an adaptation of the canine bestseller Marley & Me. This sounds more Levy's speed than Flash. I hope he has to drop out of The Hardy Men, because that film has potential. Shooting will start in late April in Los Angeles.
Pop Quiz: How much does it cost to buy an advertisement during the Academy Awards?
Answer: $1.6 million, up from $700,000 in 1995.
New Star Wars video game will hit stores in November. The game allows players to become Darth Vader's "secret apprentice" and promises to reveal new secrets about the Star Wars galaxy. George Lucas has no shame.
Zooey Deschanel (Elf) has been cast as the Tin Man in SCI FI Channel's miniseries retelling of The Wizard of Oz. Alan Cumming is playing the Scarecrow-like character of Glitch. Sounds interesting.
Forest Whitaker, Kate Beckinsale, Guy Pearce and Dakota Fanning will star in the ensemble drama Winged Creatures, about "survivors of a brutal restaurant murder who are left to divine their own individual paths to understanding their mortality and connection to society."
Warner Bros. are moving back the remake of Takashi Miike's One Missed Call from August 2007 to January 4, 2008. The movie follows a bunch of people who receive terrifying cell phone messages of their own final fatal moments. The film is directed by Eric Valette, and stars Ed Burns, Shannyn Sossamon, Ana Claudia Talancon, Ray Wise, Azura Skye, Johnny Lewis, Jason Beghe and Margaret Cho.