Grindhouse Movie Trailer Now Online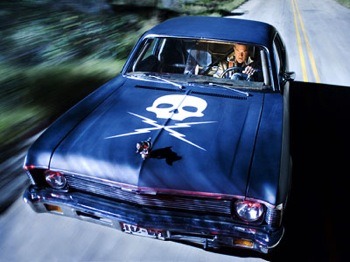 The New Grindhouse trailer is now online.
[quicktime width="480" height="220"]http://www.slashfilm.com/wp/wp-content/trailers/grindhouse.mov[/quicktime]
Grindhouse is the much anticipated Robert Rodriguez/Quentin Tarantino double feature. An homage to exploitation B-movie thrillers that replicates the grind house theatergoing experience of the 1970's. Death Proof, directed by Tarantino, follows a psycho named Stuntman Mike (played by Kurt Russell) who stalks and kills beautiful women with his car. In Rodriguez' Planet Terror, a small-town sheriffs' department has to deal with an outbreak of murderous, infected people called sickos (aka Zombies). A gun-legged woman named Cherry (played by Rose McGowan) and her martial arts-wielding partner (Freddy Rodriguez) take charge. The two films will be fused together by fake movie trailers by Rob Zombie, Eli Roth, and Edgar Wright.
Grindhouse hits theaters on April 6th 2007.