Contest: So Goes The Nation On DVD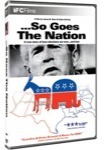 So Goes the Nation hit DVD store shelves on February 13th, and we have a copy for one lucky /Film readers. All you need to enter is to e-mail us with the reason why you should get this DVD. On February 20th we will e-mail the winner with the best answer. More information on the release can be found after the jump.
Directed by: James D. Stern and Adam Del DeoRun Time: 90 minutesRating: Not RatedFeaturing: Matt Dillon, Steve Buscemi, Hilary Swank, Chad Lowe, Brendan Fraser, Joe Pantoliano, Fisher Steven and Exclusive Interviews with Both Republican and Democratic CounterpartsSynopsis:
"...SO GOES THE NATION" examines America's tumultuous electoral process through the eyes of diverse politicians, activists, and voters. The 2004 presidential election between George W. Bush and John Kerry provides the stage, showing how the voting public is manipulated by both parties' leaders and their political marketing machines. Political activism and the thoughts of voters themselves are revealed in the ultimate cross-section state: Ohio.
So Goes the Nation was the Official Selection at the 2006 Toronto International Film Festival.