Contest: Police Story 2 On DVD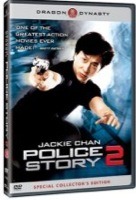 Police Story 2 hit DVD store shelves on February 13th, and we have a copy of Police Story 2 for three lucky /Film readers. All you need to enter is to e-mail us with the reason why you should get this DVD. On February 20th we will e-mail the winners with the best answers. More information on the releases can be found after the jump.
Price:                $19.95
Street Date:       February 13, 2007
MPAA Rating:   PG-13
Languages:       English 5.1, Cantonese 5.1 and Cantonese Mono
Subtitles:          English and Spanish
Running Time:   122 minutes
Synopsis:
Despite his success at apprehending criminals, Kevin's (Chan) unorthodox approach to his work as a police officer lands him in the traffic division.  The timing couldn't be worse as the drug lord he put behind bars is now out of prison, and has one thing on his mind – revenge.  At the same time, a group of bombers are attempting to extort $10 million from local building owners.  Realizing that they could use Kevin's help, the police force contemplates his reinstatement.