Contest: The Amazing Screw On Head On DVD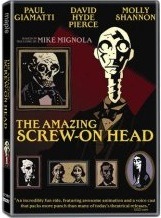 The Amazing Screw on Head hit DVD store shelves on February 6th, and we have a copy of this DVD for two lucky /Film readers. All you need to enter is to e-mail us with the reason why you should get this DVD. On February 15th we will e-mail the winners with the best answers. More information on the release can be found after the jump.
From the comic genius of Mike Mignola (Hellboy) comes an animated tale so twisted even Abe Lincoln is left scratching his head as Lionsgate releases to DVD The Amazing Screw-On Head on February 6, 2007. With a spectacular cast of voice talent including Academy Award® nominee Paul Giamatti (Sideways) as the title character, Screw-On Head, Emmy® Award winner David Hyde Pierce (TV's "Frasier") as his arch-fiend, Emperor Zombie and Emmy® nominee Molly Shannon (TV's "Saturday Night Live") as Patience the Vampire, the feature originally aired as a pilot episode on the Sci Fi Channel in July 2006 to critical acclaim.
Available on the same day as Mignola's highly-anticipated Hellboy animated feature, The Amazing Screw-On Head DVD features the original pilot episode in both widescreen and full screen versions as well as a 15 minute "From Comic to Cartoon: Making The Amazing Screw-On Head " featurette, audio commentary, a storyboard comparison sequence and a 16 page exclusive collectible comic book featuring never-before-seen art drawn by Mignola.
SYNOPSIS
In this hilarious send-up of Lovecraftian horror and steampunk adventure, President Abraham Lincoln's top spy is a bodiless head known only as Screw-On Head.
When Emperor Zombie steals an artifact that will enable him to threaten all life on Earth, the task of stopping him is assigned to Screw-on Head. Fortunately, Screw-On Head is not alone on this perilous quest. He is aided by his multitalented manservant, Mr. Groin, and by his talking canine cohort, Mr. Dog.
Can this unorthodox trio stop Emperor Zombie in time? Does Screw-On Head have a body awesome enough to stop the horrors that have been unleashed? Where can we get a talking dog? All these questions (O.K., maybe not that last one) are answered by the thrilling tale of The Amazing Screw-On Head!
DVD SPECIAL FEATURES
* "From Comic to Cartoon: Making The Amazing Screw-On Head" featurette
* Audio commentary with Director Chris Prynoski and Writer/Producer Bryan Fuller
* Storyboard comparison sequence