New Release Dates: Black Snake Moan, The Eye And Balls Of Fury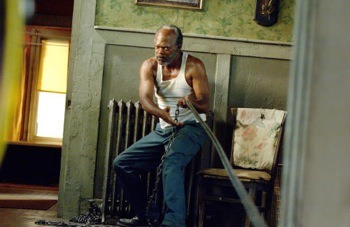 Black Snake Moan has been moved back a week while Balls of Fury has been pushed back five months. Let's take a look at why.
Craig Brewer's Black Snake Moan starring Christina Ricci and Samuel L Jackson
WAS [February 23rd, 2007]: The Number 23, Reno 911!: Miami, The Astronaut Farmer, Amazing Grace, Gray Matters, The Abandoned, Starter for Ten (limited), Glastonbury (limited)NOW [March 2nd 2007]: Zodiac, Wild Hogs, Full of It, Two Weeks (limited)
Verdict: Paramount Vantage decided to risk a head to head battle with David Fincher's Zodiac rather than be just another film in a booked up weekend.
Balls of Fury starring Dan Fogler, Christopher Walken, George Lopez and Maggie QWAS [April 27th, 2007]: Next, The Invisible, The Last Legion, Fracture, The CondemnedNOW [September 14th 2007]: I Am Legend, Lions for Lambs, The Oxford Murders, The Senator's WifeVerdict: The only reason Rogue Pictures would move a release back five months is because they aren't finished with production/special effects, or early test screenings have forced them to do reshoots. Anyone at Rogue willing to comment on this one?The Eye (American Remake)WAS: Not AnnouncedNOW [October 12th 2007]: 3:10 to Yuma, Margot at the Wedding, The Martian ChildVerdict: Lionsgate is trying to take over October – SAW 4 hits theaters two weeks later.