Contest: The Last Unicorn On DVD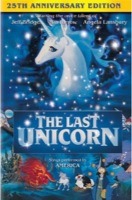 The Last Unicorn hit DVD store shelves today (February 5th), and we have a copy of this DVD for one lucky /Film reader. All you need to enter is to e-mail us with the reason why you should get this DVD. On February 12th we will e-mail the winner with the best answer. More information on the release can be found after the jump.
The Last Unicorn features an all-star cast of voice talent and songs performed by the band America. Starring the voices of Christopher Lee and Mia Farrow and Academy Award® nominees Alan Arkin, Angela Lansbury and Jeff Bridges, The Last Unicorn: 25th Anniversary Edition DVD tells the tale of a lonely unicorn who sets out on an extraordinary quest to find her lost brothers and sisters. Based on the novel by Hugo-Award winning fantasy author, Peter S. Beagle, this long-awaited special edition DVD, available for the first time in the United States in a widescreen version, brings the film to life in its highest quality ever with digitally remastered audio and video and encased in new foil packaging. A host of DVD special features includes "The Tail of The Last Unicorn" featurette, including an interview with author Peter S. Beagle, a set-top game, a photo gallery and original theatrical trailer.