Kevin Smith Starts A Podcast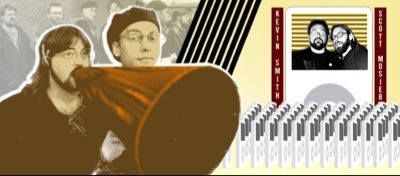 We knew this was bound to happen sooner or later, writer/director Kevin Smith (Clerks, Mallrats, Dogma) has started his own podcast.
SModcast captures an ongoing conversation between Smith and long time friend and collaborator Scott Mosier. The podcast is available at Smith's movie news site QuickStopEntertainment.
Here is the episode discussion for the first episode:
In which our heroes primarily puzzle over when "Oriental" became a derogatory term, as well as touch on the following subjects: the very tall, "Pump Up the Volume", parental groping, the detritus that gets washed off a newborn, the notion of a Birth-Day celebration, mobile units, bear bars, and Wolfie.