The Flash Gets Handed To Hack Director Shawn Levy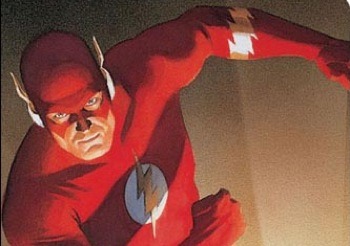 Whedon is off Wonder Woman, and now David Goyer has announced his departure from The Flash. With an ending comes a new beginning Shawn Levy has stepped on board to direct The Flash. Warner Bros/DC have made the worst move they could have possibly made (outside hiring Uwe Boll).
Shawn Levy  isn't a natural choice for the film. He's not considered a geek director, and for the most part has only been part of kiddie/teen comedies (Cheaper by the Dozen, Just Married, The Pink Panther, Big Fat Liar). He did gan some valuable special effects experience on his last project, Night at the Museum. But I don't think anyone can really spin this into good news. Levy is the definition of a bad director. And if you aren't scared yet, word already is that Levy is "aiming for a lighter movie than previous Warners comic book adaptations."
"I am sad to say that my version of 'The Flash' is dead at WB," Goyer wrote on his MySpace blog. "The God's honest truth is that WB and myself simply couldn't agree on what would make for a cool Flash film. I'm quite proud of the screenplay I turned in. I threw my heart into it, and I genuinely think it would've been the basis of a groundbreaking film. But as of now, the studio is heading off in a completely different direction."
Levy will oversee the writing of the new screenplay which will somehow incorporate elements of Goyer's very dark script. This sounds like it will result in a gigantic mess.