Shrek The Third Movie Trailer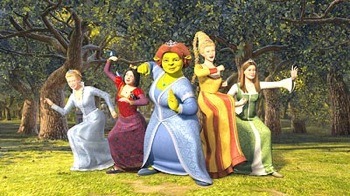 I must admit, I've never been a huge fan of the Shrek films. I saw the second one when I was overtired and laughed so hard I almost lost my voice. I later watched the film again and didn't laugh once. Anyway, Summer 2007 is going to be Sequel-mania, and Shrek 3 is part of that. The trailer for Shrek the Third can be found right after the jump.
[quicktime width="350" height="275"] http://www.ymcanorthbay.com/video/Shrek3.mov[/quicktime]
Here's the official plot synopsis:
When King Harold falls ill, it is up to Shrek to find a suitable heir or he will be forced to give up his beloved swamp for the throne. Recruiting Donkey and Puss, Shrek sets out to bring back the rightful heir to the throne, Fiona's rebellious cousin Artie. In Far, Far Away Fiona's jilted Prince Charming storms the city with an army of fairy tale villains to seize the throne. But they have a surprise because Fiona, together with her mother, Queen Lillian, has drafted her fellow fairy tale heroines to defend themselves. As Shrek, Donkey and Puss work on changing Artie from a royal pain into a future king, Fiona and her band of princesses must stop Prince Charming to ensure that there will be a kingdom left to insure.
The cast includes Strangers with Candy star Amy Sedaris as Cinderella, Saturday Night Live Weekend Update anchor Amy Poehler as Snow White, Maya Rudolph (50 First Dates, SNL) as Rapunzel, Cheri Oteri (Scary Movie, SNL 1995-2000) as Sleeping Beauty, Ian McShane (Scoop, Sexy Beast) as Captain Hook, John Krasinski (The Office, Jarhead) as Sir Lancelot, Eric Idle (Monty Python) as Merlin the magician, and Justin Timberlake as King Arthur, aka Artie. And of course, Mike Myers, Cameron Diaz, Eddie Murphy and Antonio Banderas have returned.
Shrek the Third will hit theaters on May 18th, 2007.