Rustin Review: Colman Domingo Dazzles In This Satisfying Biopic [TIFF 2023]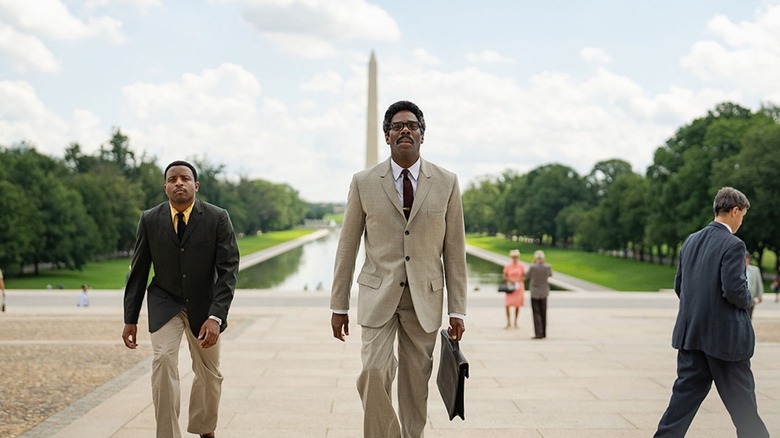 Netflix
The March on Washington is considered a major watershed moment in the civil rights movement: in front of an enormous crowd, Martin Luther King Jr. delivered his unforgettable, inspirational "I Have a Dream" speech. But as the film "Rustin" points out, pulling off that moment took extraordinary leadership and organization — and the idea for the march came from Bayard Rustin (Colman Domingo), a vital player in the civil rights movement and close personal friend of MLK Jr. (Aml Ameen). In 1960, a public reveal of Rustin's sexuality is threatened by Rep. Adam Clayton Powell (an excellently villainous Jeffrey Wright), and Rustin's influential position is no longer tenable.
The majority of "Rustin," directed by George C. Wolfe, takes place in 1963, the year of the march. Rustin is working at the War Resisters League, continuing to live openly as a homosexual, but without the opportunity to lead major movements he once possessed. But when Rustin's desire to reignite the plan for the March on Washington returns, he'll need to get MLK's support to get his epic, two-day, 100,000-person peaceful protest off the ground. Propelled by Branford Marsalis' kinetic score with slick drum beats and blaring horns, Rustin sets off on a mission to make history.
This is an exceptionally unique story about the kind of person who rarely gets noticed in Hollywood — a Black, gay activist — so it feels disappointing that he's been lumped into a by-the-numbers biopic. It's also oddly cast, with Chris Rock as NAACP head Roy Wilkins, for example, feeling more like a distraction than anything else. It's unfortunate that the film often looks stiflingly cheap, especially in the pivotal march scenes. "Rustin" can feel frustratingly formulaic.
For the most part, anyway. There are flashes of brilliance here, especially when "Rustin" dives into the personal life of its lead as he struggles with his homosexuality. Not struggling to accept it, mind you — Rustin makes no efforts to hide in the shadows as a proud, gay man — but in his struggle to keep his desires at bay when he's more public-facing than ever in his organization on the March of Washington. A story leaking to the press about Rustin's sexuality would prove devastating and hugely detrimental to his efforts, so he vows to try and resist natural urges. That proves difficult with the introduction of Elias Taylor (Johnny Ramey), a married preacher who falls for Rustin's unrelenting charm. It's heartening to see George C. Wolfe not shy away from queer intimacy, and while the two stories of the organization of the March on Washington and Rustin's personal life don't always converge successfully, it's great to see Rustin's queerness not get overlooked. There are also other compelling elements that set it apart, including discussions of intersectionality — there are frustrations over the lack of women speaking at the event — but those aren't developed much further than surface level.
Colman Domingo is coming for Oscar glory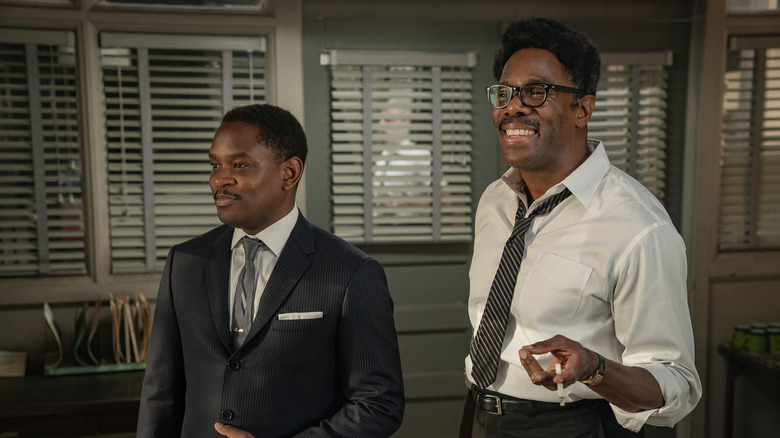 Netflix
The film needs Colman Domingo to excel for it to work, and excel he does. His performance is bristling with energy, charisma, and endless charm — you need to believe that this man was capable of incredible things despite the barriers at play, and thanks to Domingo, it's incredibly easy to conceive that Bayard Rustin was a gifted leader. His perfectly-pitched voice is infectious, and Rustin is rarely not smiling, and the gap in his smile (thanks to a police run-in) adds a layer of allure to his character. His energy is unmistakable, his drive undeniable. Domingo has been brilliant for a long time, and it's fantastic to see "Rustin" finally give him the leading-man credentials he so clearly deserves. He's also brilliant in another TIFF film this year called "Sing Sing," making 2023 the year Colman Domingo launches into the stratosphere.
I've seen thousands of movies in cinemas in my lifetime, but I've never experienced an audience quite like the one that sat down for "Rustin." It's common for a festival audience to break out into applause at the end of the film — especially when those involved with the film are present. Perhaps there will even be a couple of spontaneous bursts of applause in particularly crowd-pleasing moments. During "Rustin," the applause kept coming — I counted a whopping eight huge rounds of applause throughout the film, and there were a few other smatterings of applause throughout.
"Rustin" is clearly very successful at winning over an audience, which makes it all the more baffling that it's going straight to streaming (some cities will get "Rustin" in theatres on limited release). The communal experience of film is so special, and with movies like "Rustin," it's absolutely electric. While I didn't find myself joining every applause, I admit that all of those moments, and others like them, were extremely satisfying — never once did I find the applause to be unearned. The script, penned by Dustin Lance Black and Julian Breece, knows how to punctuate important moments, which is usually through a cutting one-liner or powerful monologue, often courtesy of Rustin himself. It does wind up playing things too safe, and too conventionally, but "Rustin" still remains a valuable portrait of how an everyday person can do extraordinary things in the face of staggering adversity.
/Film Rating: 6.5 out of 10