Christopher Lee Did Count Dooku's Star Wars: Attack Of The Clones Lightsaber Duels Himself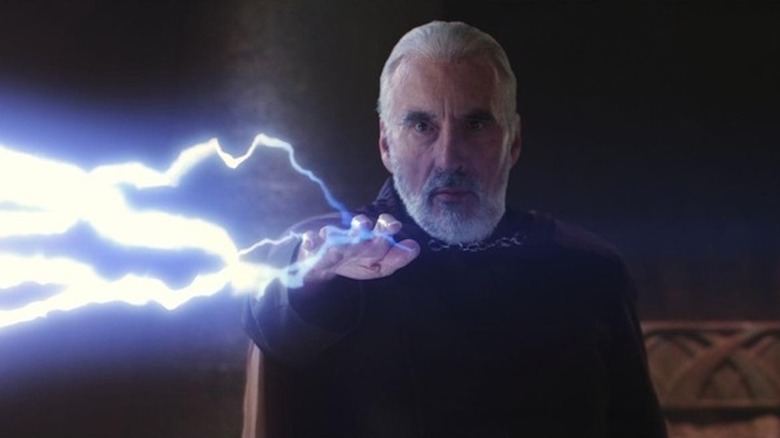 20th Century Studios
Christopher Lee appeared in over 200 movies throughout the course of his magnificent 57-year career, and while he took roles in all types of films, he was primarily celebrated for his work in Hammer horror flicks. Lee was deliciously wicked in seven movies as Count Dracula, and a 6-foot-5-inch tower of menace as the creature in "The Curse of Frankenstein." He was also, however, prolific in action films as a skilled dueler. According to former stuntman Derek Ware, Lee holds the filmmaking record for onscreen swordfights, and he was still wielding the blade into his 80s.
Most of his dueling was done with swords, but he is easily best known to modern moviegoers for his faceoff with a shockingly spry Yoda in "Star Wars: Episode II – Attack of the Clones." As the nefarious Count Dooku, Lee is also surprisingly light on his feet for an 80-year-old man. He's so nimble, you might figure that his stunt double handled most of the lightsaber battle. If so, you are figuring wrong.
Lee could still bring the ruckus at the age of 80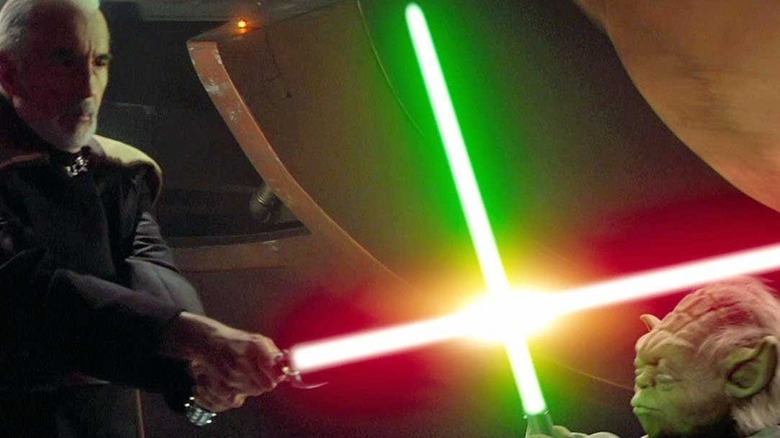 20th Century Studios
In a 2002 interview published on TheForce.Net, Christopher Lee bragged about his Guinness World Record (as he should) for having the highest number of sword fights in movies. "And I have the scars to prove it," he said. As for crossing lightsabers with a pint-sized Jedi master who is pushing 900 years old but is still able to flip to and fro with the franticness of Sonic the Hedgehog, Lee was delighted to see that his efforts were exclusively highlighted in the final cut. He said:
"When I saw 'AOTC' I said to Rick McCallum 'I didn't see the double anywhere,' and Rick confirmed that it's me in all the scenes. Sometimes you need a double, obviously. At my age, I cannot run very fast, so I needed a double for that particular long shot. When it comes to close shots, it has to be the actor. And almost all the fights were close shots. And not easy, to put it mildly."
That's astounding, especially for a man who sustained numerous injuries while serving in World War II. But people of that era were renowned for their perseverance in the face of a global fascist threat, and this hardiness allowed Lee to live a long, rich life. He died in 2015 at the age of 93, and was hailed by the likes of Martin Scorsese, Peter Jackson, and Neil Gaiman. He risked his life to preserve civilization and took his licks for our entertainment. And he puts folks like Tom Cruise to shame.