Christopher Lee Has Died At 93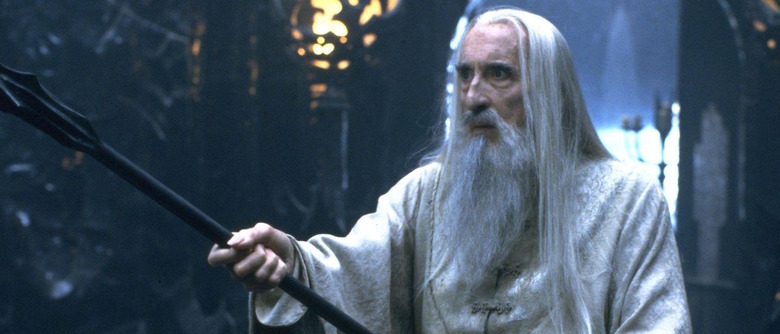 Sad news this morning: Christopher Lee, known for his work in the Hammer Horror films as well as the James Bond, Star Wars, and Lord of the Rings movies, has died. He was 93. Lee will be dearly missed, but he leaves behind a staggeringly accomplished career for us to remember him by. More on Lee's passing after the jump.
The Guardian reports Lee passed away Sunday morning after being hospitalized for respiratory problems and heart failure. His wife of 54 years, Birgit Krøncke, chose to delay the announcement in order to notify family members first.
Born in London in 1922, Lee served in the Royal Air Force during World War II. He turned to acting soon after the war, but it wasn't until he joined up with Hammer Films, in the 1950s that he really broke through. Although Lee hasn't exclusively played villains over the course of his seven-decade career, many of his most iconic roles were as bad guys.
His first film for Hammer Horror was The Curse of Frankenstein, in which he played Frankenstein's monster. However, he became better known for his work as Count Dracula in eight Hammer films, starting with 1958's Dracula. His partnership with Hammer continued for over 20 years.
Lee's other notable roles from that era include Dr. Fu Manchu in a series of '60s films, Sherlock Holmes in numerous films from 1962 to 1992, Comte de Rochefort in The Three Musketeers (1973) and its sequels, and Francisco Scaramanga in the Roger Moore-era Bond film The Man With the Golden Gun. Additionally, Lee has cited 1973's The Wicker Man in interviews as his best film, and 1998's Jinnah as his best performance.
In the 2000s Lee became iconic to a new generation of moviegoers playing evil wizard Saruman in Peter Jackson's Lord of the Rings trilogy, as well as Sith lord Count Dooku in the Star Wars prequel trilogy. He later reprised the role of Saruman for Jackson's The Hobbit trilogy. Lee was knighted in 2009.
Outside of his film career, Lee had an interest in heavy metal music. He worked with bands like Rhapsody of Fire and Manowar before releasing his first complete metal album, Charlemagne: By the Sword and the Cross, in 2010. His output includes the 2012 EP A Heavy Metal Christmas, which is exactly what it sounds like.
Lee's most recent onscreen appearance was in 2014's The Hobbit: The Battle of the Five Armies. He has one more film due out titled Angels in Notting Hill, but it does not yet have a release date. Also on his slate was The 11th, a 9/11 drama with Uma Thurman, but it seems the film hadn't started shooting at the time of his death.