SNL's Chloe Fineman Worried Her Drew Barrymore Parody Was Too Mean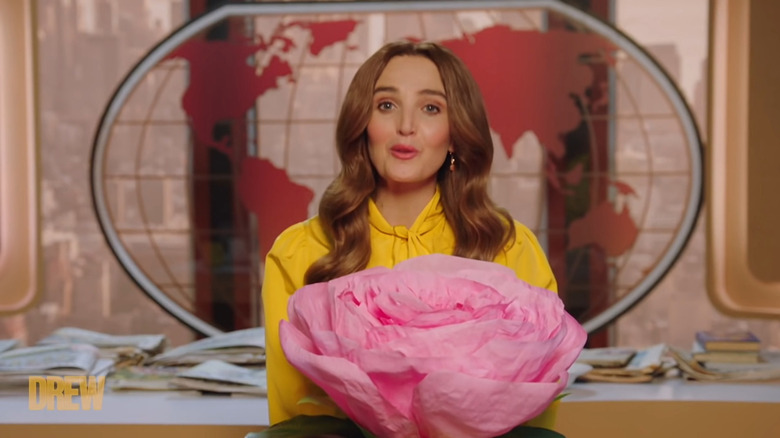 NBCUniversal Syndication Studios
"The Drew Barrymore Show," often just called "Drew," launched on September 14, 2020, right when worldwide, COVID-related lockdowns were put into effect. Like many live shows, "Drew" had to immediately find ways to record safely, often with guests appearing on screens. Barrymore, eternally upbeat, and once described by the L.A. Weekly as a "sentient cloud of giggles," shifted into friendliness overdrive, selling her particular brand of irresistible joy at a time when the world was feeling particularly doomed. Some welcomed Barrymore's bubbliness. Others, like the "Saturday Night Live" writers, felt that even the actress' well-known joviality wasn't going to be nearly enough to counter the horrors of an actual plague. 
SNL performer Chloe Fineman, as one might know, can do a killer Drew Barrymore impersonation, and, in the early days of lockdown, took to social media to poke fun at her. When "Drew" was announced, Fineman leaped at the opportunity to satirize the upcoming show. The resulting SNL sketch juxtaposes Barrymore's cheeriness with an undercurrent of cynicism. Fineman's version of Barrymore was a little clueless, staying happy in the face of undeniable misery; helping COVID-afflicted families with room renovations they didn't need. The sketch also skewered Barrymore's on-screen persona as an "everymom" by pointing out that she was a wealthy movie star since age 6. In light of Ellen DeGeneres' reported bad behavior, Drew Barrymore was announced as a much "safer bet." 
In a recent interview with the Los Angeles Times, Fineman expressed trepidation over the 2020 sketch, feeling that it might have been a little too mean-spirited. After all, Fineman — along with the rest of the world — loves Drew Barrymore.
Let that free you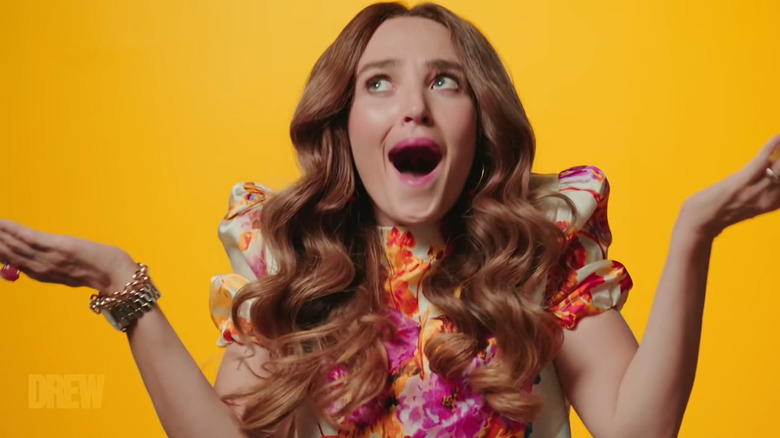 NBCUniversal Syndication Studios
When Chloe Fineman first began posting her Drew Barrymore impersonations on TikTok, she ran it by several of her friends first, attempting to gauge their meanness levels. Fineman said:
"I sent it to a bunch of people, like, 'Is this mean? I love Drew Barrymore. Is this OK?' [...] Because I think she's like our nation's gem. I'm team 'too much.'"
There didn't seem to be any hard feelings, however, as Fineman was invited onto "Drew" to do her impersonation next to the genuine article. Barrymore was quoted in the Times as saying the spoof brought her "so much joy," and that she encouraged Fineman to keep up the shtick. Barrymore said that she was happy to be "taken silly" as opposed to being taken seriously. Fineman's impersonation, however, offered a moment of reflection for Barrymore. Previously worried her on-screen persona was too serious, the actress realized that she could actually be as silly as she wanted. Barrymore said:
"Everything shifted in that moment. [...] It set me free and stopped me from beating up on myself as much. It opened up doors inside me that went, 'It's OK for you to be silly. Maybe you won't get fired.'"
Giving acting a rest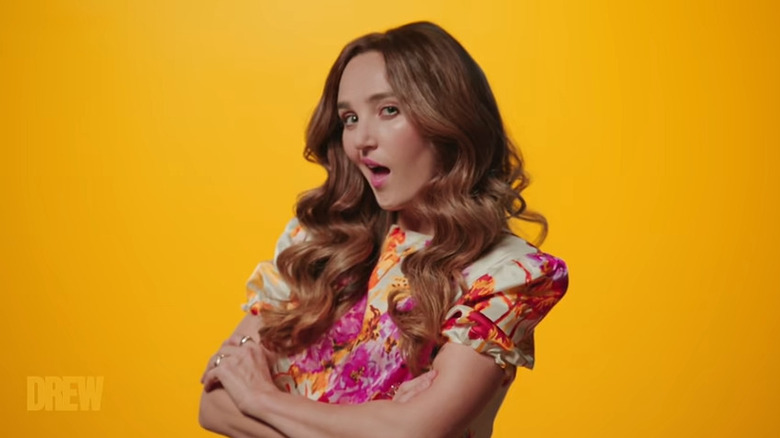 NBCUniversal Syndication Studios
Indeed, the talk show was all Barrymore found she wanted to do at the moment. Without announcing it, she was taking a proper break from acting and trying to enjoy herself under the circumstances. "Drew" was the way to do that. And, with Fineman's satirical help, found peace in her show. Barrymore recalls her most harrowing recent acting gig, going back to her 2009 performance in "Grey Gardens." While she has had a few acting gigs since then, she recalls that role as perhaps too intense an experience. Barrymore said:
"I just need to be myself. I struggle to be someone else, but I just can't see acting right now. [...] I know that sounds sad and dismissive, and I hate when people are like, 'I'm retiring,' or 'This is my goodbye.' I don't want it to come off that way. I definitely, on certain projects, like when I did 'Grey Gardens,' this film I did where I played beloved real-life woman Edie Beale, I was so nervous I didn't really chit-chat with everybody on set. I just really stayed in character."
"The Drew Barrymore Show" is still on the air, and was nominated for three Daytime Emmy Awards in 2021, and six in 2022. Out of its second round of nominations, it won two. Barrymore also won a Special Achievement Webby for her work. Chloe Fineman, meanwhile, is still performing on SNL and has become notable for her many amazing impersonations, including Reese Witherspoon, Nicole Kidman, Nancy Pelosi, Diane Keaton, Britney Spears, and Jamie Lee Curtis. As of this writing, Fineman hasn't yet won any Emmys, but they may be coming.