Melissa McCarthy Wore Chris Farley's Actual Matt Foley Jacket For Her SNL Tribute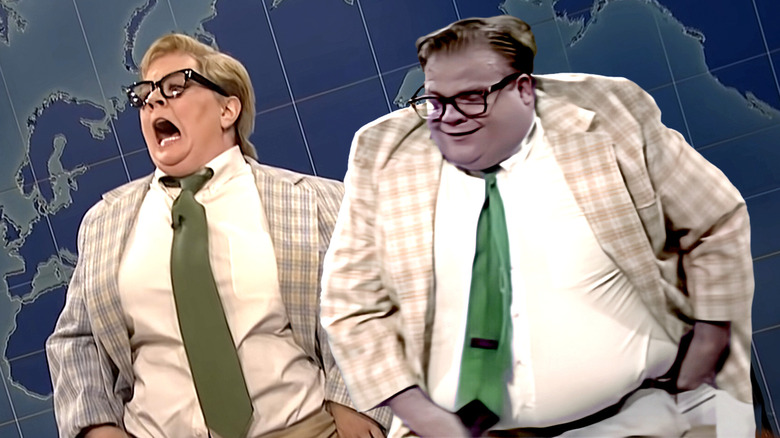 NBC Universal
Chris Farley was a comic genius. The "Saturday Night Live" comedian brought us incredible characters like the dancer auditioning for Chippendale's with Patrick Swayze, one of the Gap Girls, Todd O'Connor from Bill Swerski's Superfans, and of course, Matt Foley, the motivational speaker who lives in a van down by the river. Farley, who passed away from a drug overdose at the age of 33 in 1997, created the character with Bob Odenkirk ("Better Call Saul") when they were both a part of the Second City comedy group before SNL. 
Matt Foley first showed up in 1993 in a sketch where he attempted to motivate two teens (David Spade and Christina Applegate) to stop using drugs. The character appeared for the last time during Farley's first hosting gig on the show, two months before his death. 
To this day, there is no one that I can think of who commits to a comedy bit more than Farley did. Matt Foley, motivational speaker was ... a lot, but in the best way. In 2015, former cast members of SNL came together to do a live 40th-anniversary tribute to the sketch comedy show. During the "Weekend Update" segment with former anchors Tina Fey, Amy Poehler, and Jane Curtin, actor Melissa McCarthy ("Bridesmaids") showed up to pay homage to Farley's Foley. To do that, she actually got to wear the jacket Farley wore in his famous sketches. McCarthy spoke to Andy Cohen in a SiriusXM interview (via EW) about what that meant to her. 
Watch Melissa McCarthy pay tribute to Chris Farley
The "Weekend Update" segment from "SNL40: Weekend Update with Tina Fey, Amy Poehler, and Jane Curtin" that features McCarthy's version of the character is pretty wonderful, if a bit slow. The Farley tribute begins at 4:19, but I would urge you to watch it all. 
Farley absolutely threw himself into this "thrice divorced" motivational speaker who lives in the van down by the river and takes in far too much caffeine. Whether you like the writing or not, it is impossible not to be caught up in Farley's enthusiasm as he talks about eating a lot of government cheese, says "Oh, la-dee-freaking-da" or "Whoop-dee-freaking-do" about anything his clients are proud of, and smashes tables. (The first time that happened in Matt Foley's first appearance, you can see on the faces of the other actors that they had no idea it was coming.) He constantly uses wildly emphatic gestures, and it's just a delight to see someone perform this way. 
Considering the fact that I actually heard someone joke about living in a van down by the river no less than three days ago, I'd say this character is still pretty beloved, and McCarthy was nervous to be the one paying the tribute. 
'I was just rattled'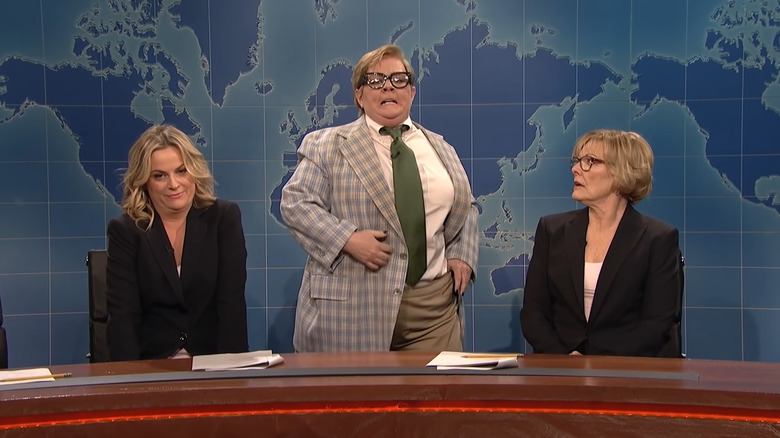 NBC Universal
As McCarthy told SiriusXM:
" ... right before I came through the door, I was so nervous. That the sweet stage manager came up and he goes, 'Honey, are you okay?' My legs were bouncing to the point where I couldn't — I was holding onto the door. And I was like, 'I don't know if I can get the handle open.' Because I couldn't, I was not in control of my body. And I've never done that before. I was just rattled."
That's not hard to understand, though if anyone has the ability to commit to a role like this, it's McCarthy. Still, she was pretty nervous and called her husband, actor Ben Falcone who told her that Chris Farley wouldn't do this without full commitment and she should "come through that door like a train." 
Of the famous jacket that Farley wore, McCarthy said, "It was really his jacket, and they just kind of like clipped it back. And they're like, 'We're gonna take it in, but we don't wanna damage it. And we're gonna do all this.'" To be fair, that jacket has probably seen a lot of damage after being hurled onto breakable tables, as it did when McCarthy did the tribute. She did Chris Farley and Matt Foley proud that day. Though it wasn't meant to be, I so wish I could have seen them do a sketch together. 
If you or anyone you know needs help with addiction issues, help is available. Visit the Substance Abuse and Mental Health Services Administration website or contact SAMHSA's National Helpline at 1-800-662-HELP (4357).