Shadow And Bone Season 2 Review: More Love, More Monsters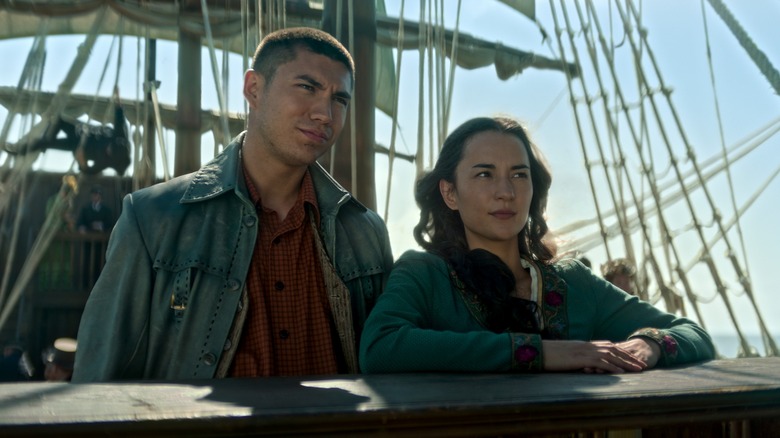 Netflix
Two years after "Shadow and Bone" made its debut on Netflix, the Grishaverse finally returns with season 2 of the fantasy-action-romance hybrid. Based on the books by Leigh Bardugo, this is a show dense with lore that shows no mercy to non-book readers and/or those for whom April 2021 is a distant, foggy memory. It's definitely worth rewatching the first season if you don't want to be floundering in questions like "wait, what's merzost?" and "who the hell are all these people?"
If you don't have time for a rewatch, here are the basics. The world is made up of ordinary people and Grisha, born wizards with power over certain elements. Some can control wind, some can control fire, some can control water, some can manipulate materials, some can hear heartbeats and squish people's internal organs at will. In season 1, orphan Alina Starkov (Jessie Mei Li) learned that she was a Grisha with the rare power to summon light — a living saint dubbed the Sun Summoner, and hailed as the potential savior of the world. She teamed up with a sexy dark-haired bad boy (Ben Barnes, in the role he was born to play) called General Kirigan to try and destroy the Shadow Fold, a great sea of unnatural, monster-filled darkness that split the world apart centuries ago.
Of course, being the sexy bad boy that he is, Kirigan aka the Darkling revealed that his true intention was to expand the Fold, not destroy it. Both he and Alina barely escaped with their lives. In season 2, Alina and her childhood friend/new boyfriend Malyen Oretsev (Archie Renaux) set out to find two legendary amplifiers (like Wi-Fi boosters, but for superpowers) that Alina needs to destroy the Fold, while Kirigan broods, develops a nasty cough, and assembles an army of shadow monsters.
More characters, but a tighter storyline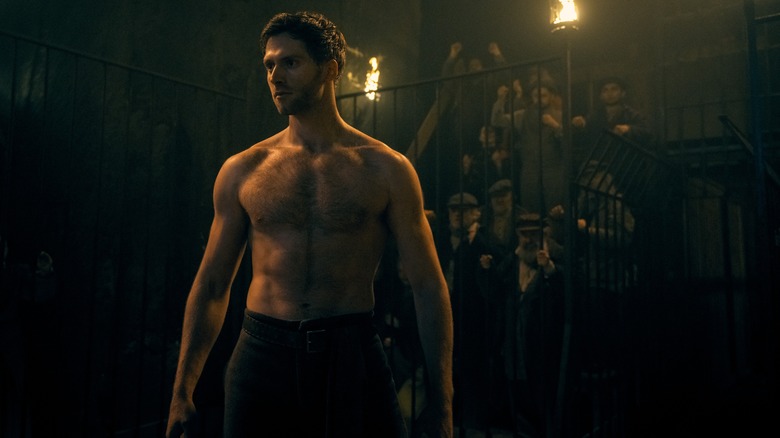 Netflix
"Shadow and Bone" season 1 split its narrative into three strands — two of roughly equal size, and a third that was basically a tasty garnish. The first strand was Alina's time at Grisha school, learning to control her newfound powers, getting some cool new clothes, and sharing lots of charged eye contact with our smoldering villain in disguise. The second followed a group of guttersnipes who had grown up to form a criminal underground gang, the Crows, who are hired to kidnap Alina and travel across the Fold to do so (with some help from an adorable goat called Milo). 
The garnish was a steamy little plot thread involving chatty Heartrender Nina Zenik (Danielle Zenik) and a tall, attractively grim-faced drüskelle (witch-hunter) called Matthias (Calahan Skogman). He was raised to hate her kind; she kind of resents him for kidnapping her. They do lots of fun arguing, and then one night they're both very cold and they have to stay in a cabin with only one bed and, well, if you're familiar with fan fiction tropes then you'll know how that story ends.
In some ways, "Shadow and Bone" season 2 is simplified in that there are really only two main plot threads. Matthias, at this point, is on his own in Hellgate prison, and we just check in on him occasionally to see how he's doing (spoiler: he's not doing great). Meanwhile, Alina's storyline and the Crows' storyline (which now incorporates Nina) start off completely independent from one another but are eventually drawn together by the finale. Structurally, it's simpler, but with new characters being introduced while characters from season 1 reemerge from the woodwork, the show does at times feel a little overstuffed.
How's the romance?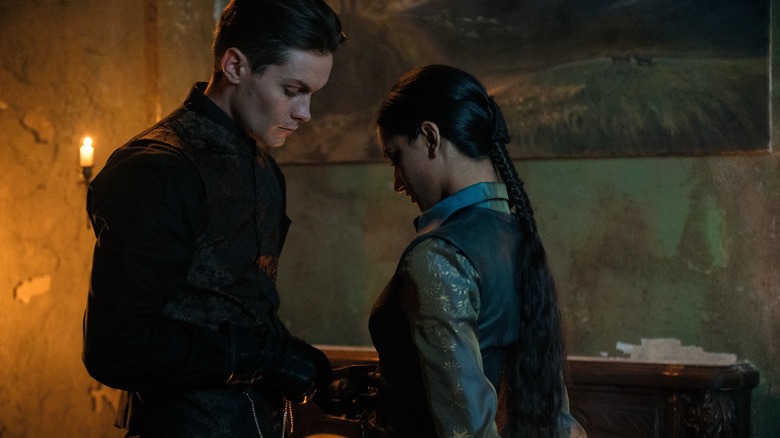 Netflix
Like a lot of young adult fiction, "Shadow and Bone" centers on a powerful young woman with multiple men swooning for her. That's not to say that Alina is a Mary Sue: in her storyline as the Sun Summoner, she faces enough struggles and setbacks to feel well-rounded and human, superpowers notwithstanding. The romance side of her arc, though, is a perfect example of the "be careful what you wish for" aspect of wish fulfillment. 
At this point, the show is pretty committed to pairing Alina with nice boy Mal, who is utterly devoted to her, supportive of her quest, and almost too eager to die for her. But while this might theoretically make him the perfect boyfriend, it makes him pretty dull as a character, and therefore as a love interest. Mal has no real storyline of his own, or any personal goals beyond being with Alina. There's still a frisson of tension between Alina and Kirigan (newly adorned with sexy bad boy scars), and a dashing young tsarevich (Patrick Gibson) gets thrown into the midst, but it's not enough to liven things up.
In fact, despite characters pairing off left, right, and center, the romance is pretty flat this season. Jesper (Kit Young) connects with shy young bombmaker Wylan (Jack Wolfe) and some of the Grisha characters pair off as well, but there's a clear vacuum left by Nina and Matthias being split up. 
Really, the only saving grace in the romance department is the simmering, unresolved tension between Kaz Brekker (Freddy Carter) and Inej Ghafa (Amita Suman). Because both characters have deeply traumatic pasts, towering emotional walls, and unwavering personal goals (Kaz wants revenge; Inej wants to free herself from indentured servitude), there's no room in their lives for romance — which makes it all the more heartrending (pardon the Grisha pun) to watch romance striving to bloom anyway.
How's the action?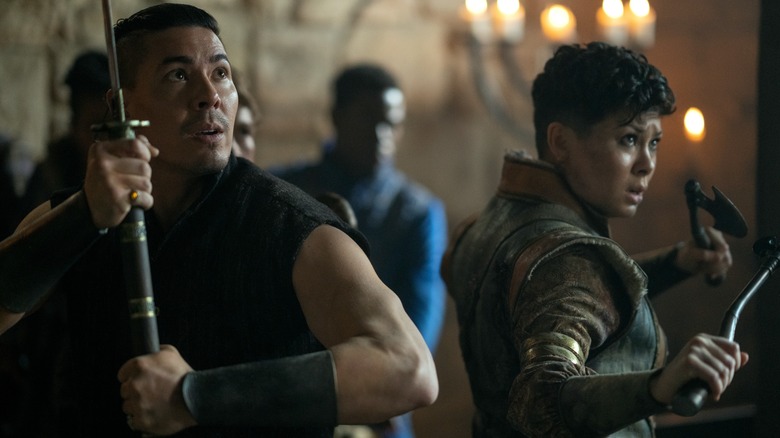 Netflix
Among the new characters introduced in "Shadow and Bone" season 2 are twins Tolya (Lewis Tan) and Tamar (Anna Leong Brophy), both of whom originally hail from Shu Han (the Grishaverse's version of China) and were therefore trained outside of the Grisha schooling we saw in the first season. Instead of putting all their skill points into magic — which in the Grishaverse requires precise hand movements, and can therefore be rendered useless by a bad bout of carpal tunnel syndrome — the twins are equally adept with good old-fashioned steel weapons and hand-to-hand combat, occasionally throwing their heartrending abilities into the mix. 
It's an interesting way to mix things up on the action front. Tan, who has a background as a stunt performer and is known for martial arts-heavy roles in "Mortal Kombat" and "Into the Badlands," is in his element here. There's one particular long-take fight that demonstrates the value of having an actor who can do their own fights without endless cutaways — though it is, like the rest of the action this season, plagued by rampant overuse of slow motion and speed ramping.
How's the fantasy?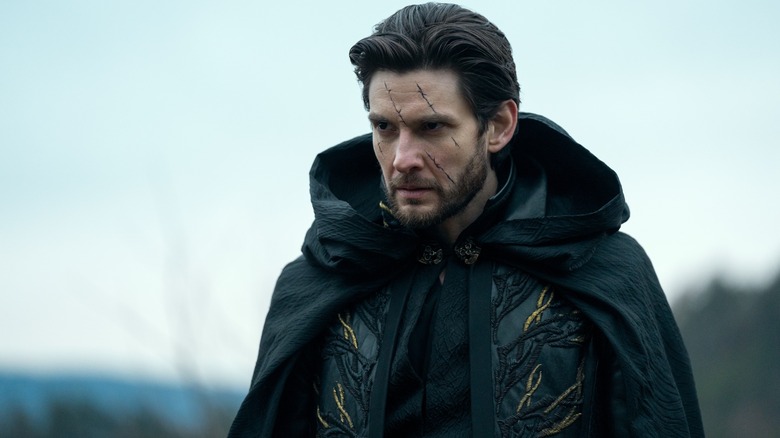 Netflix
Building your fantasy world around existing counties in the real world isn't inherently a bad thing. "Avatar: The Last Airbender" is an example of good execution, with its Imperial Japan-inspired Fire Nation and Qing dynasty-inspired Earth Kingdom. The wildly popular "Game of Thrones" is largely set in a fantasy version of the British Isles, complete with a great big wall up north to keep out the scary highlanders.
But while "Shadow and Bone" isn't exactly committing any new sins in this regard, its various locations do lack a tangible identity of their own. Ravka is fantasy-Imperial Russia, Shu Han is fantasy-China, and the Barrel — the seedy underbelly of the city of Kerch in Ketterdam — is name-dropped like it's a character in its own right, but never really feels distinctive. In terms of set and costume design, it has shades of Victorian London and Amsterdam's Red Light District, but it lacks the exciting personality that the dialogue insists is there.
Things are a little more interesting on the Grisha front, at least. The main plot is typical of a shonen anime (Alina needs to find two more "amplifiers" to get her power levels over 9000 so she can destroy the Fold), and will appeal to fans of that genre. While Alina's powers tend to be of the "shooting beams of light that hurt" variety, they do at least look very pretty when she's powering up. And in a battle towards the end of the series, we get to see Grisha using and combining their powers in interesting ways — a Tidemaker killing people by drawing all the water out of their bodies, for example, and Inferni lighting people on fire while Squallers feed the fire with wind to make it burn hotter.
The Netflix effect
Netflix
Bottom line: "Shadow and Bone" is a Netflix fantasy show. Like "The Witcher," it will please many fans of the source material simply by bringing their favorite characters to life. Like "Cursed," it features a protagonist with a grand destiny and an emotional support love interest to help her reach it. Like "Warrior Nun," it has fight scenes that are mostly fine. And like all of those shows, it has that inescapable Netflix Look. There are no standalone episodes that can be enjoyed in isolation (like "The Sound of Her Wings," the excellent mid-season interlude in "The Sandman"); this is an eight-hour movie, expressly designed for binge-watching.
If you're already invested in the characters from "Shadow and Bone" season 1, the second season should satisfy you; there's no noticeable dip in quality, nor a rise in it either. If you generally like a blend of action, fantasy, and romance tropes, then this is one of the better options out there. Personally, I found myself wishing the show would lean into enjoyable trashiness instead of being quite so self-serious, but I won't fault "Shadow and Bone" for having loftier aspirations than that.
"Shadow and Bone" season 2 is now streaming on Netflix.