Sarah Polley's Oscar Win For Women Talking Bucks A Sad Oscars Trend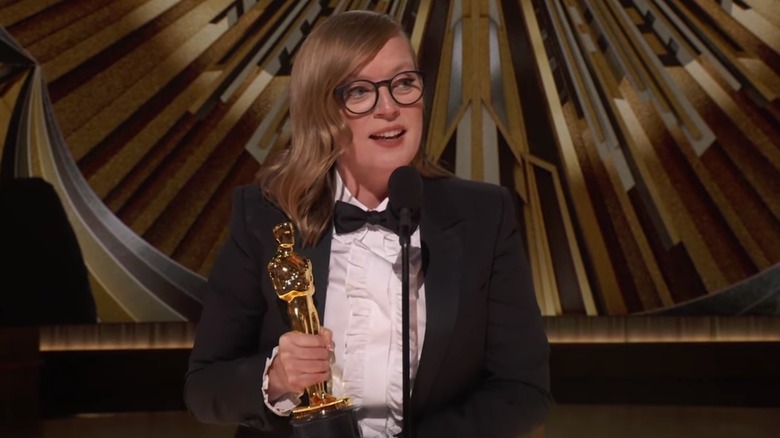 ABC
When writer-director Sarah Polley won her well-deserved Oscar for Best Adapted Screenplay at the 95th Academy Awards last night, her speech started with a clever callout. "I want to thank the Academy for not being mortally offended by the words 'women' and 'talking' put so close together like that!" she said, before speaking about the themes of democratic womanhood in Miriam Toews' novel. While the reference to "Women Talking" could easily apply to a half-dozen different areas of improvement the Oscars still has to work on when it comes to supporting women, it also gets to the truth of Polley's category: in over 90 years, Polley is only the 10th woman to receive the trophy. This is also the first time in Oscar history that it's gone to a woman two years in a row.
Past winners of what's currently known as the Best Adapted Screenplay race include plenty of writers who are known for their brilliance and strong cinematic legacies, from James Ivory to the Coen Brothers to Francis Ford Coppola. The vast majority of them, though, have been men. But unlike other categories that tend to box out women and gender non-conforming filmmakers from the start (the first female Best Director nominee was in 1977, and the first winner in 2010, for example), the Best Adapted Screenplay race has sporadically acknowledged the existence of women writers from nearly day one. It just hasn't always awarded them.
Only 10 women have won best adapted screenplay
The first woman to win the Best Adapted Screenplay race was Frances Marion, a writer, director, and journalist with a prolific filmography that bridged the gap between silent and sound films. Marion won the top writing prize (it was then just called Best Writing) in 1931, at the third annual Oscars, for the MGM drama "The Big House." Just three years later, Sarah Y. Mason took home the award for co-writing "Little Women," and in 1943, Claudine West earned the trophy for co-writing "Mrs. Miniver."
But despite its auspicious start, the Best Adapted Screenplay category was by no means a bastion of gender equity in Hollywood. After West, no woman took home the prize for over 40 years. During that time, the New Hollywood era and the rise of auteur theory made the art of writing and directing films largely synonymous with a sort of white male "genius." The dry spell was finally broken by Jewish writer Ruth Prawer Jhabvala, who won twice for her takes on "A Room With A View" and "Howards End." In the ensuing decades, Emma Thompson, Fran Walsh, Philippa Boyens, Diana Ossana, and Siân Heder would represent women screenwriters on the Oscar stage. Between Ossana, who won for the "Brokeback Mountain" script she penned with Larry McMurtry, and Heder, who won for "CODA," stretches a gap of 16 years.
'Your story will be different from ours'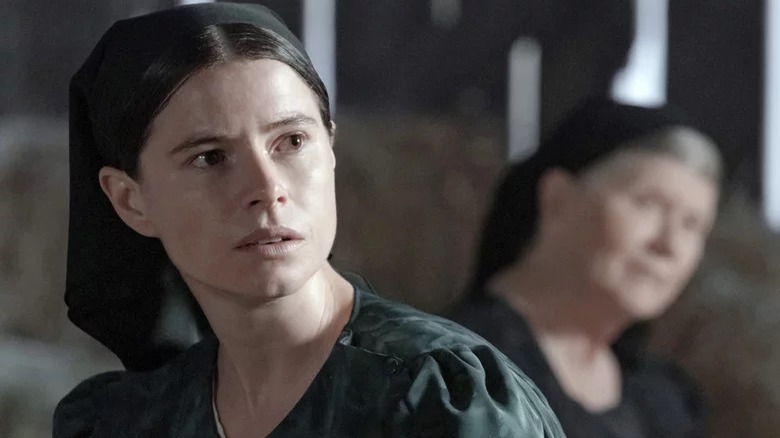 MGM
124 names have appeared on the Oscars for the category that's now known as Best Adapted Screenplay. Playwrights, actors, authors, and screenwriters have all won the award. This means roughly 8 percent of the winners in the Academy's long history have been women, despite statistics from 2020 (gathered by the Center for the Study of Women in Television and Film) indicating that 29.6 percent of all employed screenwriters are women. Of course, that latter stat didn't always hold true, but even if we look at the most recent decade's awards, the numbers don't look much better. 2 of the 17 winners — 11.7 percent — since 2013 have been women. And as of 2023, more guys named Donald Stewart (two, somehow) have ever won this award than women of color or openly trans women (zero).
The largely homogeneous history of the Best Adapted Screenplay Oscar isn't exactly heartening, but Polley's words at the Oscar ceremony on Sunday speak to a future that will look different, and maybe even better. "The last line of our film is delivered by a young woman to a new baby, and she says, 'Your story will be different from ours.' It's a promise, a commitment, and an anchor," Polley said, before dedicating those words to her own children. The future of women goes far beyond the stubborn limitations of a subjective award show, as the excellent, eloquent, powerful script of "Women Talking" demonstrates. But Polley's commitment rings true in every context, envisioning a future that will look different for everyone, including the women who watch and write movies. The next generation of women writers' stories will no doubt be different from ours — and I can't wait to hear them.