Jeremy Renner's Rennervations: Release Date, Cast, And More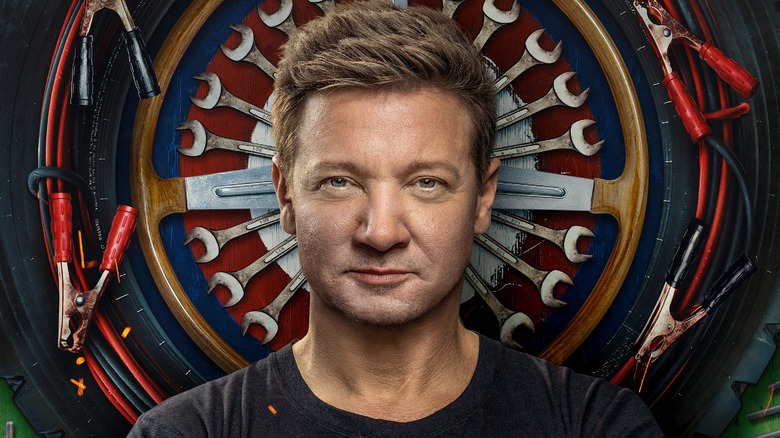 Disney+
(Welcome to ...And More, our no-frills, zero B.S. guide to when and where you can watch upcoming movies and shows, and everything else you could possibly stand to know.)
Jeremy Renner has decided to make some renovations. The long-time Marvel Cinematic Universe star, who's known for his superhero role as Clint Barton/Hawkeye in several franchise films and the Disney+ series "Hawkeye," is returning to Disney's streaming service for a brand new docuseries. Titled "Rennervations," the four-part show will find Renner traveling the world and repurposing decommissioned government vehicles to meet various communities' needs.
Earlier this year, news of the actor's critical injury following a snow plow accident near his Nevada home was announced, leaving fans concerned about his wellbeing. The accident led to him being hospitalized with 30 broken bones and blunt chest trauma, but Renner is now in recovery. While "Rennervations" was filmed before the injury, the actor has described the series as "a driving force" in his recovery process, describing it as a project he is deeply passionate about. Here's all you need to know about it.
Rennervations release date and where to watch it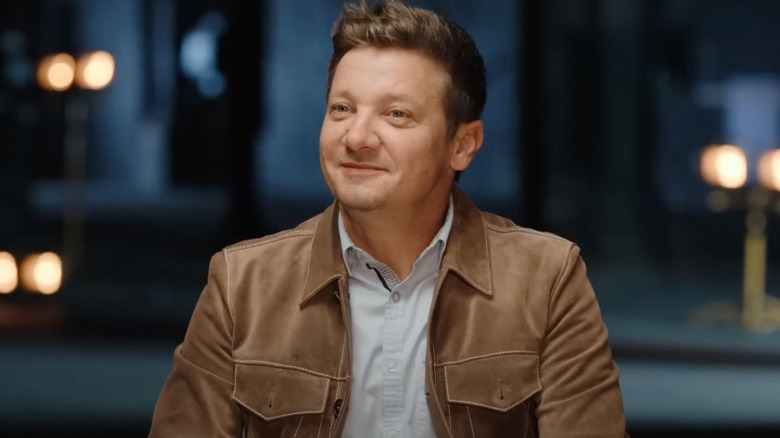 Disney+
"Rennervations" is slated to begin streaming on Disney+ on April 12, 2023. Jeremy Renner discussed his reasons for developing the series in an official statement (during which he also touched on his life-threatening injury, as mentioned earlier):
"I've been on this journey for many years, and I started in my community by building vehicles for people in need. But a few years ago, I thought, how can I plus this up and create a bigger impact on a whole community –- and that's what this show does. This is one of my biggest passions and it's a driving force in my recovery, and I can't wait for the world to see it."
All four episodes of the limited series will become available to stream at the same time rather than rolling out on a weekly basis — in case you find yourself looking for something new to watch on Disney+ while waiting for the next episode of "The Mandalorian."
What is Rennervations about?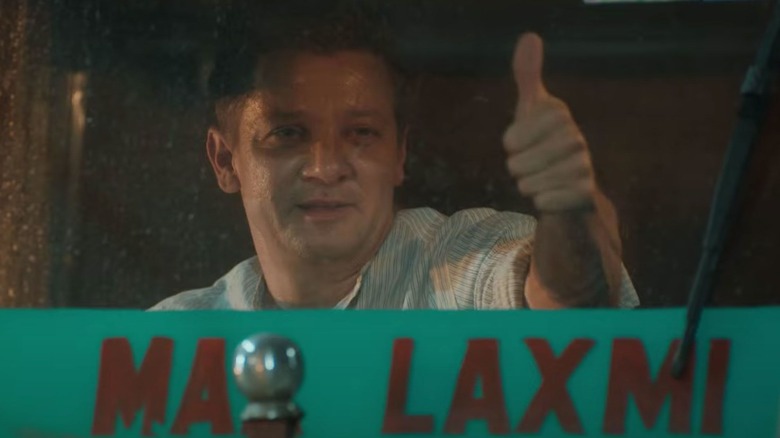 Disney+
"Rennervations" follows Jeremy Renner as he travels the globe with Rory Millikin, his business partner, and best friend, along with what is being described as an "all-star build crew." The team identifies decommissioned vehicles and transforms them for each community to use for their needs, whether it means turning a delivery truck into a mobile water treatment facility, a tour bus into a mobile music studio, or a shuttle into a mobile recreation center. In one episode, Renner and his crew even transform a city bus into a mobile dance studio! It's all quite fascinating, and it's wonderful to see Renner follow his passion for giving back to different communities.
Renner's goal with "Rennervations" is to "make actionability and thoughtfulness of others cool." In order to make that objective a reality, the actor traveled to Chicago, Reno (Renner's hometown in Nevada), Los Cabos in Baja, California, Mexico, and Rajasthan in northern India. In every location, Renner, Millikin, and their team meet with organizations and nonprofits to learn about the needs of the town/city's local community. They then worked together to build something that will have a "big impact."
Meet the cast and crew of Rennervations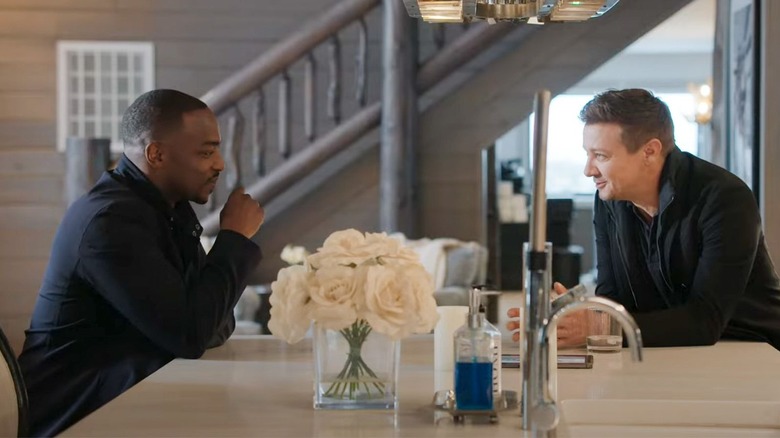 Disney+
You can't really have an Avenger in a show and not have him meet other Avengers along the way. In "Rennervations," Jeremy Renner teams up with several special guests, including his former "Hurt Locker" co-star and friend from work, Anthony Mackie ("The Falcon and the Winter Soldier"). Other guest stars include actor Vanessa Hudgens, Anil Kapoor (who is a veteran actor-producer in the Indian film industry), and singer-songwriter Sebastián Yatra ("Encanto"). The team joining Renner and Millikin includes lead mechanic Corey Wardleigh; lead fabricator Rob "Bender" Park; and the building crew of Roxy Bonilla, Justin Self and Merri Oswald, Akamu "AK" Whatley, Skiland "Ski" Judd, Ryan Gunter and Nick Socha.
Behind the big screen, when Renner isn't donning a suit to fire arrows and save the world, the actor is a proud construction veteran. He's passionate about purchasing and re-imagining massive, unused vehicles and finding new uses for them. Renner's show adopts the same philosophy and aims to truly change lives for the better.
Rennervations trailer and synopsis
The series takes Jeremy around the world from his hometown of Reno, Nevada to Chicago, Illinois, to Cabo San Lucas, Mexico, and Rajasthan, India. In each location, Jeremy connects with leading organizations like Big Brothers Big Sisters, The BASE Chicago, Uva Jagriti Sansthan, and Casa Hogar of Cabo San Lucas to learn about the needs of the local communities. Jeremy and Rory meet with organization leaders to better understand the community's most urgent needs, then they use what they learned to build something incredible that will have a big impact.

Jeremy's Rennervation team includes Rory Millikin, Jeremy's friend and business partner, Corey Wardleigh, lead mechanic, Rob "Bender" Park, lead fabricator, along with the build crew Roxy Bonilla, Justin Self and Merri Oswald, Akamu "AK" Whatley, Skiland "Ski" Judd, Ryan Gunter, and Nick Socha.