Jeremy Renner Provides Personal Update Following Snow Plow Accident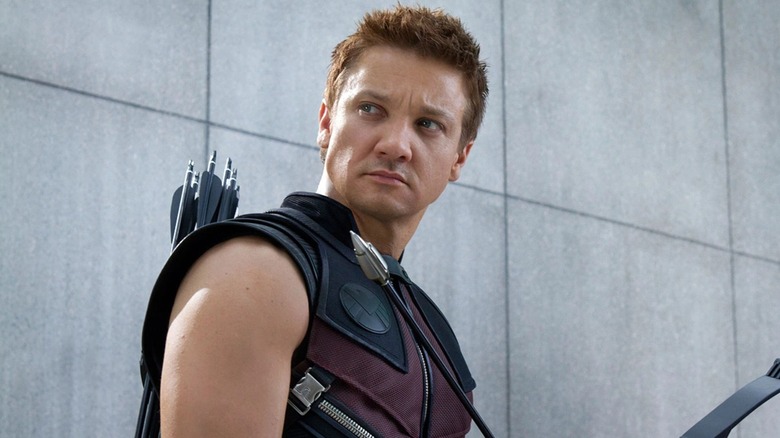 Marvel Studios
Earlier this week news broke that Jeremy Renner was seriously injured in a snow plow accident near his home in Reno, Nevada. Today, we're able to share a positive update on the condition of the "Hawkeye" and "The Hurt Locker" actor, who Variety reports is in stable condition following two surgeries. Renner himself has just shared an Instagram post from his hospital bed, confirming that he's awake and has seen fans' well-wishes.
"Thank you for all your kind words," Renner wrote in a post accompanied by a photo of him wearing an oxygen cannula, with what appear to be scrapes and bruising alongside the left side of his face. "I'm too messed up now to type. But I send love to you all," Renner wrote, and included a prayer hands emoji in the post.
Renner's own post comes just as the Washoe County Sheriff's Office shared an official statement via a press conference on the incident, one that puts to bed any and all rumors about when, where, and how the accident occurred. "Based on our investigation, Mr. Renner's personal vehicle, which was being driven by a family member, had become stuck in the snow near his home," Sheriff Darin Balaam shared. "Mr. Renner went to retrieve his PistenBully or Sno-Cat — an extremely large piece of snow removal equipment weighing at least 14,330 pounds — in an effort to get his vehicle moving."
A press conference has provided more details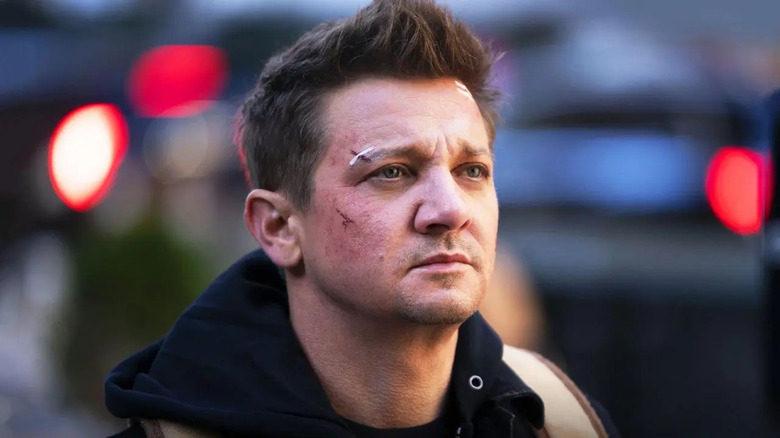 Marvel Studios
Sheriff Darin Balaam explained that "after successfully towing his vehicle from its stuck location, Mr. Renner got out of his PistenBully to speak to his family member." At that point, the PistenBully apparently began to roll, and Renner tried to get into the driver's seat — presumably to ensure it stopped — and was "run over by the PistenBully." Yesterday, a witness told TMZ that a doctor applied a tourniquet to Renner's leg, which the vehicle rolled over causing a significant amount of blood loss. Neither Renner's post nor the live-streamed press conference gave updates on that specific injury, but the previous reporting at Variety stated that the actor suffered blunt chest trauma as well as orthopedic injuries.
Variety also shared a statement from the actor's family, who "express their gratitude to the incredible doctors and nurses looking after him, Truckee Meadows Fire and Rescue, Washoe County Sheriff, Reno City Mayor Hillary Schieve, and the Carano and Murdock families." The Renner family also noted that they are "overwhelmed and appreciative" of the love coming in from fans. Thank goodness Renner is doing well enough to post an update after an accident that sounds truly harrowing. We all wish him a safe recovery.