No Hard Feelings Trailer: Jennifer Lawrence Tries To Revive The Raunchy Comedy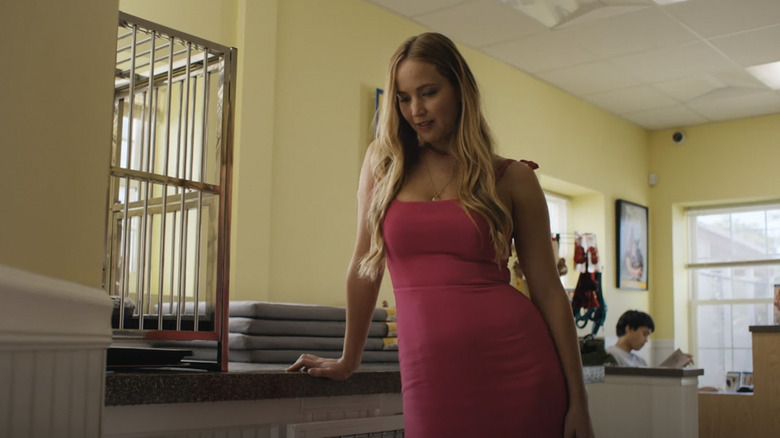 Sony Pictures
The non-IP, R-rated, mainstream Hollywood comedy has, sadly, practically become a thing of the past. The days of movies like "There's Something About Mary" making nearly $370 million worldwide are long gone, and the once-flourishing genre has now largely been relegated to streaming. But Jennifer Lawrence and director Gene Stupnitsky aren't ready to let it go without a fight. They've teamed up for "No Hard Feelings," a new comedy about Maddie (Lawrence), a rascally ride share driver who loses her car and subsequently gets hired by the parents of an introverted 19-year-old boy to "date" their son before he goes off to college. The parents are hoping the experience will break their boy out of his shell, and in return for Maddie's services, they'll give her a new car. Oh, the things people will do for a Buick. Check out the red-band trailer below.
Watch the No Hard Feelings trailer
Long before Jennifer Lawrence became the Internet's favorite zany celebrity, yukking it up on red carpets and creating meme-worthy material during her hot streak of popularity in the mid-2010s, she had a history in comedy. She played a key role on "The Bill Engvall Show" sitcom from 2007-2009 before breaking out in a huge way with the indie drama "Winter's Bone" in 2010 and earning her first Oscar nomination. Since then, she's bounced in and out of blockbusters and prestige films, and while she was occasionally allowed to show bursts of humor in those projects, the closest she got to actually leading a mainstream comedy was 2021's "Don't Look Up." 
Now she's finally the lead of a major studio comedy (Sony Pictures is behind this one), and she's working with Stupnitsky, who was a producer and director on "The Office" and made his feature directorial debut with 2019's foul-mouthed kid comedy "Good Boys." These two have been wanting to work together for quite some time, and it seems like they might have a winner on their hands — assuming audiences are still willing to actually go out to theaters to see a new comedy these days. Fingers crossed they are, because I'd love to see five to 10 movies like this come out every year.
Andrew Feldman, Laura Benanti, Ebon Moss-Bachrach, Natalie Morales, and Matthew Broderick co-star, and you can read the movie's official synopsis below:
On the brink of losing her childhood home, Maddie (Lawrence) discovers an intriguing job listing: wealthy helicopter parents looking for someone to "date" their introverted 19-year-old son, Percy, before he leaves for college. To her surprise, Maddie soon discovers the awkward Percy is no sure thing.
"No Hard Feelings" is set to hit theaters on June 23, 2023.