Dan Aykroyd Went Through A Particularly Brutal Saturday Night Live Audition Process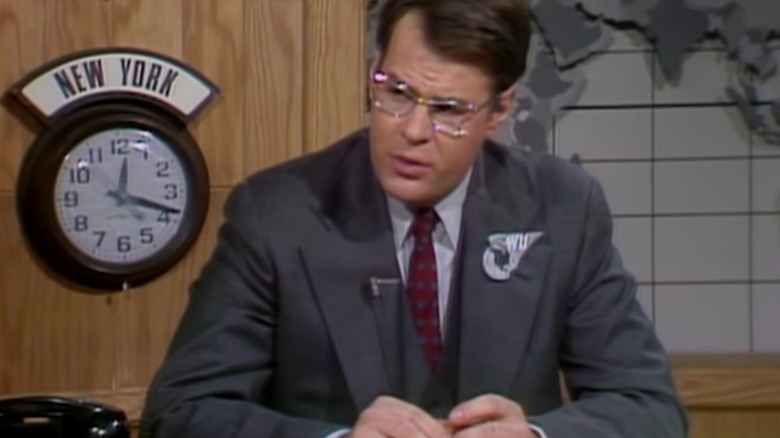 NBCUniversal Television Distribution
Lorne Michael's sketch comedy show "Saturday Night Live" debuted in 1975 and, despite many, many ups and downs, has remained a television staple ever since. "SNL" launched so many comedians' careers, it would take too much space to list them all here. Needless to say, the series was and is a springboard for superstars, and many cast members have gone on to appear in numerous blockbuster movies and TV shows after their stints.
For the purposes of this article, Canadian performer Dan Aykroyd will be our focus. Prior to "SNL," Aykroyd appeared in a sketch comedy show called "The Hart and Lorne Terrific Hour" starring Michaels and his comedy partner Hart Pomerantz. The show also featured Andrea Martin and Victor Garber. Michaels and Aykroyd would move together over to "SNL" shortly thereafter, and Aykroyd, initially hired as a writer, quickly joined the cast as well. He would remain a regular cast member for the show's first four years, offering the world oddball characters like Jake Blues of the Blues Brothers, and Beldar the alien Conehead. His film career after "SNL" speaks for itself.
In order to become a member of the "SNL" cast, however, Aykroyd still had to audition. The actor remembered his audition process in the 2015 oral history book "Live from New York: The Complete, Uncensored History of Saturday Night Live as Told by Its Stars, Writers, and Guests," compiled by James Andrew Miller and Tom Shales, and it was seemingly pretty brutal. Michaels, it seems, wasn't immediately convinced that Aykroyd could handle the job and the actor had to drive and fly all over creation just to be seen.
Getting on a f***ing plane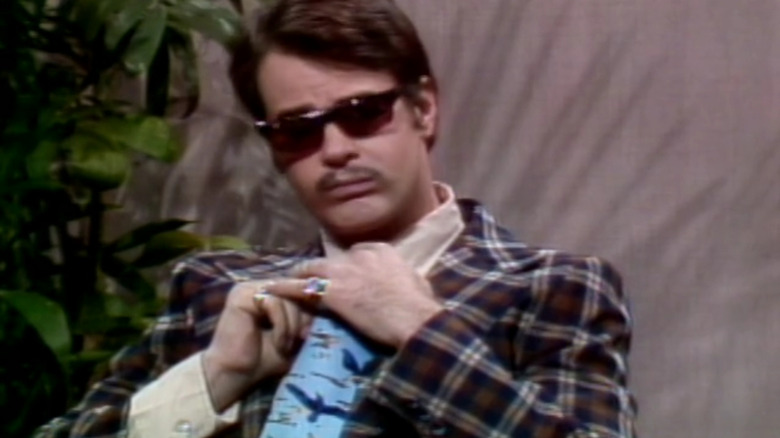 NBCUniversal Television Distribution
Dan Aykroyd recalled a fateful road trip with fellow Canadian superstar John Candy that was cut short by ill-timed phone calls from Lorne Michaels. After 36 straight hours in a Mercury Cougar, Aykroyd had to immediately fly back:
"I went through so many auditions. Live auditions, tape auditions. After the first one, I thought, 'I'm not going to get hired,' and I ended up driving across country with John Candy to do Second City in Pasadena. [...] And then we got to Pasadena and I started my first week of rehearsals and Lorne called and said, 'Well, come back out.' So at my own expense, I got on a f***ing plane, flew back to New York, and had this other series of tape auditions."
Aykroyd said he was especially drawn to a fast-talking TV salesman role — the one that audiences would eventually see in his celebrated Bass-O-Matic sketch, as well as that of a smarmy newsreader, eventually seen on the show's Weekend Update segment. 
But it wasn't a matter of walking into Lorne Michaels' office, performing what he had prepared, and talking with producers. Aykroyd was not, it seems, allowed any kind of special access or consideration, despite having worked with Michaels only a few years before. He and hundreds of other comedian hopefuls had to meet around the entrance to a local New York theater and enter one at a time like a good old-fashioned cattle call. This meant a lot of waiting. A lot of waiting. A loooooot of waiting. After a while, Aykroyd's impatience got the better of him.
Getting the motorcycle from Canada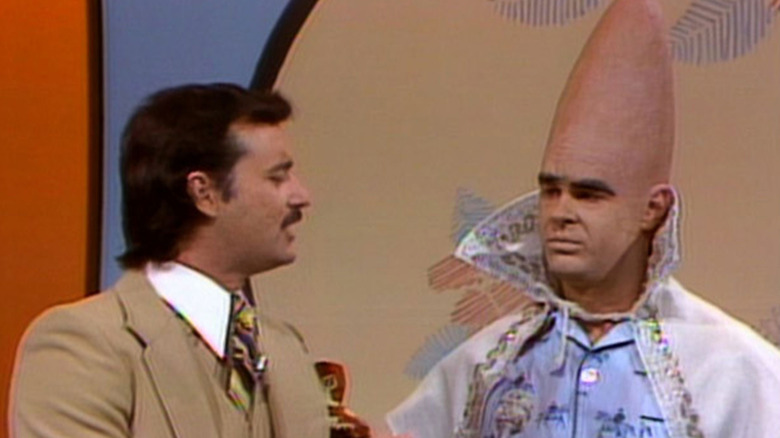 NBCUniversal Television Distribution
Dan Aykroyd recalled the process thusly: 
"There was one audition in the summer, a live thing, a cattle call. I came down with a friend from Toronto. We had a song prepared, but then I saw all the people lined up, waiting outside in the hall there. There were a hundred people waiting to get in, and I was at the end of the line. And I thought, 'Boy, it's three o'clock now, it's going to be seven o'clock at night when we get on. This song ain't going to go over too well.'"
This was wise thinking. After four hours of auditions, even the most stalwart producers and casting agents will doubtless become a little glassy-eyed. Aykroyd knew that getting in front of Lorne Michaels would better be done sooner than later. His ingenious strategy evidently involved merely cutting in line. He would either be kicked out entirely, or his audacity would be admired. Luckily, it was the second thing:
"So I just kind of cut through the line and busted into the room –- because I knew Lorne from Canada –- and walked up. 'Hey, how are you boss, what're you doing, nice to see you.' I said, 'Well, I'm here,' and I did a sort of quick five-minute kind of fast rap and then got out of there. And I think they were impressed. After that audition, it was clear I had the job. I went home to Canada, got my motorcycle, and drove down into the city for the first season in '75. I had just turned 23."
"SNL" is currently in its 48th season. Aykroyd won an Emmy for his writing on the show in 1977 and would guest-host the show 13 additional times over the years. 
The lesson: be pushy.