LEGO Celebrates Disney 100 With Pixar's Up House And A Plethora Of Animated Minifigures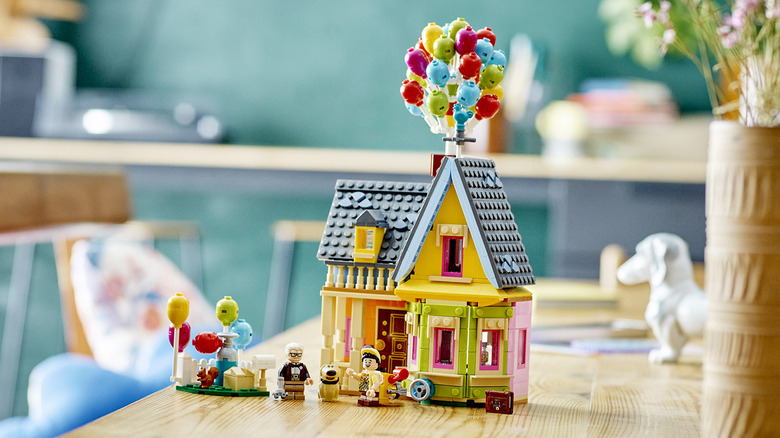 LEGO
This year marks Disney's 100th anniversary, and the House of Mouse is celebrating in a big way. Along with a Disney 100 exhibition looking back on a century of Walt Disney magic that spans from theme parks to movies, of course there will be a slew of merchandise celebrating every facet of The Walt Disney Company. One of the highlights early in this celebration is a new wave of LEGO collectibles coming to shelves. 
Today, LEGO announced the first installment of their Disney 100 collection, and it includes a wonderful playset inspired by the flying house from Pixar's beloved movie "Up." But that's not all, because a new wave of LEGO minifigures inspired by over a dozen Disney movies is on the way, with characters from "Robin Hood," "Lilo & Stitch," "Coco," "Fantasia," "The Princess and the Frog," and many more. Check out the cool, new Disney 100 LEGO stuff below!
Adventure is out there!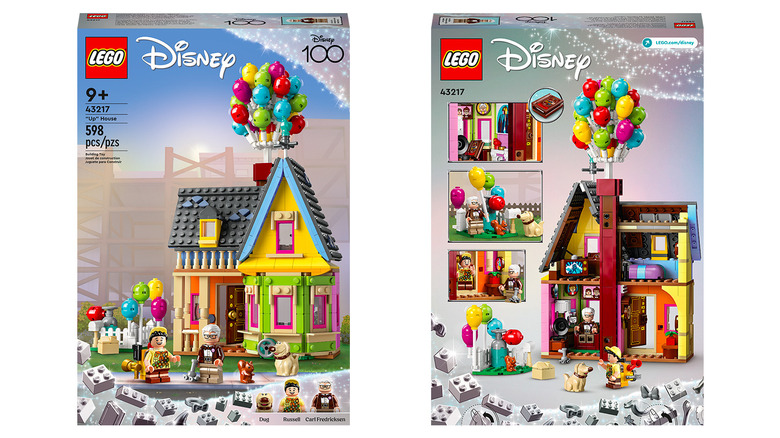 LEGO
Coming on April 1, 2023 is Carl Fredricksen's house from Pixar's "Up," complete with an assembly of balloons to set the residence off on an adventure. Though the house isn't a complete modular building, it does contain interior details of four rooms inside the house, which include references to the movie. You'll find a money jar for Carl and Ellie's Paradise Falls trip sitting on the window sill, as well as a wedding photo from their younger years. 
As for the minifigures, of course Carl will be part of the set, and he has both a grumpy face and a smiling expression. But it wouldn't be a proper "Up" LEGO set without the Wilderness Explorer scout Russell. But perhaps the best part is the inclusion of everyone's favorite talking dog, Dug. 
To round out the set, there's even a tank to fill up all the balloons that will lift up the house, and a cute little squirrel standing by. This is quite the charming LEGO set, and it should be a delight for Pixar fans to build. You can order it starting next month at the LEGO website for $59.99.
LEGO Disney 100 Minifigures, (literally) assemble!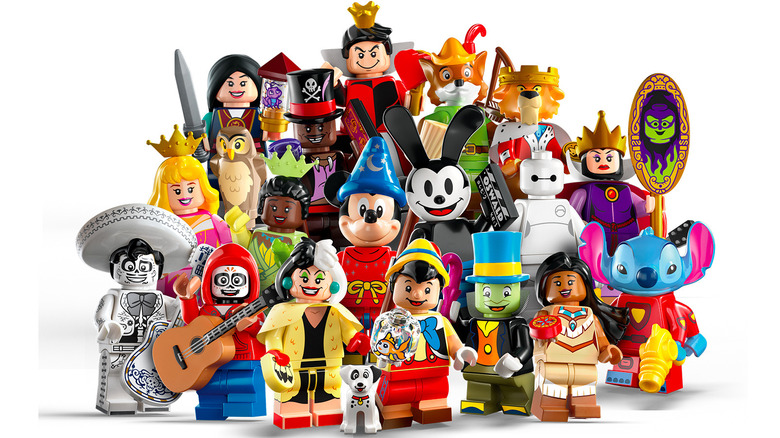 LEGO
If you're looking for some LEGO fun from the other corners of Disney, you're in luck. A new collection of mystery bag LEGO minifigures is on the way, featuring characters from a bunch of different Disney movies over the decades. They go all the way back to Oswald the Lucky Rabbit, the animated predecessor to Mickey Mouse and up to Pixar characters like Miguel from "Coco" and Baymax from "Big Hero 6." Other characters include the foxy Robin Hood, a space suit version of Stitch from "Lilo & Stitch," the "Sorcerer's Apprentice" version of Mickey Mouse from "Fantasia," Princess Tiana from "The Princess and The Frog," Cruella de Vil and a little Dalmatian puppy from "101 Dalmatians," and many more. You can see the full roster above.
Each blind bag in the LEGO Minifigures Disney 100 collection contains one minifigure and costs $4.99. They'll be available starting May 1, 2023. Happy hunting!