Cocaine Bear Bites Off A Much Bigger Opening Weekend At The Box Office Than Expected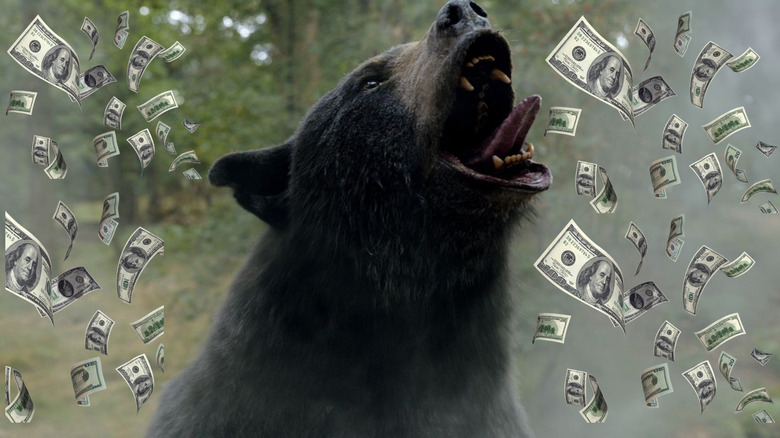 Universal Pictures
It was a big, weird weekend at the box office as Marvel's "Ant-Man and the Wasp: Quantumania" had to fight much harder than expected to fend off Universal's horror-comedy "Cocaine Bear." On the one hand, "Quantumania" suffered the biggest second-weekend drop ever for a Marvel movie of 69.7% to top the charts once again with a somewhat modest (by Marvel Cinematic Universe standards) $32.2 million. Frankly, it was a much closer fight than anyone anticipated.
Since "Quantumania" made $106.1 million last weekend, "Cocaine Bear" probably shouldn't have had a fighting chance. Yet, per Box Office Mojo, Elizabeth Banks' buzzy, R-rated flick took in $23 million, far exceeding expectations. Now, was there any chance of it taking the top spot away from "Ant-Man?" Not really, but it's remarkable just how close it was. The difference being that, very clearly, word of mouth for Paul Rudd's latest adventure in the MCU has not been good. Second, a pretty great marketing campaign and solid buzz from general moviegoers did gangbusters for the story of a bear that does a bunch of cocaine and kills a bunch of people.
Even better for Universal is the fact that "Cocaine Bear" has a budget said to be between $30 and $35 million. So, with $5.3 million from international audiences this weekend as well, at $28.3 million, it's well on its way to becoming another hit for the studio this year to go with "M3GAN." Not only that, but it's great news for mid-budget cinema in general, which had been in a bit of an uncertain place for some time. Sad to say, it's good news for just about everyone but Marvel Studios and Disney.
Jesus Revolution comes out of nowhere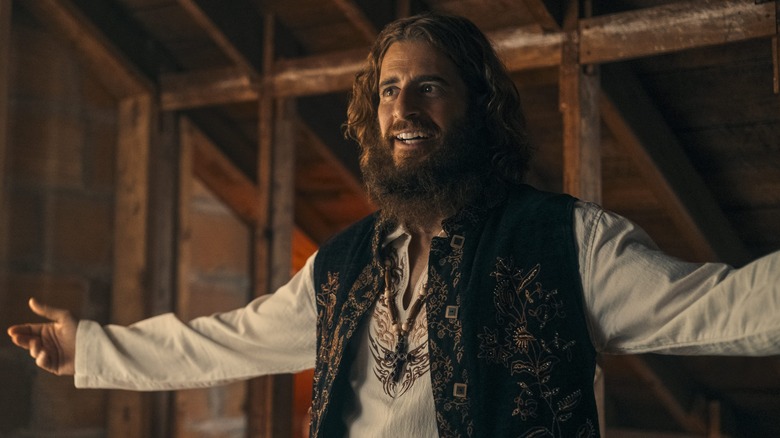 Lionsgate
It was also quite the big weekend for Lionsgate as the studio scored an out-of-nowhere hit with "Jesus Revolution." The faith-based film, directed by Jon Erwin ("I Can Only Imagine"), landed in third place with $15.5 million. The amazing part? It was only tracking in the single digits, meaning it absolutely blew past expectations without much of a mainstream marketing campaign to speak of. But it does feature Kelsey Grammer, of "Frasier" fame, as well as Jonathan Roumie as Jesus, who also played the part in "The Chosen," a show (yes, a show) that made a big dent in the box office as well. On top of that, it boasts an A+ Cinemascore, suggesting that this one could hold quite well for the next couple of weeks. In short? Faith-based programming works.
Rounding out the top five were "Avatar: The Way of Water" ($4.7 million weekend/$2.26 billion worldwide) and "Puss in Boots: The Last Wish" ($4.12 million weekend/$442.5 million worldwide). In both cases, these movies have been pulling great numbers for more than two months straight. Meanwhile, "Magic Mike's Last Dance" (read our review here) is kind of officially dead in the water, suffering a brutal 65.2% drop in its third weekend, taking in just $1.89 million. With $46.8 million worldwide against a reported $40 million budget, it's going to flop rather than make bank for Warner Bros. like the previous two "Magic Mike" movies had. A damn shame.
Looking ahead to this upcoming weekend, we've got a likely new champion on the way in the form of "Creed III," as well as Guy Ritchie's long-delayed "Operation Fortune: Ruse de guerre." You can check out the full list of the top 10 movies from this past weekend below.
Top 10 movies at the box office February 24 — 26, 2023:
1. "Ant-Man and the Wasp: Quantumania" — $32.2 million
2. "Cocaine Bear" — $23 million
3. "Jesus Revolution" — $15.5 million
4. "Avatar: The Way of Water" — $4.7 million
5. "Puss in Boots: The Last Wish" — $4.12 million
6. "Magic Mike's Last Dance" — $1.89 million
7. "Knock at the Cabin" — $1.87 million
8. "80 for Brady" — $1.83 million
9. "Missing" — $1 million
10. "A Man Called Otto" — $850,000