Filming Rambo: First Blood In Canada Led To A Constant String Of Delays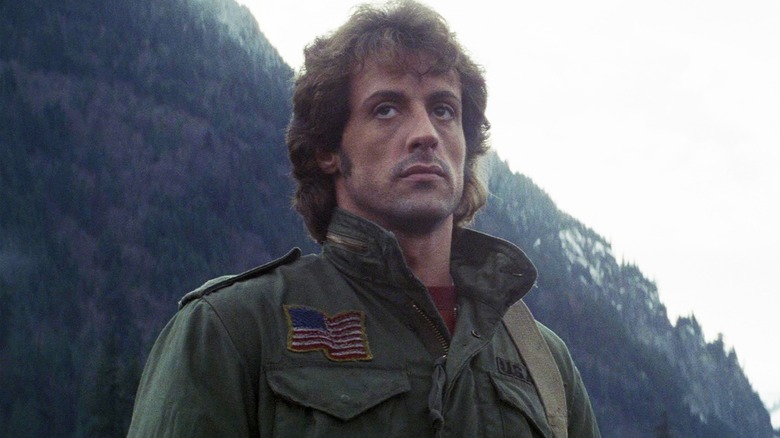 Orion Pictures
Bringing "First Blood" to the screen was just as grueling an ordeal as the events of the film itself. Now remembered as one of the best action movies of all time, the 1982 film cemented Sylvester Stallone's status as one of, if not the biggest, action star of the '80s. Its guerilla warfare action was buttressed by a script, adapted from David Morrell's 1972 novel which explored the lingering effects of the Vietnam war on Stallone's combat veteran, John Rambo. That socio-political consciousness would fade as a franchise emerged in the wake of "First Blood," but the initial movie remains a singular example of an action film going beyond the standard bombast and spectacle of the genre. It just took some serious effort to bring it to fruition.
The movie sees Rambo take on an entire Sheriff's department, the national guard, and state patrol in the woodland of Washington state. But "First Blood" is notable for being the only film in the saga where Rambo doesn't directly kill any of his enemies. Though plenty of people die, it's never a direct result of the protagonist's actions; a change made to the script by Stallone, who wanted to make his character more sympathetic. But that doesn't mean there aren't plenty of death-defying stunts and action. 
In fact, Stallone defied death several times, breaking multiple ribs while filming a stunt that involved Rambo jumping from a cliff into a tree. He also sustained a pretty serious back injury during a scene where the Sheriff's deputies hit him with a nightstick. Other problems included a gun heist on the set of "First Blood" and several delays brought on as a result of shooting in British Columbia's Fraser Valley, which stood in for the wilderness of Washington state.
Heart attacks, artistic differences, and delays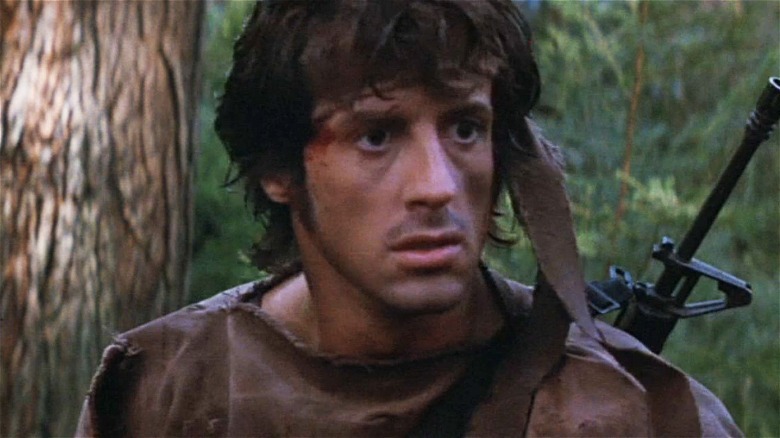 Orion Pictures
Shot on a budget of $14 million, "First Blood" had a troubled production. Aside from the on-set injuries and gun heist, an AFI catalog article reveals how producer Ed Carlin suffered a heart attack and had to be replaced by Buzz Feitshans. Meanwhile, Kirk Douglas, who was set to play Rambo's former commanding officer, Colonel Trautman, left the production at the last minute due to "artistic differences." From there, a lack of planning put a stuntman in serious danger, and the location itself threw up yet more hurdles for director Ted Kotcheff to overcome.
Filming took place east of Vancouver, in and around the town of Hope — also the name of the fictional Washington state town in which the movie takes place. And this being "First Blood," things went wrong right off the bat. Whereas the production team had expected their British Columbia setting to be suitably overcast, they were dismayed to be greeted by blaring sun when they first arrived, only to then be confronted by heavy snowfall which shut down production for a week. That was followed by what the AFI article called "hazardous snow conditions" which delayed shooting for another two months.
Overall, "First Blood" took five months to film due to the delays. By the end of filming, there had been $50,000 worth of guns stolen from the set, numerous injuries, and months of delays. And while Kotcheff cited the violence and Rambo's killing in the sequels as the reason he didn't return to the franchise, you've gotta think the troubled production of "First Blood" had something to do with it.
A worthwhile ordeal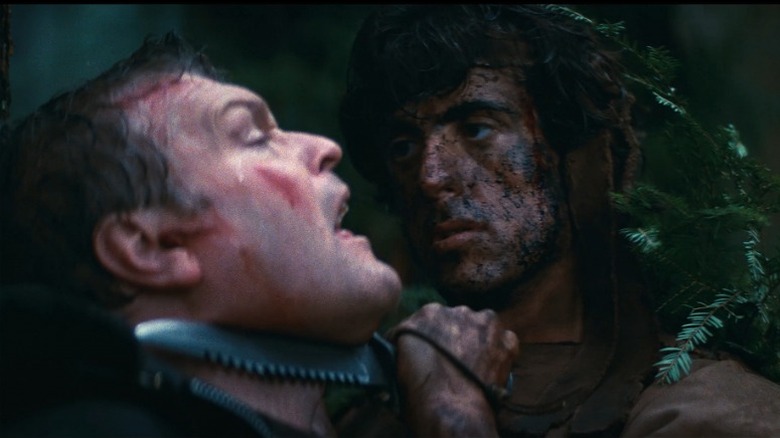 Orion Pictures
In the end, all the hardship was worth it. "First Blood" came together nicely, despite an initial three-hour first cut of the film that Sylvester Stallone claimed made him and his manager "wretch together in the alley," prompting them to try to "buy it back and burn the negatives." Luckily, the final 90-minute cut was much more to the actor's liking, and "First Blood" finally debuted in 1982, bringing in $125 million at the global box office, overcoming as much adversity as John Rambo himself. They even managed to recover most of the small arsenal of weapons stolen from the set.
Some 40 years later, even if Sylvester Stallone doesn't think audiences understood Rambo, the first installment has undeniably become known as one of the finest action movies ever made. It spawned four sequels, a TV series, video games, and one of the best sequel subtitles ever: "Rambo: First Blood Part II," because it was the second ... first time? And the town of Hope has benefitted, too. Despite causing delays to filming, the area gained $1 million in income for hosting "First Blood," and has since hosted a 40th-anniversary celebration that proved the film remains a point of pride for the area.
Considering Stallone thought "First Blood" would ruin his career, that's not a bad legacy. Even if it did take action hero levels of commitment to bring to the big screen.