A Sopranos Scene Between Tony And Janice Turned Into A Real-Life Shouting Match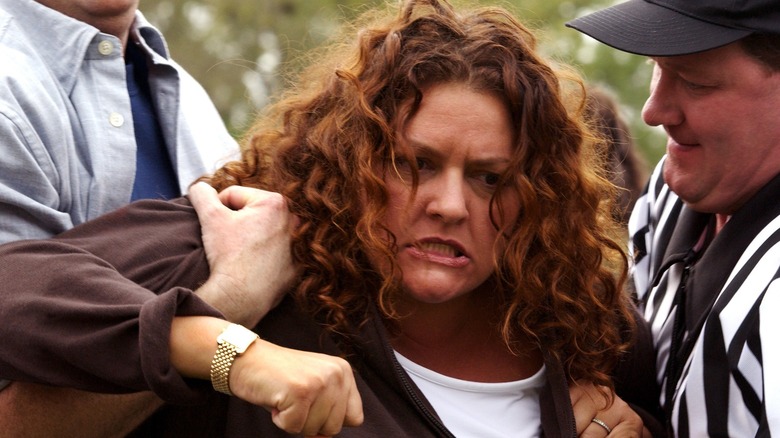 HBO
Everyone who worked with James Gandolfini on the cast of "The Sopranos" sings his praises loudly and proudly. The generous and charming actor became friendly with just about everyone on the show, but even he got into arguments with his co-stars from time to time. The show involved a lot of intense back-and-forth, but perhaps no one butted heads with Gandolfini's character Tony as much as his sister Janice. As it turns out, the actress who played Janice, Aida Turturro, liked to push Gandolfini's buttons in real life, too.
"I knew him from 1992 and we used to fight back then, not really fight, but we were like husband and wife," Turturro told the New York Post. "I fell in love with him the first time we met; I felt like we were kindred spirits. I was like, 'Listen, you're not the boss of me, mister!' and I used to drive him crazy."
The contentious brother-sister dynamic of Tony and Janice came naturally to the two actors. Their real-life bickering mimicked a family's level of intimacy — no one can hurl insults quite like a relative.
"We were sister and brother and we understood this was how families fought," Turturro explained to Deadline. "But one of the scenes I remember so well was when Janice goes to anger management. I love that, because Tony couldn't stand that she was working on herself and was calmer and holding in the anger and you knew he was going to push her buttons. And by the end, she is screaming, 'I'll kill you!'"
Janice went to anger management but Turturro should've gone too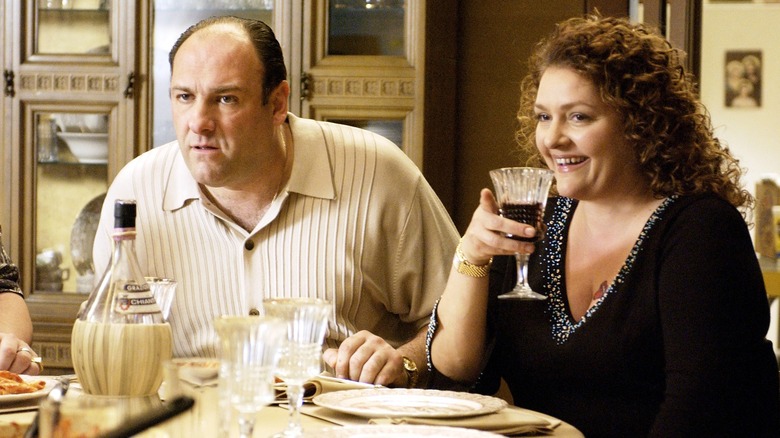 HBO
The on-screen argument after Janice's anger management classes actually became so heated that it bled into reality, as "Sopranos" co-star Steve Schirripa revealed in an interview with Turturro.
"First it was your characters arguing, but then you and Jim got into an argument," the actor recounted in Woke Up This Morning. "You got mad because you thought he wasn't looking at you, right? They were shooting your part of the scene, the camera was turned around toward you, and you wanted him to be paying attention, so you could play off him, and he was just kind of ignoring you. And you got mad."
Turturro confirmed that Schirripa's story was true. "I got really mad!" she admitted. She doesn't blame Gandolfini in retrospect, though — only her health.
"I actually was really sick that day, I swear to God," she explained. "I had some major flu or whatever it was. Jimmy was the most giving actor, so he never wasn't there. Now, maybe I was sensitive because I was ill, but I went bananas."
Turturro might have been the first one to fly off the handle, but Gandolfini matched her energy. "He got so mad at me, he walked away. He goes, 'I don't f***ing give a s***.' Everybody wasn't sure. At first, they thought it was part of the scene, and then they were like, 'I think they're really fighting!'"
The confrontation delayed the scene temporarily, but it was quickly resolved. "But in the end, it all blew over," Schirripa recalled. "You took a break and came back and you guys hugged and did the scene and you were terrific. These are the things that happen with good friends."
Gandolfini and Turturro patched things up in the end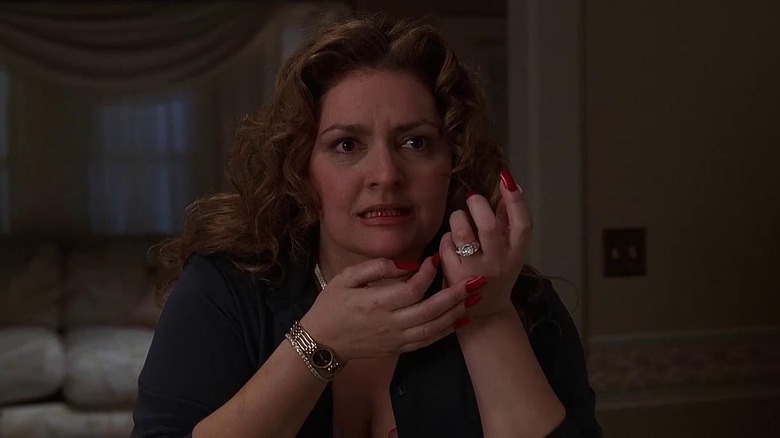 HBO
Turturro and Gandolfini may have bickered, but they loved each other like brother and sister (and compared to their Soprano counterparts, maybe a little bit better than brother and sister). As Turturro told Deadline, "we understood this was how families fought." In a way, Janice and Tony's arguments — even at their most heated — perfectly encapsulated the way that families can drive each other crazy. The anger management episode was the perfect embodiment of a family feud.
"[Tony] had to egg [Janice] on," Turturro explained. "He was like, 'I'm not going to let you be nice. You're full of s***. You're just like me and you're going down with me.'" Tony's behavior on "The Sopranos" often crossed a line — as Janice points out — but his dynamic with his sister is rooted in a familiar, universal experience.
"That [scene] came from a place we all have seen, even if families don't get to the point of screaming," Turturro said. "But we've all seen people at dinner tables and Christmas when they're attacking each other, or undermining or passive-aggressively starting fights, and you walk away thinking, well, that's just the family holiday."
Despite their bickering both on and off the show, Turturro and Gandolfini were extremely close. "He was so giving," the actress recalled. "He didn't want to be the hero. He appreciated what he got, how much he had and always, always shared it."
In the end, the actors were able to bring their real-life sibling-like rivalry to life on-screen because they had such a comfortable rapport — and immense talent.
"With James, I didn't feel like we were acting," Turturro explained in Woke Up This Morning. "We were just ... talking.