Halle Berry Worked With Her John Wick Dogs So Much, They Thought She Was A Trainer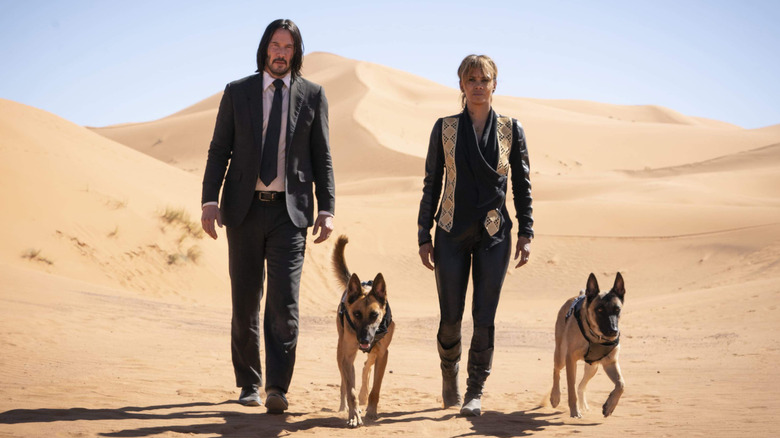 Lionsgate
The "John Wick" franchise is many things, including one of the greatest on-screen odes to everyone's favorite best friend: dogs. The first film broke our hearts with the devastating loss of John Wick's (Keanu Reeves) wife Helen (Bridget Moynahan), only to be followed by the gut-wrenching arrival and swift departure of a lovable beagle pup named Daisy that Helen arranged to be delivered to him after she died. Still in pain over Helen's death, Daisy's senseless murder at the hands of the Russian Mafia awakens the retired hitman in Wick, setting off a chain of ridiculously entertaining fight scenes that have been captivating audiences ever since. 
At the end of "John Wick," Wick adopts a second puppy — an adorable pit bull — and though he resists giving him a proper name, the animal becomes his companion. However, Wick tends to protect the pup from violence rather than use him to fight, choosing to board him at the Continental with the dog-friendly concierge Charon. Wick's dedication to his dogs prove that the canines are at the center of the films, standing in for Wick's broken heart and needing to be protected at all costs.
"John Wick: Chapter 3 — Parabellum" sees the introduction of a decidedly different kind of good boy though, with the arrival of two Belgian Malinois that belong to Wick's old friend, Sofia Al-Azwar. Played by Halle Berry, Sofia has a deep love for her dogs, and though they are trained to kill, they are also fiercely loyal to her. This loyalty is not just present on screen, though; Berry's relationship with the pooches was so strong, the dogs believed she was their actual trainer.
Who's your trainer?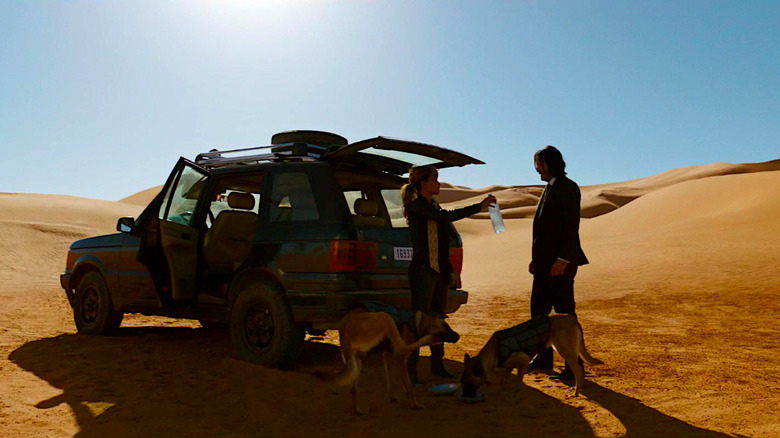 Lionsgate
"John Wick: Chapter 3 — Parabellum" features one of the coolest fight scenes in movie history when Sofia and Wick must battle their way out of a casbah with the help of Sofia's highly lethal dogs. It's a pretty amazing fight, especially when you take into account the fact that the dogs in the movie are actually performing their own stunts. 
In order to achieve this level of perfection on screen, the dogs had to be trained by skilled professionals, but Berry also played a big part in getting the animals ready. The digital release of the film includes a featurette where Berry talks about her relationship to the animals, explaining that she "could command them just like the trainers could command them" due to working with them off camera: 
"I would spend four days a week out there with the dogs — two, three hours a day — and I would just go through the drills with them, just like the trainers. As the trainers were learning who they were, I was learning who they were."
Even Keanu Reeves recognized the unique relationship that Berry had with the faithful puppers. "Halle spent over eight months, on and off, working with the trainers," he recalls. "To a point where, when I was training with her, the trainer said to me, 'They treat her like a trainer.'"
But Berry still had time to have fun with the animals, as well. Along with their rigorous training schedule, she also said, "They're ferocious-looking, and they're doing some amazing stunts, but they're also really sweet, so I get a certain amount of time to just love on them and play with them" — which, for both Berry and the dogs, sounds like a pretty good gig.