American Dragon: Jake Long Was Originally Intended To Be Live-Action, Similar To Buffy The Vampire Slayer [Exclusive]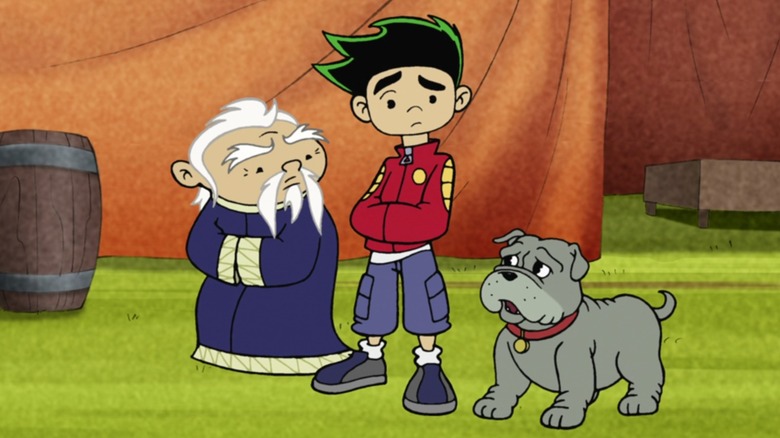 Disney+
If you came of age in the aughts, you likely grew up watching a very specific set of cartoons — ones that haven't yet gotten their big nostalgia moment alongside the "remember the '90s" crowd. After the "Kim Possible" era and before the "Phineas and Ferb" generation, shows like "Dave the Barbarian" and "American Dragon: Jake Long" briefly took over the Disney Channel with high-concept hi-jinks and lovable characters.
The latter series only lasted two seasons, but with talented voice and screen actor Dante Basco ("Avatar: The Last Airbender," "Hook") in the lead, a theme song covered by The Jonas Brothers, and a Chinese-American protagonist juggling everyday life with superpowers, "American Dragon: Jake Long" was impossible to forget. Over 15 years since the series drew to a close, /Film's Rafael Motamayor spoke with series creator Jeff Goode about bringing the story back to life. Along the way, Goode revealed that "American Dragon: Jake Long" was actually pitched as a live-action series in the vein of one of the decade's best cult hit shows.
"The original version, because I was creating it for Fox, was live-action and was older. Jake would've been 18," Goode told /Film. In the animated series, Jake is a 13-year-old skateboarder with a secret inherited gift: he can turn into a big, red magical dragon. He also lives with his parents and grandpa Lao Shi (Keone Young), but Goode's live-action vision for the series had a grimmer origin story for the hero. Like Batman grim. "In the pilot, his parents are murdered by dragon hunters," Goode said, "and so the story was him adventuring across the country trying to find another dragon, and trying to meet magical creatures that lived in different parts of the U.S."
Jake almost had a very different story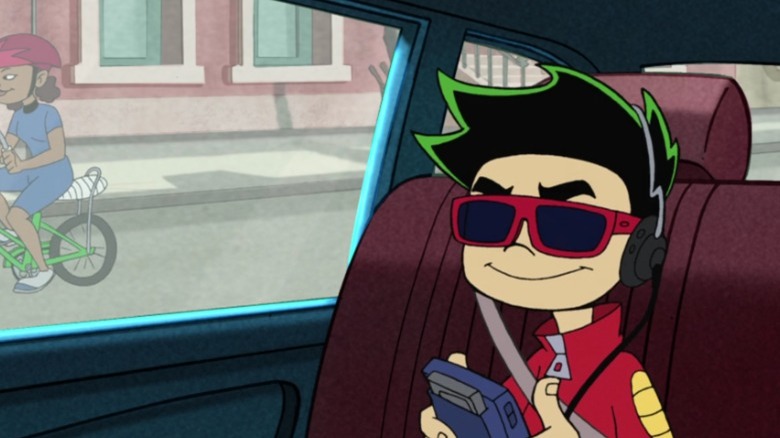 Disney+
The abandoned plot about Jake's parents would've made for a very different show, especially since his love interest in the animated series is secretly a member of the dragon-slaying Huntsclan. It's a star-crossed dynamic that calls to mind both ships from a popular teen fantasy series from the aughts, which Goode mentioned by name. "It was darker," he said of the Fox version of the show. "It probably would've been, in tone, more similar to 'Buffy the Vampire Slayer.'" You can still see traces of a "Buffy"-like story in the version of the show we ended up with, as Jake pines for dragon-slayer Rose (Mae Whitman), hides his dragon identity, and gets by with help from his loyal friends.
The series also includes various magical creatures, and Goode says it was originally all about the cryptids and magical beings that populate its world. "Going up to Idaho to find the Sasquatch that lives up in the woods, or going to the Brooklyn Bridge and meet the trolls that live under the Brooklyn Bridge, and so on," Goode explained. "That was the original idea." It's hard to wrap my head around the idea of a live-action "American Dragon: Jake Long." In live-action, Jake surely wouldn't have been played by Basco, who is Filipino-American and who was already in his early 30s when the show began. On the other hand, a live-action prime-time teen superhero series with a Chinese-American lead would've been major in 2005.
In the end, "American Dragon: Jake Long" ended up on Disney Channel, with no live-action, no Batman-style origin story, and no monsters of America travelogue element. It aired for 52 episodes, and you can still catch it on Disney+ today.