Dave Bautista 'Fanboyed' Over M. Night Shyamalan While Meeting About Knock At The Cabin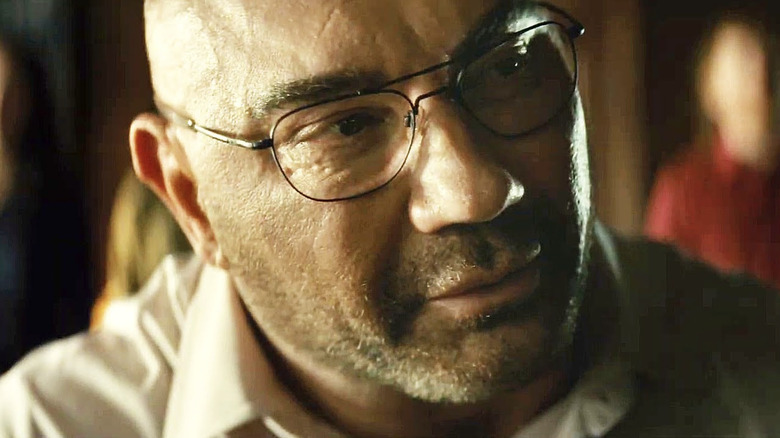 Universal Pictures
"Big" Dave Bautista has had a phenomenal run since making the career pivot from sports entertainment to acting in some of Hollywood's biggest films. The six-time world wrestling champion broke into the mainstream as Drax the Destroyer in James Gunn's "Guardians of the Galaxy" series but has since starred in films like Denis Villeneuve's "Blade Runner 2049" and "Dune," Zack Snyder's "Army of the Dead," as well as Rian Johnson's whodunnit, "Glass Onion." With his larger-than-life stature and ability to command a scene, Bautista has more than proven himself to be so much more than just a former WWE Superstar.
The caliber of directors that have sought out Bautista's talent is a true testament to his abilities as a performer because there are plenty of career veterans who would kill for the opportunity to work with any of the esteemed creatives that have helmed Bautista's filmography. However impressive Bautista has proven to be, he is still unafraid to fanboy out from time to time, which is exactly what he did with M. Night Shyamalan.
Bautista stars in Shyamalan's latest project, the apocalyptic thriller "Knock at the Cabin," delivering a performance that the director has said was "everything he hoped for." During a recent appearance on "The Tonight Show Starring Jimmy Fallon," Big Dave confessed that his initial conversations with Shyamalan were a lot less about talking business, and a lot more about geeking out. All of those tabloid headlines were right: Celebrities really are just like us.
'I fanboyed for about an hour'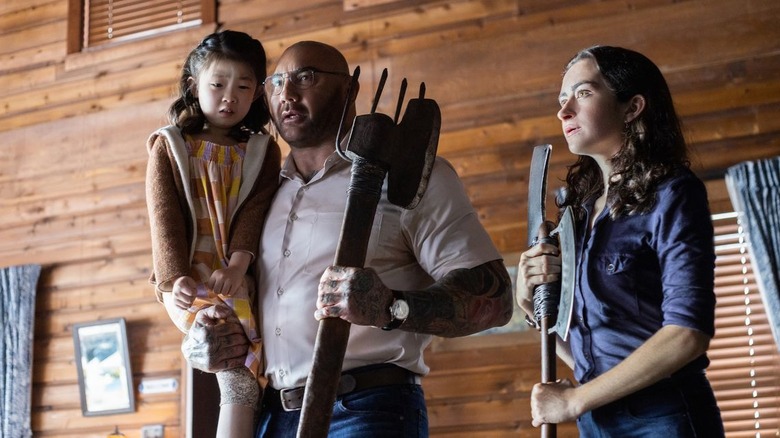 Universal Pictures
During his interview on "The Tonight Show Starring Jimmy Fallon," Dave Bautista told Fallon the story of how his casting in "Knock at the Cabin" came to be. As Bautista tells it, he got wind that M. Night Shyamalan wanted to talk, which made him totally flip out. Bautista joked that he must have sent his agents "20 emails with 20 questions" trying to figure out what Shyamalan had up his sleeve, but the notoriously secretive director was playing things close to the chest. Eventually, he did connect with the director, and his fan urges took over. Here's what he told Fallon:
"Anyway, they set up the call, and I fanned out. I fanboyed for about an hour. That's what it was. That's what our call was. And then I was expecting him to tell me about something. I'm waiting for it, and waiting for it, and it never came. He said, 'Okay. Well, it was great talking to you,' and I got off the call and I had to call my agents and say, 'He didn't mention anything.'"
Bautista said it wasn't until the third call that Shyamalan finally told him about "Knock at the Cabin" and sent him the script to gauge interest. Bautista said he read the script late at night and called Shyamalan the next morning begging for the part. "I called him and said, 'I'd kill for this role. What do I have to do? Who do I have to kill for this role?' and he said, 'You don't have to kill anybody. You don't have to do anything. I want you for this role.'" The rest, as they say, is history.
"Knock at the Cabin" arrives in theaters on February 3, 2023.