Saturday Night Live Gets A Surprising New Cast Member In Pedro Pascal's The Last Of Us Crossover Promo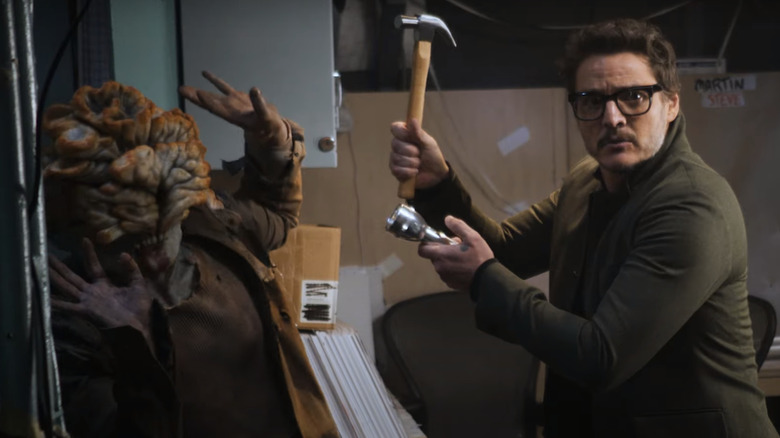 NBC
Pedro Pascal, our collective internet daddy, might be a little bit too comfortable in his role as a protector.
The actor is currently stealing our hearts as a gruff and traumatized survivalist in HBO's "The Last of Us," where he's reluctantly carting a teenage girl across the country despite the ever-present threat of mushroom zombies intent on tearing them apart. Lucky for us, even if Pascal's Joel doesn't manage to survive until the end of the season, the actor will still be all over our screens in March when "The Mandalorian" returns for season 3. This time his child cargo will be an alien infant by the name of Grogu, and instead of trekking across post-apocalyptic America, he'll be cruising through various galaxies.
Needless to say, this is Pedro Pascal's world and we're just living in it. He's everywhere, all the time, making the world a wonderful place as the protector of small children that we can't help being emotionally attached to. In addition to dominating spring's TV lineup, Pascal can next be seen testing out his comedic chops on an upcoming episode of Saturday Night Live. It's his first time snagging the prestigious hosting gig and given how hilarious he is on a regular basis, I'm willing to bet he'll make the perfect host, but only if he can shake the character of Joel for a week. According to the latest SNL promo, that might be a bit of a challenge for Pascal who nearly takes a hammer to an innocent cast member. You can check out the close call below.
Pedro Pascal vs Matt, the Clicker
First rule of hosting SNL? Don't hit the cast members with a hammer. That being said, Mr. Pascal can do no wrong, so I'm gonna play devil's advocate here and say that maybe Matt deserved it. He seems nice enough, but I've seen his murderous mushroom brethren in action — who's to say he's not on the verge of spreading the cordyceps virus on the SNL set? Pascal was probably doing them all a favor.
Speaking of mushroom jokes, the fact that SNL has such an accurate Clicker costume on hand is both hilarious and a very good sign. There's no way they'd put some poor individual through hours of special effects makeup just for a promotional bit, right? I'd bet money that there's at least one sketch inspired by "The Last of Us" in our future. Also, since Pascal's co-workers are on the table, can we expect an appearance from (get ready for a wholly uncontroversial statement) everyone's favorite force user, Grogu? Or, if SNL is in a throwback sort of mood, maybe we'll catch sight of his old pal The Mountain from the set of "Game of Thrones." I bet they'd have lots to discuss.
Pedro Pascal will be hosting "Saturday Night Live" this weekend, on February 4, 2023, with musical guest Coldplay. One day later, he'll be back on HBO for a new episode of "The Last Of Us."