Vikings' Creator Thought The Series Wouldn't Make It Past One Season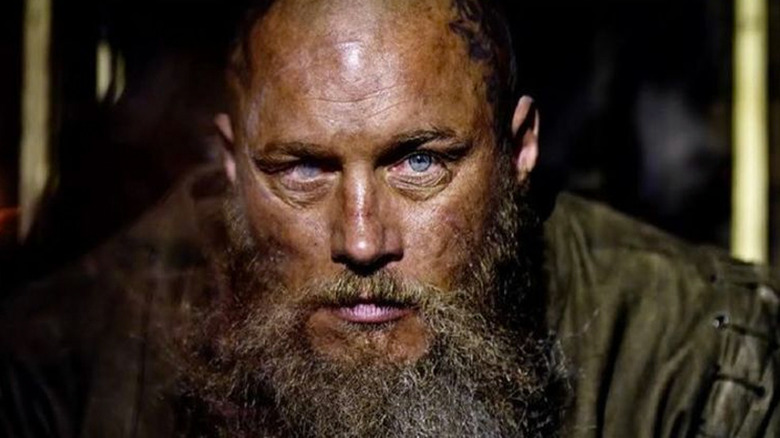 History
In this crazy age of prestige, period-set TV, it can be difficult to remember all the genuine gems that came before. One of those aforementioned winners came in the form of "Vikings," a History Channel series that charted the rise of the legendary Ragnar Lothbrok (Travis Fimmel) and his dynastic family line. The series had its ups and downs, to be sure, but it became a bona fide phenomenon with a loyal, vocal fanbase in a short amount of time. With six seasons and even a sequel series under its belt, it'd be easy to assume that "Vikings" was a guaranteed hit from the very beginning. But back when creator and showrunner Michael Hirst first pitched the show in the 2010s, the success of "Vikings" was far from a sure thing.
Hirst spoke to Collider all about "Vikings" in 2021, where he admitted that, though he had a sort of tentative plan for the overarching story, he tried to manage his expectations. "Most shows are canceled after the first season," Hirst explained. "I was just pragmatic about it. I was thrilled that MGM and then History had picked it up for starters ... [but] I was pretty superstitious about how far I could go."
'I had a sort of big menu in my own mind'
History
Despite his pragmatic approach, Hirst was still keen to do his own thing — and tell his own story — for as long as possible. "I had a sort of big menu in my own mind about what I want to do. A lot of that was to do with overturning a lot of cliches about Viking life and about the Vikings generally." It helped that the series seemed to attract a bigger audience with each season, so Hirst's strategy was obviously working. However, the big test came in the fourth season, when Hirst made a controversial choice with one of his main characters:
"Although I said from the beginning that this was going to be the saga of Ragnar and his son, when I finally announced to everyone that this was the season I was going to kill Ragnar I got a lot of warning, certainly from the Americans, that was a dangerous thing to do. And that most shows, who lose their lead character, don't continue successfully."
Season 4 of "Vikings" is an uncontested low point in the series. Ragnar's death was a shocking blow to fans — even after his slow descent in the seasons prior — and it definitely could have killed the series in turn. Fortunately, "Vikings" managed to survive on the strength of the remaining ensemble, finishing strong with two more seasons and inspiring an equally successful spin-off. "There've been a lot of big moments along the way," Hirst admitted, "but I could never in my wildest dreams have anticipated that we would get to six seasons and 89 episodes."