Lisa Loring, The Original Wednesday Addams, Is Dead At 64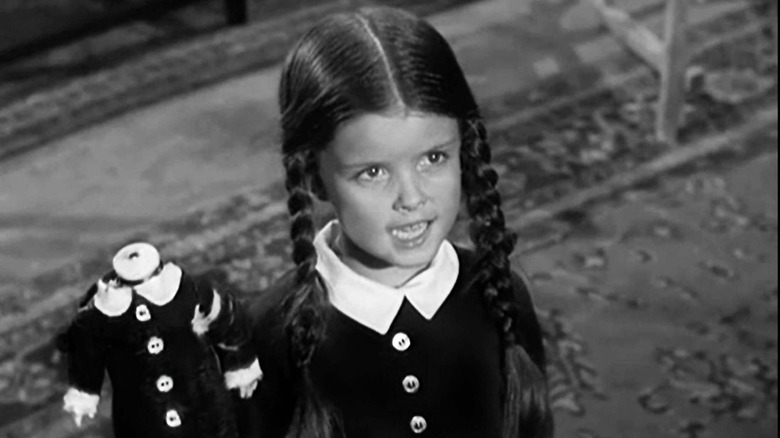 MGM Television
Lisa Loring, best known for being the first person to play Wednesday Addams on the original "The Addams Family" sitcom, has died. She was 64. Loring began her career as a child, first starting out as a child model at age three before appearing on an episode of the 1960s TV series "Dr. Kildare." When Loring was six she landed the role of the gloomy child Wednesday Addams on "The Addams Family," which ran from 1964 through 1966. Loring would also return to the role for reunion specials, including "Halloween with the New Addams Family" in 1977.
"I learned to memorize before I could read," she said in regard to learning her lines. She went on to say:
"I didn't know how to read yet, I hadn't been to first grade, so [producer David Levy] wasn't prepared to see children that young, that he didn't know. But I had my hair down to here [indicates her waist], my mother put a pretty dress and little white gloves on me, and I had a little black patent leather handbag. And he thought I was so adorable — he told me this later, when I was an adult — he said, 'So what I did was, I asked you pout first.' And he loved that. [...] He planned to do it two or three times for me, [but] the second time I came back with the lines verbatim. Then I did a screen test, one of five girls, and ultimately it was [Gomez Addams actor] John Astin and David Levy who picked me."
Loring added that the cast of the original show — including Carolyn Jones, John Astin, Jackie Coogan, Ted Cassidy, Blossom Rock, and Ken Weatherwax — was like a "real family" to her. Known for her non-sunny disposition and fondness for mutilated dolls, Wednesday, first created by cartoonist Charles Addams, became a fan-favorite character, eventually being played in later years by Christina Ricci (whom Loring called "a perfect Wednesday") and more recently, Jenna Ortega. Ortega's viral dance scene from Netflix's "Wednesday" series was actually a partial tribute to a similar dance Loring performed on the original series. As Ortega said:
"I knew there were certain things I wanted to do. I paid homage to Lisa Loring, the first Wednesday Addams. I did a little bit of her shuffle that she does. Of course they cut out of camera when I did do it, but it's there! I know it is!"
Regarding the original dance, Loring said:
"My dialogue in that is so funny. 'You've got to be cool, you've got to be hip!' – this was the '60s. And I saw it and I thought, 'Who taught me how to dance like that? I can't dance like that.' It had like eight million views or something ... I watched it and I hadn't thought of it in years."
'She went peacefully with both her daughters holding her hands'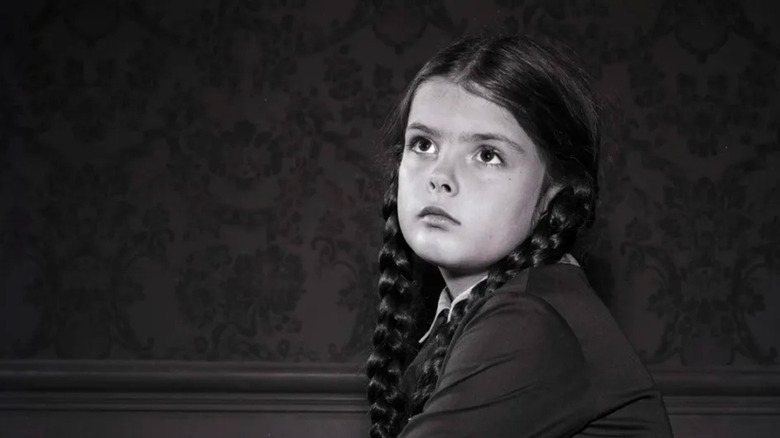 MGM Television
Loring was born Lisa Ann DeCinces on February 16, 1958. Her career also included the TV series "The Pruitts of Southampton," the soap opera "As the World Turns," and B-movies such as "Blood Frenzy", "Iced", and "Savage Harbor." Loring was first married at age 15 in 1973, the same year she gave birth to a daughter. Loring would marry three more times and have another child.
Loring's death was confirmed on Facebook (via Deadline) by her friend Laure Jacobson. Jacobson wrote: 
"It is with great sadness that I report the death of our friend, Lisa Loring. 4 Days ago she suffered a massive stroke brought on by smoking and high blood pressure. She had been on life support for 3 days. Yesterday, her family made the difficult decision to remove it and she passed last night...She is embedded in the tapestry that is pop culture and in our hearts always as Wednesday Addams. Beautiful, kind, a loving mother, Lisa's legacy in the world of entertainment is huge. And the legacy for her family and friends — a wealth of humor, affection and love will long play in our memories. RIP, Lisa. Damn, girl...you were a ton of fun."
Loring's daughter, Vanessa Foumberg, added:
"She went peacefully with both her daughters holding her hands." 
Some of Loring's other work included roles in such projects as TV series "The Girl from U.N.C.L.E.," "Barnaby Jones," and "The Phyllis Diller Show," the TV movie "Gabe and Walker," and films "Way Down in Chinatown" and "Doctor Spine," her final acting job. Like many former child stars, Loring's adult life was tumultuous. As People magazine reported in 1995, Loring "turned to drugs and eventually heroin" in the early '90s, but got clean in rehab. "I was disillusioned about my adult life," she said. At the time, she hoped for comeback work, stating: "I will not do any schlock. But I'd love to do a Quentin Tarantino film."