Even John Steinbeck Thought Henry Fonda Was The Perfect Pick For Grapes Of Wrath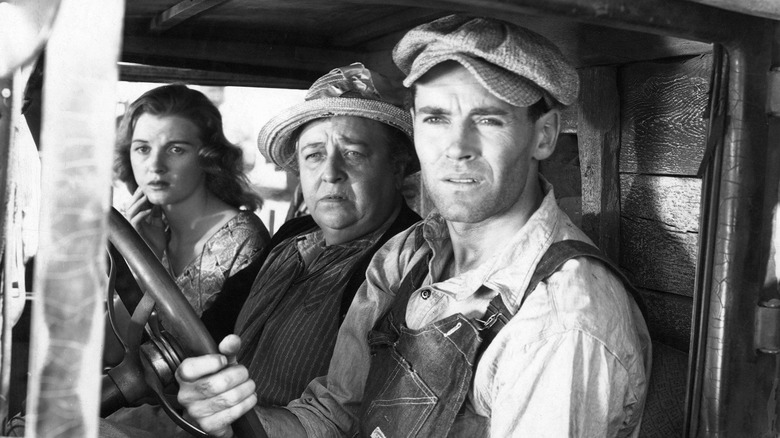 Twentieth Century Fox
George Cukor's "The Philadelphia Story" is a terrific film. It is as great a mainstream comedy as Hollywood has ever produced, and the three leads — James Stewart, Katharine Hepburn, and Cary Grant — are humming on every available cylinder. It was worthy of many accolades, but I'll never understand how Academy voters walked out of John Ford's "The Grapes of Wrath," and cast a vote for anyone other than Henry Fonda.
Ford's film was rushed into production by Twentieth Century Fox's Darryl Zanuck, who worried tremendously about the populist, anti-capitalist politics of John Steinbeck's novel. The book is explicitly critical of the banks' cruel treatment of tenant farmers and pulls no punches in its portrayal of Oklahomans desperate to find prosperity in the Western United States. At the center of the book is Tom Joad, an ex-con who joins his evicted family on their arduous trek to California. They leave hopeful. They wind up burying several of their family and friends along the way.
Fonda's portrayal of Joad isn't iconic; It's mythic. The star had given a critically acclaimed performance as The Great Emancipator in "Young Mr. Lincoln," and, given his finely etched Nebraskan beauty, looked more of the people than many of his movie star colleagues (e.g. Clark Gable, Gary Cooper, or John Wayne). There was something spiritual about Fonda, but also something bothered. He later disclosed his life changed when, as a young man, he saw a Black man lynched in broad daylight during the 1919 Omaha massacre. "It was the most horrendous sight I'd ever seen," he said. "My hands were wet, there were tears in my eyes. All I could think of was that young Black man dangling at the end of a rope."
A dark-faced piece of electricity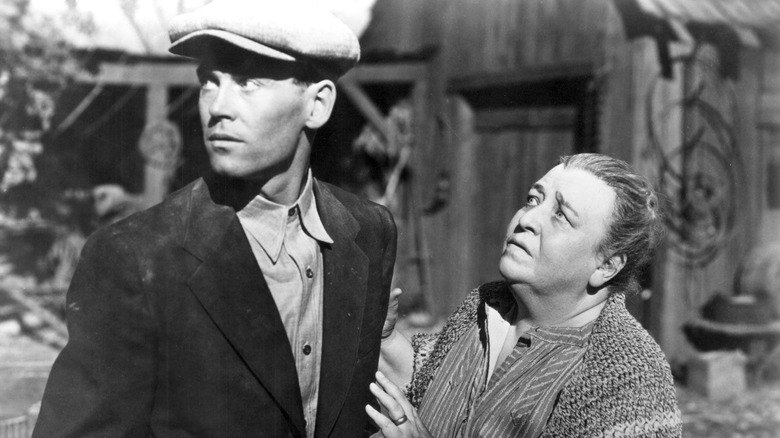 Twentieth Century Fox
When you know this, it's sometimes all you can see in Fonda's sorrowful eyes. Ford saw it and insisted on the up-and-coming star over Don Ameche and Tyrone Power. Fonda had to be his prairie prophet.
Ford's film is an appropriately dusty affair. During an age of soundstage-bound films, "The Grapes of Wrath" had a rough, tactile authenticity. Ford justifiably won the Best Director Oscar, while Jane Darwell more than earned her Best Supporting Actress win as Ma Joad. But it is Fonda's film from front to back, and there's no greater endorsement of his performance than Steinbeck's assessment when he revisited the movie years after its release.
According to Tony Thomas' "Complete Films of Henry Fonda," Steinbeck was stirred anew during this rewatch. After bracing for the worst, the author said:
"Then a lean, stringy, dark-faced piece of electricity walks out on the screen and he had me. I believed in my own story again. It was fresh and happening and good. Hank can do that. He carries with him that excitement which cannot be learned — as many an actor has found to his sorrow — but he backs up his gift with grueling, conscientious work and agony of self-doubt."
Fonda was a haunted man, and he struggled mightily as a husband and father. But in front of the camera, we saw everything that was good and godawful about America because he saw it, and he couldn't in good conscience keep it to himself.