Sergio Leone Knew Exactly What He Wanted From Henry Fonda's Once Upon A Time In The West Role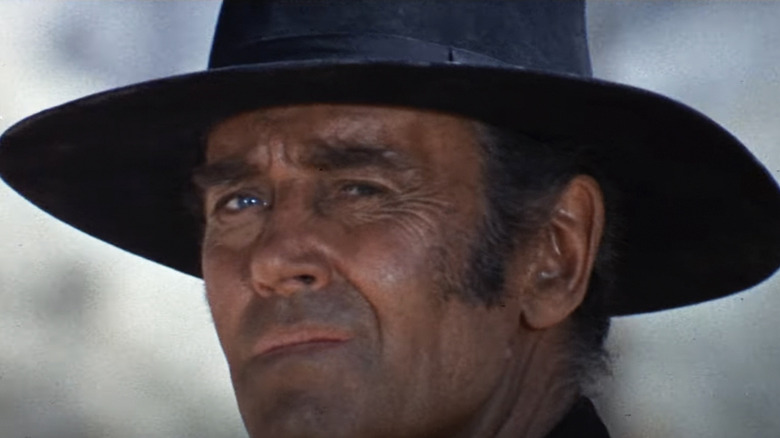 Paramount
The history of cinema is a history of famous mustaches. (Stick with me here, I'm going somewhere with it.)
From Charlie Chaplin's legendary toothbrush to Burt Reynold's iconic cookie duster, to Groucho Marx's painted-on whiskers and Borat's silly soup strainer, you'll find beloved movie stars wearing fabulous facial hair throughout the entirety of the motion picture art form.
But as much as we all love stupendous stubble, there's one place you won't find any lip bristles, and that's on Henry Fonda's face in Sergio Leone's classic spaghetti western "Once Upon a Time in the West." That's because the minute that Fonda, one of the most respected and beloved actors in Hollywood, arrived on set, Leone told him to take the damn thing off, and to change his eyes while he was at it.
It's not that Sergio Leone didn't stan a 'stache, he just had much more insidious plans for the movie star — plans that would soon provide Fonda with one of the best roles of his incredibly long career.
Everybody's fond of Fonda!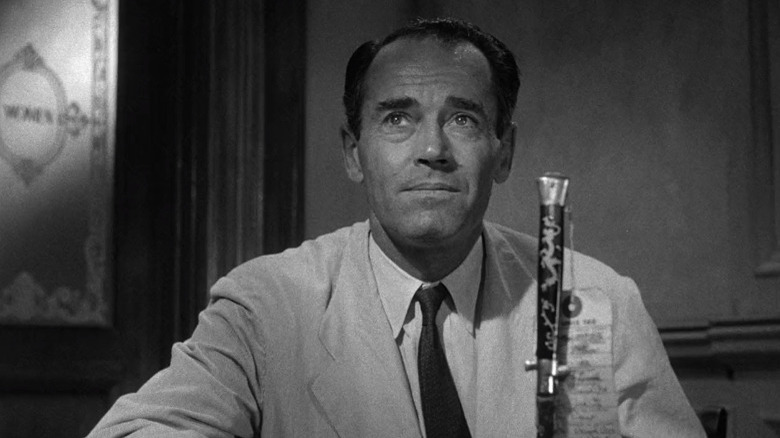 United Artists
Henry Fonda's filmography spanned nearly 50 years, from the 1935 comedy "The Farmer Takes a Wife" to the blockbuster Oscar-winning drama "On Golden Pond" in 1981, which won the actor his only competitive Academy Award after decades of snubs.
Within a few years of his big screen debut, Fonda was co-starring in classics like the award-winning costume drama "Jezebel" and the beloved Preston Sturges con artist rom-com "The Lady Eve." He also quickly solidified an on-screen persona as a likable everyman hero, earning acclaim for his performance in the dust bowl drama "The Grapes of Wrath" and his heroic portrayal of a young Abraham Lincoln defending an accused murderer in "Young Mr. Lincoln."
Even in movies with darker subject matter, Fonda typically found himself at their moral center, as the man who would be the voice of reason — with varying levels of success — in the classic ensemble dramas "12 Angry Men" and "The Ox-Bow Incident."
To cast Fonda in a picture was to enlist a movie star with "good guy" baggage, and Sergio Leone knew that. That's why he cast Fonda was a child-murdering monster in "Once Upon a Time in the West."
The good, the bad, and the spaghetti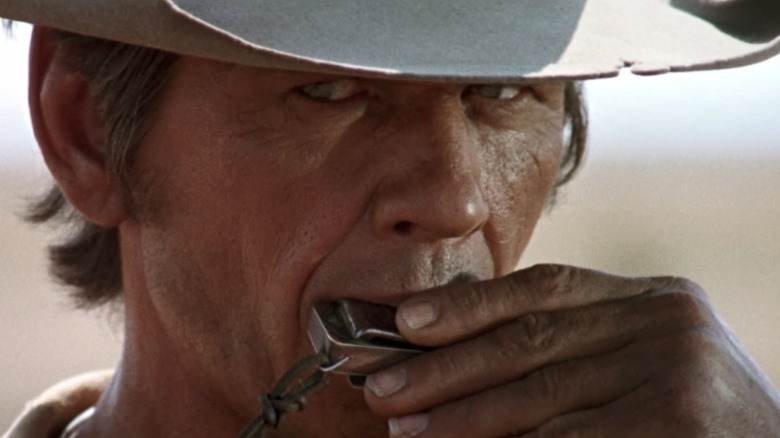 Paramount
Henry Fonda made many successful westerns in his Hollywood career, like "My Darling Clementine" and "Drums Along the Mohawk," but the genre had evolved by the mid-20th century into violent moral ambiguity, thanks to a string of hit films emerging from Italy. 
These so-called "spaghetti westerns" eschewed the black-and-white morality found in many American productions, and leaned heavily into the more unpleasant aspects of frontier living, transforming a genre often associated with unflappable manifest destiny into a harsh critique of both humanity and feel-good American cinema.
One of the filmmakers at the forefront of the spaghetti western was Sergio Leone, whose "Man with No Name" trilogy — "A Fistful of Dollars," "For a Few Dollars More," and "The Good, the Bad and the Ugly" — put a TV actor named Clint Eastwood on the international map. Eastwood became a proper movie star and Leone moved on to an even bigger production, "Once Upon a Time in the West."
The 1968 western classic stars Charles Bronson as a mysterious, harmonica-playing gunslinger whose quest for revenge lands him in the center of a murderous conspiracy. There's a tycoon with a scheme to steal cheap land before a new railroad makes it invaluable, so he hires a homicidal outlaw to slaughter the entire family that owns it, even the children.
And to play that unforgivably evil outlaw, Sergio Leone cast everyone's favorite good guy, Henry Fonda.
No makeovers for old men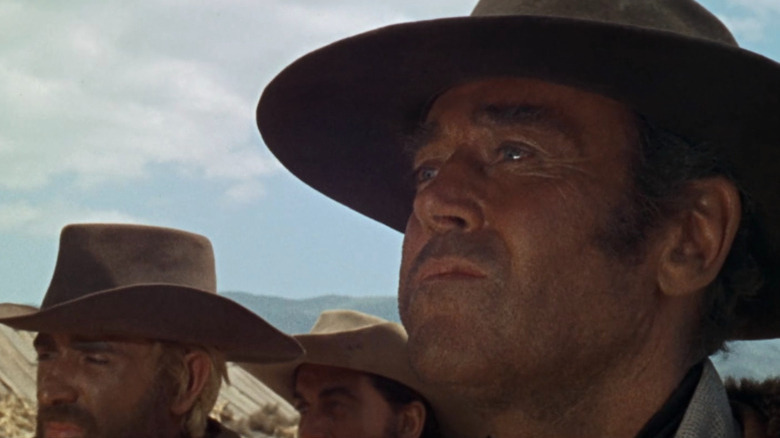 Paramount
Fonda was a serious actor and knew what his part entailed. In a 1973 interview dug up by The Telegraph, he revealed his willingness to transform his familiar persona into the image of a proper villain.
"I read the script and I know the guy Sergio [Leone] wants me to play is a heavy. So I went to an optometrist and I had myself fitted for contact lenses that would make my eyes dark, because I didn't think my baby-blues would be the proper look," Fonda recalled. "I grew a moustache which was a little bit like John Booth's, who shot Lincoln. I was trying every way that I knew to look like a period heavy."
"I arrived in Rome and went on the set and Sergio took one look at me and he said, 'Off!' He wanted the baby-blues — he wanted the Fonda face," Fonda explained.
It turns out that Leone hadn't just cast Fonda for his impressive acting ability, he also wanted to play the world-famous actor against type, and he needed Fonda's famous face for a big reveal.
In "Once Upon a Time in the West," Fonda's villainous character, Frank, is introduced after an extended massacre of an entire, loving family. One by one, they're all murdered by off-screen assailants, until just one boy is left.
"Now you go toward the little boy, who is standing there with his dead father and his dead sister and his dead brother," Fonda said, revisiting the famous scene. "The camera comes around very slowly until you can recognize the killer. Sergio Leone was waiting for the audience to gasp: 'Jesus Christ, it's Henry Fonda!'"
"I loved every bit of it," Fonda admitted.
And to think, it all could've been ruined by a mustache.