Mia Goth Was Completely 'Fooled' By Her Own Infinity Pool Character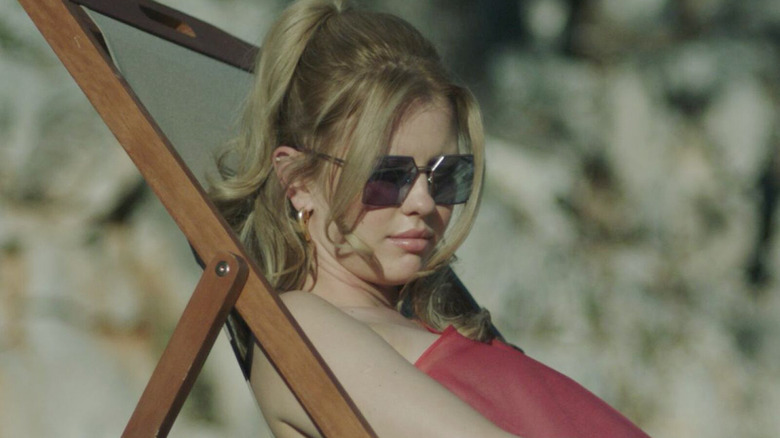 Neon
Brandon Cronenberg's third feature, "Infinity Pool," is a wild ride — and at the wheel of the hedonistic hellscape both the audience and lead characters find themselves in is one Miss Mia Goth. Playing the charismatic and intense actor Gabi, she commands just as much if not more attention in this film than she did in Ti West's "Pearl." And that's saying something. But Gabi isn't all she seems to be, and funnily enough, even Goth herself was fooled by Gabi's complete 180 as the movie progresses. 
The English actor discussed the matter with IndieWire at the 2023 Sundance Film Festival, where the film held its world premiere:
"This resort ends up providing Gabi something really necessary in an otherwise empty life. By the time she meets [Alexander Skarsgård's character] James, this is actually something she has done multiple times. James is just the latest of her victims. This resort has provided a stage for her to perform and present herself in many different ways and be many different characters. When I first read the script, she even fooled me. I thought she was going to be one thing, I thought I was getting ready to read one sort of story, and she completely had me fooled. She was such a wild character to play."
"Wild," indeed — and in the interest of being as spoiler-free as possible, that is the only adjective you'll get from me.
Gabi is the actor inside Mia Goth herself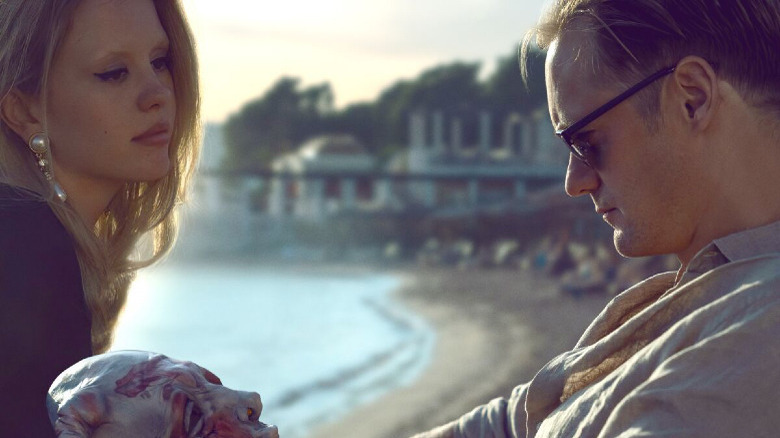 Neon
While she presumably doesn't have the vindictive and sadistic impulses her character does, there is a reason why Mia Goth melts so seamlessly into these types of, let's face it, horrifying roles. Both Pearl and Gabi are performers at heart, with souls intrinsically tied to the art of putting on a show. It's clear that these characters both love the act more than nearly anything, and ever since Goth made waves with her role in 2016's "A Cure For Wellness," it's been clear that she's an actor's actor, one who works for the love of it and not the potential excess of success.
Funnily enough, her "Infinity Pool" character is just as driven, but in the opposite direction. The excess of success is what allows Gabi to have the playing field she has — again, no spoilers — so more than anything, she's drunk off the platform that gives her. Gabi is able to use her skills because of that excess, and it's why she and her husband continue to come back to the film's central location, a strange yet very high-class resort, each year. Goth's dedication to the parts she plays makes her more than the perfect person to inhabit this wild and outlandish actor.
"Infinity Pool" is now playing in U.S. theaters.