Still: A Michael J. Fox Movie Review: The Beloved Actor Gets An Uplifting, Entertaining And Truly Cinematic Documentary [Sundance]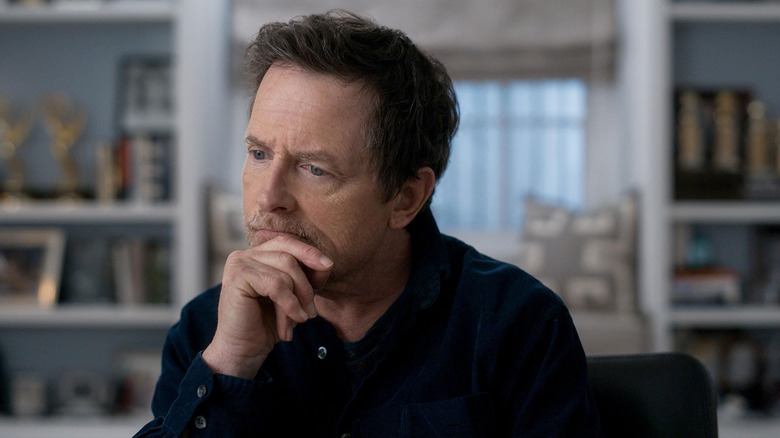 Apple TV+
Michael J. Fox is one of the most beloved actors on the planet. Along with being instantly recognizable thanks to his starring role in the iconic "Back to the Future" franchise, the actor's charming turns in film and television span include his breakthrough role in the classic sitcom "Family Ties," the hairy sports star of "Teen Wolf," a meteoric rise in "The Secret of My Success," his fast-talking, schmoozing performance in "Spin City," and an underrated leading turn in Peter Jackson's "The Frighteners." 
But for a long time now, Fox's public persona has been inexorably linked to Parkinson's disease, which the actor was diagnosed with in 1991 — but Fox wouldn't make his ailment public until 1998, in the middle of his Emmy-winning work on "Spin City." Since then, he's become the poster child for Parkinson's, fighting to round up funding, raising awareness, and hoping to find a cure for the disease that has mostly prevented him from staying on the promising career path he started as a teen.
At the 2023 Sundance Film Festival, "Still: A Michael J. Fox Movie" tells the story of Fox's fast rise to fame, and in the hands of "An Inconvenient Truth" director Davis Guggenheim, this is one of the most slickly produced, wholly entertaining, wonderfully cinematic, and flat out fantastic documentaries you will ever see about one of Hollywood's finest stars.
Not your average celebrity documentary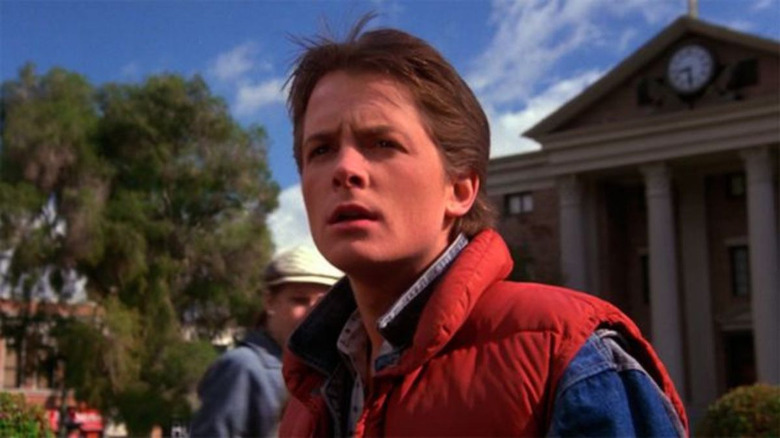 Universal Pictures
There are plenty of celebrity documentaries out there, and they all seem to follow a similar formula that splices together behind-the-scenes footage, family home videos, random stock footage and publicity B-roll, and talking heads. While it's true that this documentary has all that, it's the way Guggenheim and editor Michael Harte have stitched it together is nothing short of brilliant. 
Movie and TV clips from Fox's career are juxtaposed with the actor's voiceover and edited in such a way that it feels like you're watching a narrative feature. Along with that, there are dramatizations spliced in that work seamlessly with these clips. This is most impressive in one particular sequence describing Fox's brutal shooting schedule that allowed him to simultaneously shoot his series regular role on "Family Ties" and the starring role in "Back to the Future." As Fox describes the arduous process of working almost all day and night with just a few hours of sleep in between shoots, the film shifts from clips from the TV series and movie into magnificent dramatizations featuring a stand-in dressed as Alex P. Keaton and Marty McFly, before steering right into another clip. These dramatizations don't feel cheap either, often resembling the visual style of Fox's films from the 1980s with an Amblin Entertainment touch, and meticulously recreating set pieces and costumes from various movies and TV shows in Fox's past — even the hairy look of "Teen Wolf." It's all done in such a finely tuned, kinetic fashion that it gives the movie such an energetic momentum, with an assist from a soundtrack featuring a variety of oldies hits.
Furthermore, the clips are frequently used as a means of perfectly defining Fox's emotional state at any given time, whether it's a line of dialogue or simply a facial expression. This is especially true when the time comes for us to hear about how Fox met his wife, actress Tracy Pollan when she landed a key role in "Family Ties." Whoever was responsible for digging through every bit of film and TV footage featuring Michael J. Fox deserves an extra pat on the back, because I've never been so entranced by a documentary like this.
If there's one complaint I have about this documentary, and it's not one that is often made in this genre, it's that I wish it had a more robust runtime to dig even more into Fox's life and career. Because the breezy runtime goes by all too fast, and you'll find yourself wanting to spend as much time with Michael J. Fox as possible.
Pulling at heartstrings, but never pitiful
When the documentary isn't recounting the ups and downs of Fox's career, it has Davis Guggenheim questioning the actor from behind the camera and following him as he deals with the physical struggles of Parkinson's disease. It's heartbreaking to watch Fox stumble, as his body can't seem to keep up with his mind. The convulsing of his body and lack of control over it means he walks with a bit of a limp, and Fox sustains multiple injuries throughout the doc's production.
Alongside the career recap, the film also follows Fox as he goes to physical therapy, and both his trainer and family are constantly telling him to slow down and be careful. Fox, ever the playful spirit, never gets discouraged and takes everything in stride, often cracking jokes, as long as his body allows him to get it out of his mouth fast enough. It makes the realization later in the film that Fox is often in rather discomforting pain most of the time that much more harrowing, even though Fox makes it clear that he's not looking for pity. When Guggenheim asks Fox why he never mentions when the pain pops up while they're having an interview session, Fox casually says, "It never came up." This is just Fox's everyday life now, and that includes sometimes falling onto furniture in his house, resulting in a bruised, black eye. 
Though there are certainly moments that will pull at your heartstrings, "Still: A Michael J. Fox Movie" is more uplifting than sad, and it's also quite funny thanks to Fox's natural charm and the wealth of comedy from his on-screen career. This is the story of a man who was on top of the world before a literally crippling disease took him out of the game. But Fox has taken the reins of this unpredictable and earth-shattering detour in life, and he continues to laugh and smile, even though Parkinson's disease has severely limited the spectrum of his facial expressions. Ultimately, the film shows Fox took away a valuable lesson from Doc Brown in the "Back to the Future" franchise: "Your future is whatever you make it. So make it a good one!"
/Film Rating: 9 out of 10