Leslie Knope And April Ludgate Visit Saturday Night Live To Discuss The Joys Of Government Work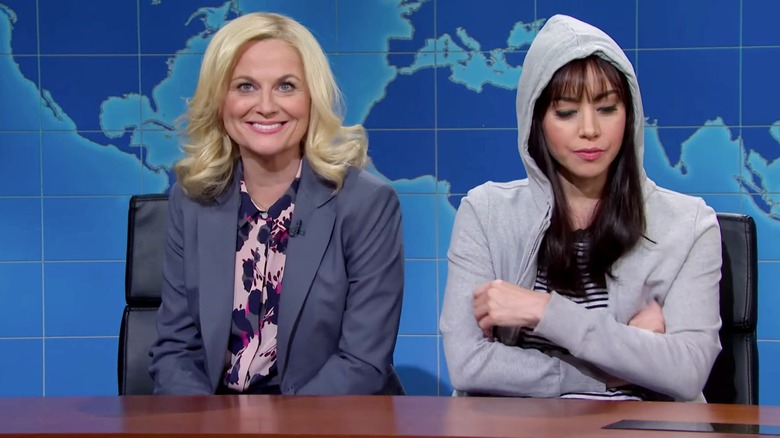 NBC
Do you aspire to work in local government? Perhaps you dream of hearing the lively exchange of ideas at a public forum, or helping the community by trapping a rogue possum that's been terrorizing the golf course. Maybe you just want to shine shoes. 
Well if you're looking for career advice, then this week's "Saturday Night Live" is here to deliver it. The latest Weekend Update featured guest appearances from Leslie Knope, the regional director of the National Parks Service Midwest Branch, and April Ludgate, longtime employee of the Parks and Recreation department in the charming town of Pawnee, Indiana.
Host Aubrey Plaza, who was an actual intern in the "SNL" set design department before going on to play a sulky office intern in "Parks and Recreation," reprised her role from the show alongside Amy Poehler's Leslie Knope. Poehler was part of the regular "Saturday Night Live" cast during Plaza's internship and also founded the Upright Citizens Brigade Theatre, where Plaza's comedy career began, so the two of them go way back (Poehler also popped up during Plaza's opening monologue).
So, what advice did April and Leslie have to offer about working in local government?
'Get a job as a garbage man or something'
In an unexpected turn of events, April was actually more enthused about government work than Leslie during their appearance on the Weekend Update desk. Ms. Ludgate offered handy tips like "be a dog catcher and just say you couldn't find any" and "drive a bus, you don't have to be on time." (As a regular bus user, the accuracy of that one hurts.)
Leslie, it turns out, is a "Saturday Night Live" superfan — so much so that Colin Jost's efforts to get her to actually talk about her job at the Parks Service didn't yield much success (though her lust for Joe Biden did make a reappearance). Poehler is no stranger to the Weekend Update desk, having been a co-anchor for several years alongside Tina Fey and Seth Meyers, but fortunately she maintains the integrity of the Parks and Recreation Cinematic Universe by emphasizing, "I used to watch this when Seth Meyers did it by himself with no one else."
"Parks and Recreation" wrapped up its seven-season run in 2015, but the cast and writers returned for "A Parks and Recreation Special" in 2020 as a charity fundraiser during the early days of the COVID-19 pandemic. While this may only have been a brief return, it's always good to see Leslie and April again.