If You Ask Chevy Chase, Barely Anything From Fletch's Script Made It Onto Film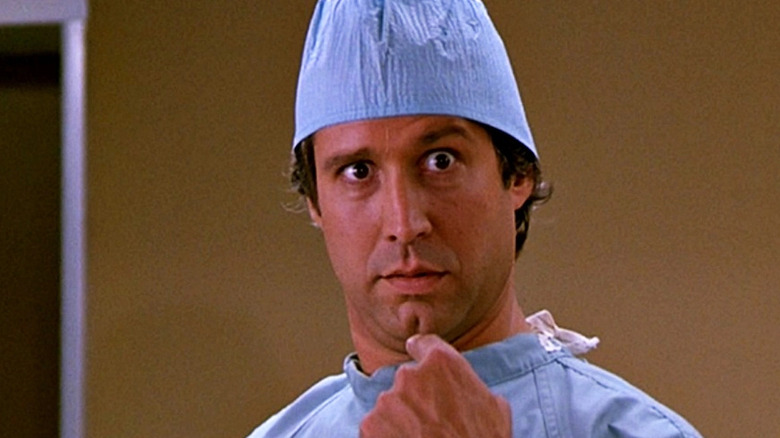 Universal Pictures
The "Fletch" movies have always been the product of turmoil. I.M. Fletcher, a hybrid private eye and journalist, made his first appearance in Gregory McDonald's 1974 novel "Fletch," following the investigator as he looks into a shady but tempting offer from a fat cat billionaire. His big-screen debut came in Michael Ritchie's ("Bad News Bears") 1985 feature of the same name, starring Chevy Chase in the lead role of the loose adaptation; it was a box-office smash. Four years later, the sequel "Fletch Lives" saw Chase and Ritchie reprising their respective roles in a follow-up Roger Ebert once described as a "dispirited slog through the rummage sale of movie cliches."
Since then, Fletch has undergone more iterations than his numerous implausible identities. The most talked about version is Kevin Smith's unproduced "Fletch Won," which he envisioned as a Miramax vehicle for "Mallrats" star and frequent Smith collaborator Jason Lee. Convicted sex pest and Miramax co-founder Harvey Weinstein demanded that the more bankable Ben Affleck star as Fletch instead, and the movie fell through. Subsequent contenders for Fletch include "Scrubs" star Zach Braff — working with "Ted Lasso" creator Bill Lawrence — and "Saturday Night Live" alum Jason Sudeikis — working with "Hot Tub Time Machine" director Steve Pink. "Mad Men" leading man Jon Hamm took up the baton in last year's "Confess, Fletch" after years of development hell, and its poor reception suggests that the success of the original movie relies on the simple maxim, quoted often on the first season of "SNL," "I'm Chevy Chase, and you're not." 
According to the scuttlebutt in Nick de Semlyen's comedy chronicle book "Wild and Crazy Guys," very little of Andrew Bergman's "Fletch" script made it to the final cut of the movie.
People who know me recognize my lines.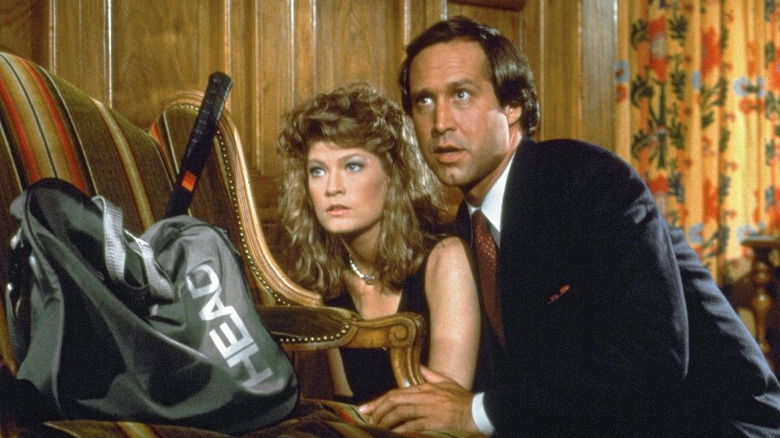 Universal Pictures
Author Gregory Mcdonald was precious about the character he created, stamping a veto on Mick Jagger when the Rolling Stones frontman was under consideration for the title role in the late 70s. "I admire Mick Jagger," the author says in "Wild and Crazy Guys," "But he is not my idea of a young American male." When Chevy Chase — who was in his early forties at casting time — was thrown into the ring, Mcdonald liked him enough to overlook the 'young" descriptor of his creation. Amid securing the role, Chase would open up a telegram from the author in which he claimed to be "delighted" that the funnyman would assume the role of Fletch.
At the story's beginning, Fletch is clearly established as a journalistic maverick, hanging out with addicts in an attempt to locate the course of the beachside Los Angeles drug trafficking. Bringing both magnetism and a cheeky, acidic sense of humor, Chase was the ideal man to play the private eye as he navigates underbellies and hoity-toity parlors with extemporaneous ease and the kind of graceful pratfalls that got him a coveted "Saturday Night Live" spot on the cast. The book quotes Chase as calling Fletch "the kind of guy it's easy for me to play because he's almost like me."
While director Michael Ritchie was sensitive to his actors' need to improvise, screenwriter Andrew Bergman butted heads with Chase for much of production. On the film's publicity tour, the "Caddyshack" star would claim, "Andrew Bergman didn't write 'Fletch.' I wrote 'Fletch.' I don't take screenwriting credit because I don't need it. People who know me recognize my lines."
Those lines would often drown injustices with acidity: upon taking a kick to the groin, he quips "I feel like a hundred dollars," and he opts to "waive my rights" when a cop changes the Miranda Warning to include the right to police brutality. Straight-faced as he kept it, Chase's performance in "Fletch" was one of his funniest — no matter who wrote the dialogue.