Billy Wilder Couldn't Get Jack Lemmon For Some Like It Hot Until Marilyn Monroe Was In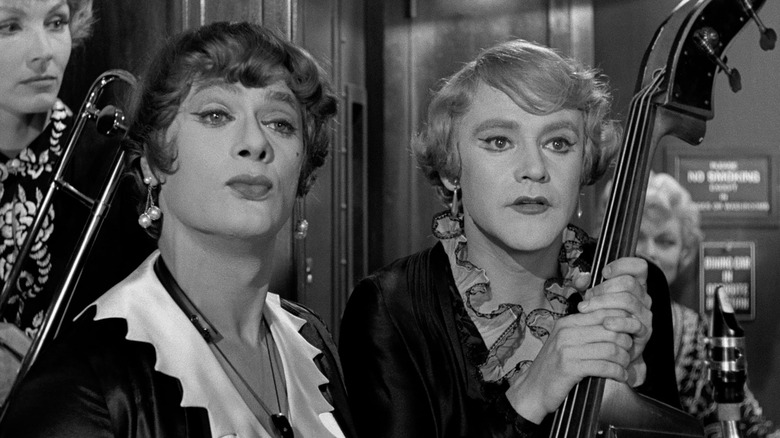 United Artists
As Billy Wilder prepared to make "Some Like It Hot," his classic comedy about two jazz musicians forced to go on the run as women after they witness a gangland massacre, he found himself in a bit of a casting quandary. His first choices for the roles of the casanova saxophone player Joe and nervy bassist Jerry were, respectively, Tony Curtis and Jack Lemmon. Though he eventually cast the stars he wanted, getting United Artists to accede to his demands was a circuitous process.
The primary stumbling block was Lemmon. The then 34-year-old actor was very much in demand after winning Best Supporting Actor for his portrayal of Ensign Pulver in John Ford and Mervyn LeRoy's blockbuster "Mister Roberts," but he was under contract to Columbia Pictures at the time, and considered unbankable as a leading man. Though Lemmon had given Wilder a verbal commitment to star alongside the already signed Tony Curtis, United Artists urged the filmmaker to find a bigger name. How much bigger? The studio wasn't messing around. They wanted the Chairman.
The wooing of Frank Sinatra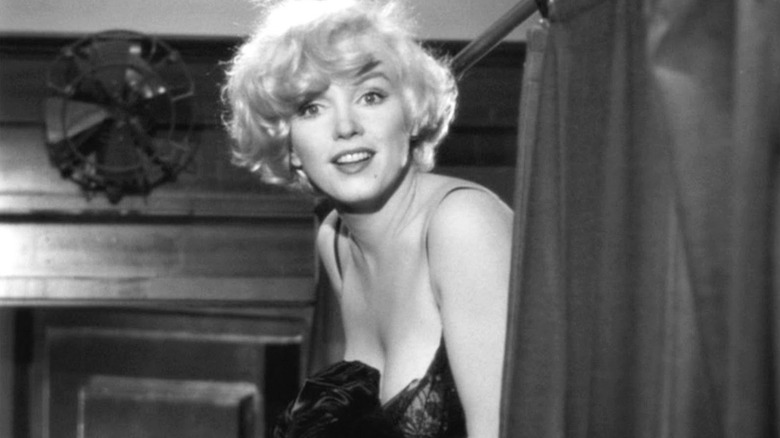 United Artists
According to the AFI Catalog's write-up on "Some Like It Hot," Wilder played ball with UA, and sought the involvement of Frank Sinatra. This obviously meant Curtis would play Jerry because Sinatra's reputation as the ultimate ladies' man had to be serviced. But while Wilder was friendly with Sinatra, he worried about his reliability. Per Ed Zikov's biography "On Sunset Boulevard: The Life and Times of Billy Wilder," the director once said, "I'm afraid he would run after the first take. 'Bye bye kid, that's it. I'm going. I've got to see a chick!' That would drive me crazy."
It was a very brief courtship, but it got far enough down the road that Wilder briefly considered Anthony Perkins for the role of Jerry.
Working in Wilder's favor was his working relationship with Marilyn Monroe. He'd directed her in 1955's sublime "The Seven Year Itch," and she was keen to collaborate with him again. This was bad news for Mitzi Gaynor, who was up for the part of crooner/ukelele player Sugar Kane. UA knew of Monroe's interest during Wilder's pursuit of Sinatra, and, though this would've blasted the budget skyward (Monroe was seeking 10 percent of the gross, which meant Sinatra would've probably wanted 15 or a ton of money upfront), the studio was more than happy to foot the bill. Stars didn't come any bigger in 1959 than Sinatra and Monroe.
Nobody's perfect, but Lemmon and Wilder came close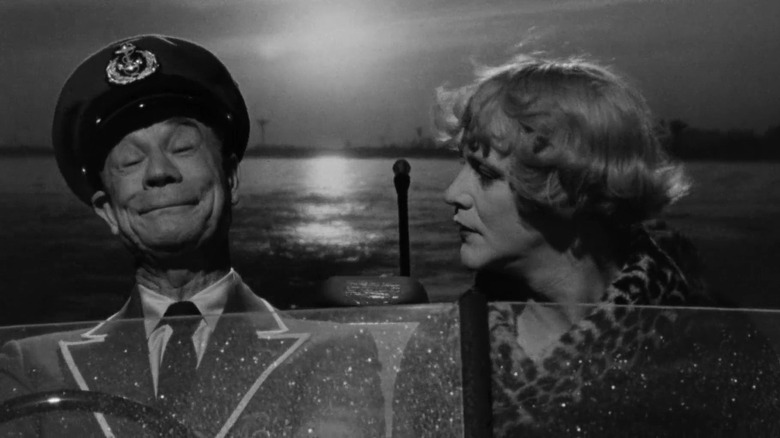 United Artists
Once Sinatra stepped out of the picture, the signing of Monroe was crucial. UA made her deal, and was satisfied enough with her presence that they okayed the casting of Lemmon as Jerry (though Danny Kaye was also considered for the part). Curtis and Lemmon were perfectly paired (it's incredibly difficult to imagine Sinatra making Wilder and I.A.L. Diamond's dialogue sing), and Monroe couldn't be more charming or hilarious as Sugar.
The film is stolen, however, by the great Joe E. Brown, who portrays millionaire Osgood Fielding III, an aging bachelor who only has eyes for Lemmon's Daphne. Lemmon's inability to dissuade Fielding's affections produces the movie's funniest moments, right down to what some consider to be the greatest final line in film history. But the film's most important element is the teaming of Wilder and Lemmon, which would give us an all-timer in 1961's "The Apartment" and the first big-screen pairing of Lemmon and Walter Matthau in 1966's hugely underrated "The Fortune Cookie." Sinatra's disinterest in "Some Like It Hot" is one of his low-key greatest gifts to the movies.