Your Place Or Mine Trailer: Reese Witherspoon And Ashton Kutcher Star In The Netflix Romantic Comedy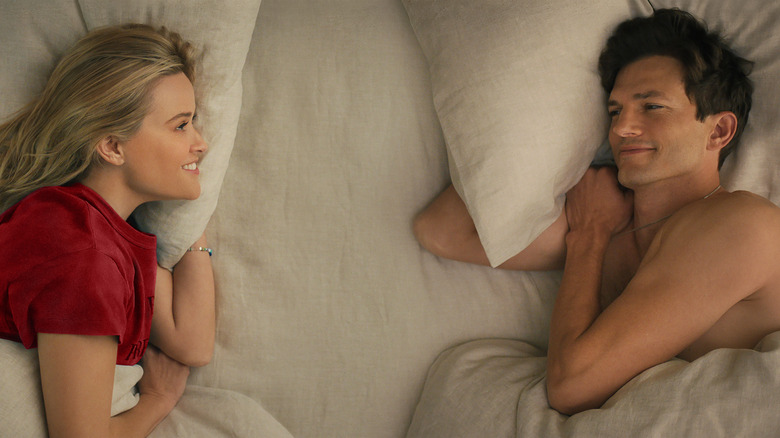 Netflix
Got Valentine's Day plans? Then get ready to cancel them! Or, at the very least, make sure to carve out two hours of couch time to bask in the glory of Netflix's star-studded rom-com, "Your Place or Mine," a love story about two best friends who swap houses. Think "The Holiday" minus the, uh, actual holiday. Instead, it follows two people who desperately need a change of setting but, in the process, find themselves stumbling across potential love.
Reese Witherspoon and Ashton Kutcher star as longtime friends Debbie and Peter, who met 20 years prior after a memorable night in their young adult lives (*cough* a one night stand *cough*). But that's in the past now and just because they ooze chemistry in their every interaction doesn't mean that they're in love! (Obviously, neither of them has ever seen a rom-com.) Anyway, both of these adults already know what they want in life — and it's not each other. Probably.
For one thing, they're total opposites — Debbie is a single mom who craves routine while raising her son in L.A. and Peter is a New York-based marketing executive who thrives on a change of pace. So to give Debbie a week off and Peter a taste of something new, they swap houses and embrace newness. You can probably guess what happens next but, if not, the trailer will certainly spell it out for you.
Watch the Your Place or Mine trailer
It takes Debbie finding love across the country for Peter to come to his senses but at least he finally figures out how he feels. The real dilemma at the center of "Your Place of Mine" is simple: Peter might be 20 years too late. On the bright side, while Peter and Debbie navigate this potential change in their relationship, they'll have lots of help. The film stars Zoë Chao as Peter's neighbor (who becomes Debbie's NY wingwoman), with Tig Notaro playing Debbie's best friend, who provides some much needed wisdom to Peter as he works through his feelings. Steve Zahn, Jesse Williams, Griffin Matthews, Rachel Bloom, Shiri Appleby, and Vella Lovell also star in the film.
"My Place or Yours" marks the directorial debut of Aline Brosh McKenna (screenwriter of "The Devil Wears Prada," "27 Dresses," "Crazy Ex-Girlfriend"), who also penned the script. For Ashton Kutcher, working with both McKenna and Reese Witherspoon is what made the project such an easy sell. "Through the years, with every romantic comedy that I thought about doing, I would always ask if Reese was available," he said in a statement. "I've wanted to work with her my entire career. And so, when I was approached about this film, I immediately said, Yes." It's been a long time coming and based on the trailer, it pays off in spades.
"Your Place or Mine" debuts globally on Netflix on February 10, 2023, just in time for Valentine's Day. Here's the official synopsis:
Debbie (Reese Witherspoon) and Peter (Ashton Kutcher) have been best friends for 20 years even though they are total opposites. Practical, risk-averse accountant Debbie craves routine and stability with her son Jack (Wesley Kimmel) in LA; Stylish brand consultant Peter thrives on change in New York City. When they swap houses and lives for a week, they learn they haven't told each other everything after all and discover what they think they want might not be what they really need.