All 10 Chris Farley Movies, Ranked Worst To Best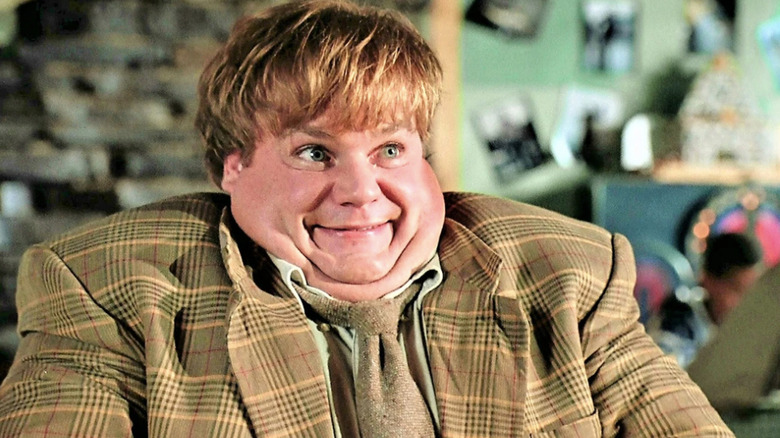 Paramount Pictures
During his all-too-brief life, comedian Chris Farley created a legacy that's still discussed and enjoyed today. As with many talents that burn bright, Farley had issues with addiction and often struggled to stay on top of his vices despite frequent pleas to stop from friends and colleagues. Ultimately, he died from a drug overdose in 1997 at the age of just 33 in a moment that eerily mirrored the fate of his "Saturday Night Live" idol, John Belushi.
Despite 25 years passing since his death, Farley's work and its impact on comedy feel more alive than ever. References to his infectious and unpredictable nature — and kindness of heart — inspired a touching song by his former "Saturday Night Live" castmate Adam Sandler played during his recent stand-up tour; a double episode of the "Fly on the Wall" podcast, hosted by Farley's frequent collaborator David Spade and fellow "SNL" icon Dana Carvey, invited a range of names to reflect on the Wisconsin-born comic's life; and it feels like anyone who ever came into contact with him has their own verging-on-chaotic Farley story that's regularly shared and has since become the stuff of legend.
While his cinema career was short-lived and the untapped promise of what he might have achieved glaring, Farley still delivered a handful of movies, many of which have since become classics. With that in mind, here are all 10 of Chris Farley's movies ranked worst to best. 
If you or anyone you know needs help with addiction issues, help is available. Visit the Substance Abuse and Mental Health Services Administration website or contact SAMHSA's National Helpline at 1-800-662-HELP (4357).
11. Honorable mention: Saturday Night Live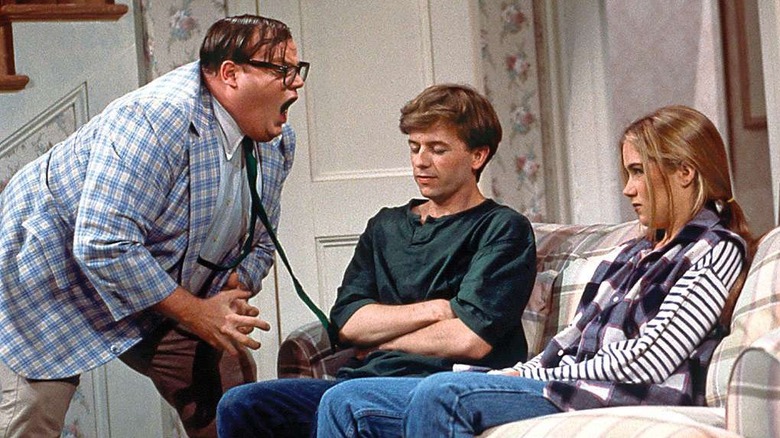 NBC
Before all the films and cameo appearances, Chris Farley cut his teeth — and introduced himself to audiences across America — as a cast member on "Saturday Night Live." While this gig can hardly be included in our official list (it's not a feature film role, after all), given the intense and contracted nature of Farley's painfully brief career, it'd simply be a crime not to at least mention it due to the life-changing impact it had on him.
Farley joined the show in 1990, fresh from the Second City comedy troupe in Chicago. It was here where, with the help of writer Bob Odenkirk, he first devised one of the characters that'd quickly become the centerpiece of a classic "SNL" sketch: Matt Foley, the extremely loud and largely unhelpful motivational speaker who "lives in a van down by the river."
While Foley is undoubtedly one of Farley's biggest contributions to Lorne Michaels' long-running live show, it's far from his only memorable moment. Quickly nesting himself in between fellow castmembers Chris Rock, Adam Sandler, and David Spade, Farley can often be seen trying his best to make his pals laugh at every opportunity, much to the delight of the onlooking live audience. However, corpsing aside, it was the (now somewhat controversial) Chippendale's sketch that earned Farley his rightful place in the "Saturday Night Live" hall of fame.
10. Airheads
20th Century Fox
Chris Farley's big screen career can arguably be split into two halves: the few films in which he starred in a leading role and the many times he was utilized as a glorified cameo by a comedy pal in their own movie. It's this distinction that has influenced the curation of this list, partly due to the scant nature of Farley's cinema offerings and partially because of the scene-stealing nature of his guest appearances. Here, we've prioritized the features in which he played a larger part. However, while his screen time in some films may be short-lived, more often than not it was always memorable and in some cases, one of the best parts of certain features.
Farley's appearance in 1994's "Airheads" was perhaps one of his most muted supporting appearances. The film itself follows three wannabe rock stars Pip (Adam Sandler), Chazz (Brendan Fraser), and Rex (Steve Buscemi) who are so desperate to get their music on the airwaves that they inadvertently take over a local radio station and accidentally get embroiled in a hostage situation. Farley stars as local police officer Wilson alongside Ghostbuster Ernie Hudson's police sergeant O'Malley, both of whom are involved in handling the situation from the outside.
Dressed in a cop uniform and on his best behavior, it's one of the few Farley roles where his hair stays kempt and he refrains from screaming. For this reason — and the performance's lack of classic Farley chaos — "Airheads" ranks last on our list.
9. Dirty Work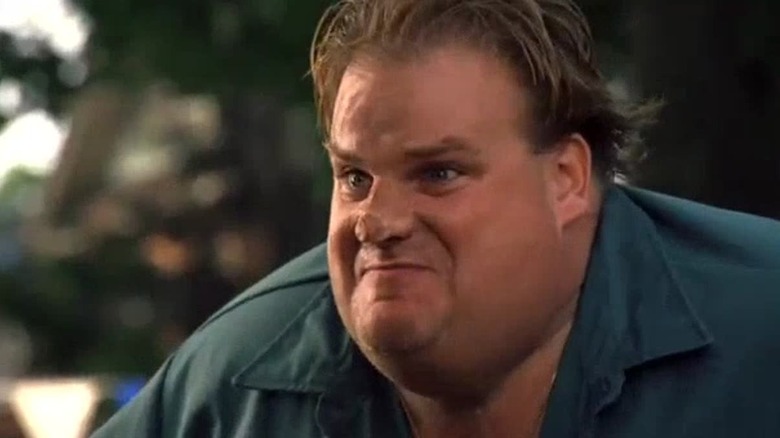 MGM
"Dirty Work" is Chris Farley's final film role but it also marks one of his funniest supporting appearances. In hindsight, the signs of impending tragedy are apparent. He doesn't look in the best shape, with his weight swelling, his voice often hoarse and his face frequently coated in a glistening sweaty sheen. The film's June 1998 release came just a few months after his death in December 1997, and it was filmed in the summer of that same year shortly before his final time hosting "Saturday Night Live" in October. This moment is notable when chronicling his ongoing battles with substance abuse, with Farley even commenting on the issue during his opening monologue.
For these reasons, this posthumous appearance in "Dirty Work" has a bittersweet quality, but it still delivers pure Farley comedy gold. Directed by Bob Saget and based on a Roald Dahl short story, the film features former "SNL" star Norm MacDonald and future Howard Stern collaborator Artie Lange as a pair of losers who start their own revenge-for-hire business. Farley is in his familiar larger-than-life mode as a constantly-enraged bartender who's still furious at the Saigon sex worker that bit off the tip of his nose. Wearing facial prosthetics throughout, Farley's firing on all cylinders, dishing out quotable lines, flexing his physical comedy abilities and looking like he's about ready to burst in the process.
If you or anyone you know needs help with addiction issues, help is available. Visit the Substance Abuse and Mental Health Services Administration website or contact SAMHSA's National Helpline at 1-800-662-HELP (4357).
8. Wayne's World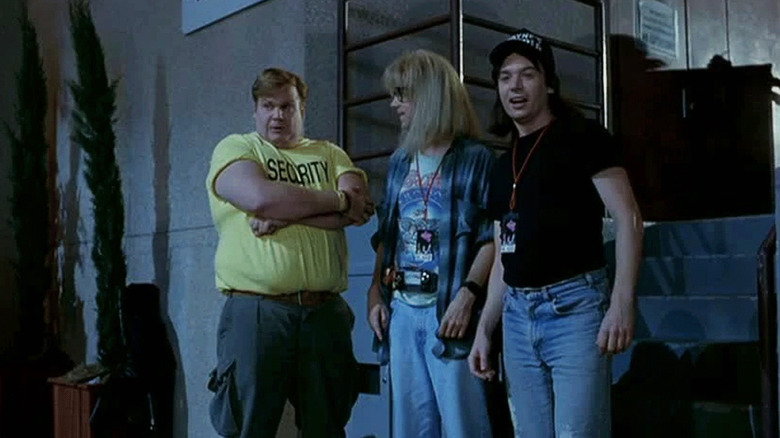 Paramount Pictures
With its huge worldwide success, Chris Farley's appearance in 1992's "Wayne's World" might be his cameo appearance that was seen by the widest audience. That said, he was only in the movie for a matter of moments, appearing early on when headbanging cable TV hosts Wayne (Mike Myers) and Garth (Dana Carvey) show up at an Alice Cooper concert that's also being attended by record label big-wig Frankie Sharpe (Frank DiLeo). Farley plays Sharpe's security detail and clues Wayne and Garth in on some seemingly random information that conveniently comes in handy later in the movie.
Despite leaving a memorable mark on a movie full of memorable moments, according to reports, Farley was particularly nervous about appearing in what would become his first feature film. "I remember Lorne (Michaels) called me up and says, 'I've got this fantastic guy named Chris Farley," explained the film's director Penelope Spheeris, talking to The Hollywood Reporter for the film's 30th anniversary. "He's really afraid of the camera, so be really careful when dealing with him.' He was so shy, but that was part of his charm."
Farley may have only graced the screen for a few moments but his presence — complete with his faux-serious attitude and scene-stealing delivery — undoubtedly felt part of "Wayne's" self-aware movie world. Thankfully, we saw a little more of him in the film's sequel ... but more on that later.
7. Billy Madison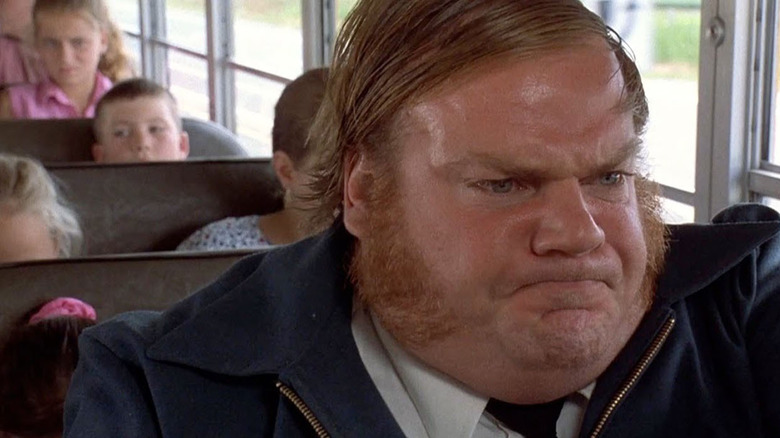 Universal Pictures
Regardless of what film critics or Rotten Tomatoes scores will have you believe, Adam Sandler's early output holds a special place in the hearts of movie fans that grew up watching it on repeat. Widely considered one of his breakout roles, "Billy Madison" helped define Sandler as a comedic leading man in a fish-out-of-water comedy about a grown man who must redo his childhood school years in order to inherit his family business.
Despite Sandler later revealing that it's largely to blame for why he no longer reads reviews of his own movies, the comedy's many quotable lines and goofy set-piece moments have helped it develop a cult status and love for it remains strong. It also contains one of the more memorable guest appearances by Chris Farley, filmed just before he found his own breakout vehicle with 1995's "Tommy Boy."
Here, Farley plays as a sideburn-wearing, purple-faced bus driver who's constantly being pushed to his limit by the kids he's forced to ferry around. It's only a small part of the overall movie and yet, as usual, Farley's frazzled delivery and intense comedy are hard not to fixate on. As with most of his work, there's a clear sense of unpredictability in his portrayal of a bus driver with a short fuse, leaving audiences unsure as to what might happen next. Just like his hastily combed-over hairdo, this is a guy that looks constantly on the verge of coming undone — and it's pretty irresistible to watch.
6. Wayne's World 2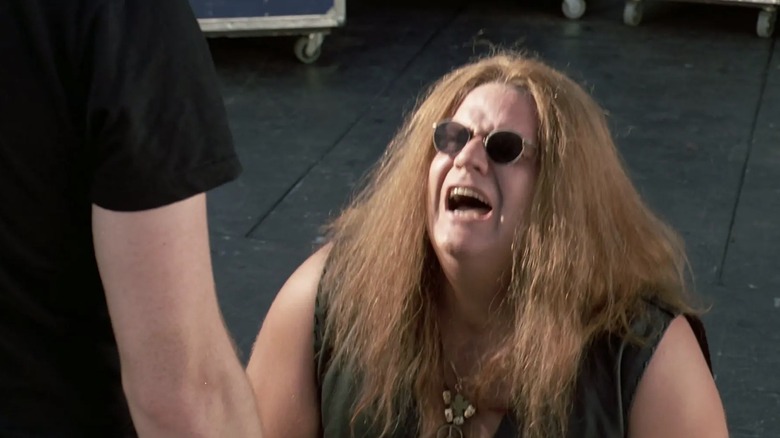 Paramount Pictures
After briefly appearing in Wayne and Garth's first outing, Chris Farley turned up in a slightly beefier role in its 1993 sequel. Directed by Stephen Surjik, this second film saw Wayne (Mike Myers) and Garth (Dana Carvey) try to host a concert featuring some of the biggest names in rock and roll. After enlisting the help of legendary roadie Del Preston (Ralph Brown), the pair quickly go about making Wayne's Weird Naked Indian-led dream a reality, complete with a group of metalhead helpers, one of which, Milton, is played by Farley.
Similar to the first "Wayne's World," Farley doesn't have a whole lot to do in this sequel, even though his role is considerably larger than it was in part one. That said, he still manages to deliver some of the movie's funnier (and weirder) moments alongside some of its most quotable lines in a performance that's delightfully unhinged. This is something that's hit home from the first moment we meet Milton. Euphoric one minute and intense the next, he assures Wayne and Garth that he feels great — before ominously telling them, "I'm gonna go pick a fight."
Later, Farley gets the chance to dish out his other most memorable scene after failing the microphone stand test during Wayne, Garth, and Del's roadie boot camp training. Spoofing Richard Gere in 1982's "An Officer and a Gentleman," he lets rip with a teary rendition of the line, "I got no place else to go!"
5. Almost Heroes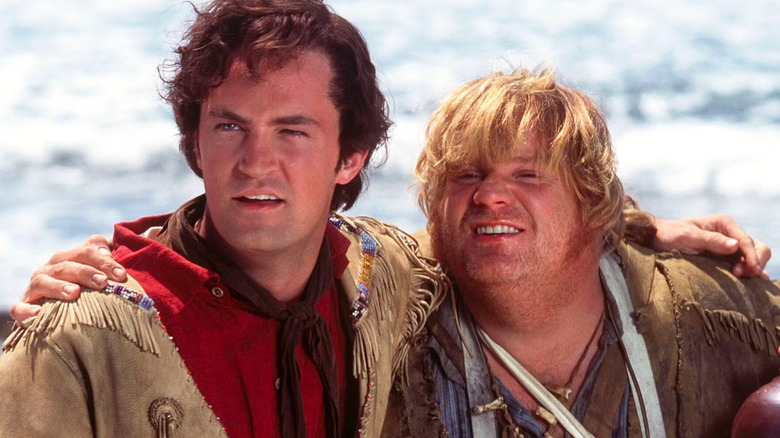 Warner Bros.
"Almost Heroes" was Chris Farley's last leading role in a major movie and was released just a few months after his death from a drug overdose in late 1997. Directed by Christopher Guest, this historical adventure paired him with Matthew Perry, who in the late '90s was enjoying the high-flying success of "Friends" while secretly dealing with his own addictions which he later candidly discussed in his 2022 memoir "Friends, Lovers and the Big Terrible Thing." Together, they play adventurers determined to beat fellow explorers Lewis and Clark on a race across the American frontier to the Pacific Ocean.
The film appears mid-way on this list due to the fact that it's one of Farley's few full leading roles and as such, likely deserves a closer inspection than some of his glorified cameos. That said, it's hardly the best movie he ever made, with "Almost Heroes" garnering just 5% from critics on Rotten Tomatoes (it should be noted that the audience score is much more generous at 64%).
Years later, Perry discussed the impact Farley's death had on his equally addicted mindset by revealing that he punched a hole in the dressing room wall of his "Friends" co-star Jennifer Aniston upon first hearing the news. To make matters worse, he then had to promote the film while still battling his own demons: "I found myself publicly discussing his death from drugs and alcohol," explained Perry in his memoir. "I was high the entire time."
If you or anyone you know needs help with addiction issues, help is available. Visit the Substance Abuse and Mental Health Services Administration website or contact SAMHSA's National Helpline at 1-800-662-HELP (4357).
4. Beverly Hills Ninja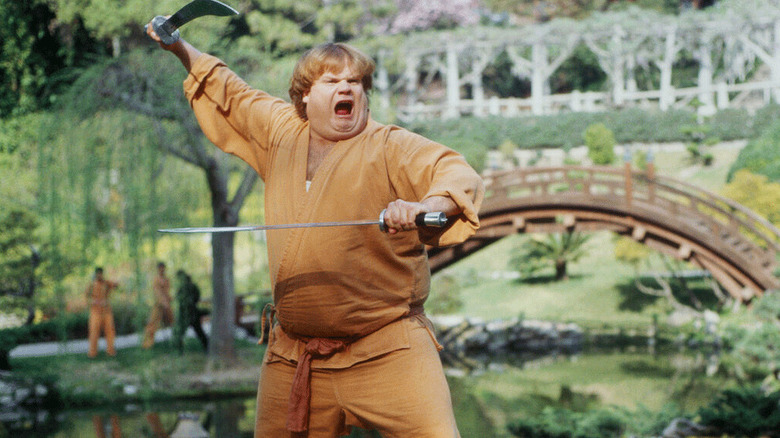 Sony Pictures Entertainment
"Beverly Hills Ninja" marked a major turning point in Chris Farley's career. For starters, it was the first film where he played the sole leading role following co-starring stints with fellow "Saturday Night Live" cast member David Spade in 1995's "Tommy Boy" and 1996's "Black Sheep." It also provided his biggest paycheck to date, $6 million, something that reportedly convinced him to make the movie after turning it down a number of times — as detailed in Tanner Colby and Farley's brother Tom's book "The Chris Farley Show: A Biography in Three Acts" and the Farley celebration episodes of Spade and Dana Carvey's "Fly on the Wall" podcast.
As with most endeavors inspired by financial gain, it isn't the greatest thing ever. Farley stars as a white child discovered by Japanese ninjas and trained as a martial arts warrior. For his first mission, he's shipped off to Beverly Hills to solve a murder and money counterfeiting case. It was his last film released during his lifetime but largely critically panned, with Entertainment Weekly suggesting that "when the writers run out of ideas, they simply have Farley walk into a lamppost."
It does have one notable fan, though: Christian Bale. "The default answer for me is Beverly Hills Ninja," revealed the former Batman discussing his favorite film of all time, as per Yahoo!News. "Chris Farley's fantastic. Clearly, I've got other films, but I just watched that two nights in a row and was crying with laughter both times."
3. Coneheads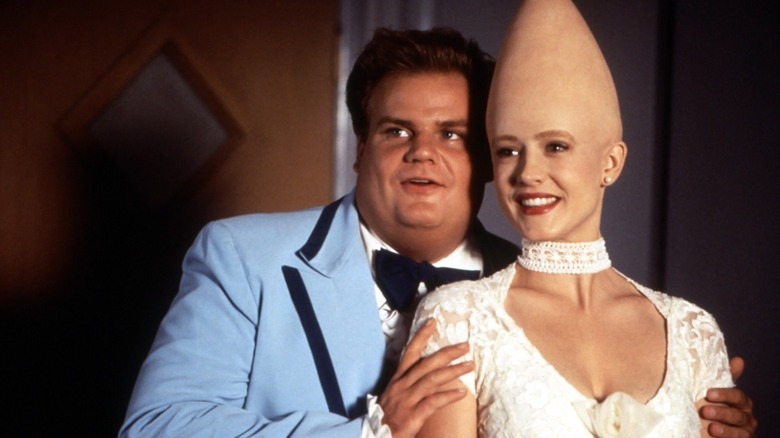 Paramount Pictures
Another Chris Farley movie with heavy links back to "Saturday Night Live," 1993's suburban comedy "Coneheads" was based on the sketch of the same name starring original not-yet-ready-for-prime-time players, Dan Aykroyd and Jane Curtin. Together, they play a pair of aliens who accidentally crash land on Earth and are forced to build a new life in small-town America and blend in with the locals ... despite their clearly conical-shaped craniums.
Thanks to the friendly and accepting nature of their neighbors, no one seems to mind that these new arrivals (if anyone asks, they're from France) are a little different, and when Beldar (Aykroyd) discovers that his 'genetomate' wife Prymatt (Curtin) is pregnant, the couple settles in for the long haul. Years later, the duo and their now-teenage daughter Connie (Michelle Burke) are still awaiting a rescue ship to take them back to their home planet and when it finally arrives, the process of removing themselves from a life they've grown to love proves a little more painful than they thought it would.
Again appearing in a supporting role, "Coneheads" allows Farley to present a more tender, shy, and bashful side to his personality (something many of his friends and colleagues have described him as having in real life) as Connie's mechanic boyfriend Ronnie. It's a nice change of pace, highlighting just how wholesome a Farley performance can be.
2. Black Sheep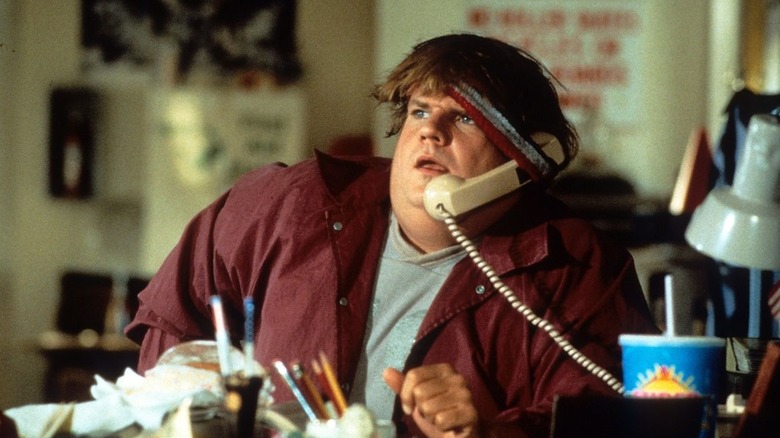 Paramount Pictures
Eager to cash in on the success of pairing Chris Farley with David Spade in 1995's "Tommy Boy," Paramount Pictures hastily ordered the creation of a new script that'd send the duo on another adventure. The end result was 1996's "Black Sheep," a film in which Farley plays Mike, the bumbling brother of a political candidate who's constantly threatening to embarrass and derail his sibling's career. The fix? Get a governmental aide (Spade) to take him out of town to avoid future calamities, perfectly cueing the duo up for another "Tommy Boy"-esque road trip with plenty of comedic opportunities.
That was the plan, but the finished product sadly doesn't hold up to the pair's previous outing. According to Tanner Colby and Tom Farley Jr's book "The Chris Farley Show: A Biography in Three Parts," Farley "wasn't crazy" about screenwriter Fred Wolf's script and only signed on after Spade convinced him to do so. To make matters worse, director Penelope Spheeris didn't seem fond of Spade's comedy chops: "I don't think I've ever even smiled at anything David Spade's ever done..." she told the book's authors. Ouch.
While notable for being Farley and Spade's second movie together, "Black Sheep" doesn't quite capture the same fresh magic as "Tommy Boy" did. Still, it remains one of the star's key leading performances.
1. Tommy Boy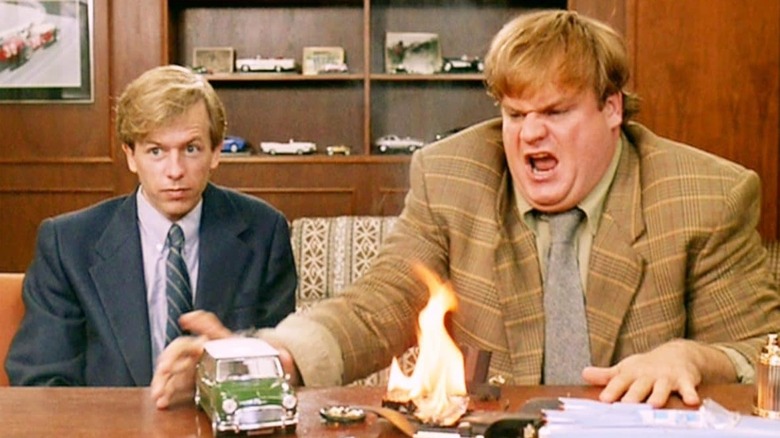 Paramount Pictures
It's not every day that a film about brake pad salesmen tops a 'greatest movies' list, but when it comes to the output of Chris Farley, typical rules go out the window. Released in 1995, "Tommy Boy" has since gone on to defy its early critical panning (the film eventually made it onto Roger Ebert's 'Most Hated' list) to become an unlikely cult classic among fans, as well as perhaps the most fondly remembered Farley film performance.
In essence, "Tommy Boy" allows the former "Saturday Night Live" player to display all of his key acting qualities in one compact storyline. It sees him star as the titular Tommy, a man-child who inherits his late father's break pad company and is forced to protect it from his dad's sneaky evil widow and her accident-prone accomplice, played by Rob Lowe.
A gleefully oblivious airhead, Tommy fires out countless vacant-eyed lines in between set-piece moments that perfectly harness Farley's effortless gift for physical comedy. All the while, his live wire antics are perfectly balanced by the subdued, dry, and snarky comedy of David Spade, giving us a story that does a great job of harnessing the energy that made the pair work so well together. Its success was largely to blame for cementing the idea of Farley and Spade as a cinematic duo in the minds of audiences. They even discussed the potential of a third big-screen outing following "Black Sheep," but sadly it never came to pass.